This was a concert given by the Northern Chamber Orchestra to raise awareness of and raise funds for neurodegenerative diseases such a Parkinson's and Alzheimer's.
All the pieces in today's concert were specially chosen because of their connection to and specific relationship with such conditions.
The Northern Chamber Orchestra (NCO) was formed in 1967 and has a current membership of over 20 talented musicians forming the core of this ensemble, and are most often to be seen performing either in Macclesfield or Buxton, but also accept engagements further afield too and attract international soloists to perform with them.
It was a very long concert. Overlong. Just short of three hours to be exact, which was too much. However this could have been considerably reduced if two things had happened. First, instead of having an announcer / MC to talk about each piece before it was played, this information could have been printed in a programme, and the audience then could have read and reread it at their leisure. As it was, our 'programme' was actually the flier and we had great difficulty in hearing the MC simply because he stood on one side of the stage, not centre, and had no amplification. The second thing that could have happened was that the setting up and reconfiguring of the stage could have been vastly reduced keeping most of the chairs in the same place for all items, and keeping cables and amplifiers etc there throughout would not have detracted. Doing both of these things would have cut at least 20 minutes from the running time.
With the orchestra all dressed in black, but with no ties and open neck collars, it looked not only quite drab but also quite informal too, and with all the technicians and crew walking about and moving things after each piece the whole event became rather 'amateurishly' put together. Considering the subject matter was all about 'caring', there was a distinct lack of caring about the 'look' of this concert. - or at least that was how it came across.
However, let's move on to the music itself. The concert opened with Aaron Copland's Appalachian Spring. Originally entitled 'Ballet For Martha' as it was a commissioned piece by the dancer Martha Graham and she danced the lead in the premier performance of the ballet in 1944, but on Martha's insistence, he changed the title to Appalachian Spring. It is an ideal piece for chamber orchestra as it is scored for only 13 instruments, but in the 20 minutes or so that the piece lasts those instruments need to affect huge changes in mood, pace, volume and pitch in order to create maximum effect of this brilliant score which draws heavily on American folk music. Sadly, the orchestra under the direction of Stephen Barlow didn't quite pull it off. The music became very samey with little change in dynamics and there was only one person I could actually see emoting to the music they were playing (the flautist!), everyone else looked either bored or tired and were simply going through the motions. There was a distinct lack of urgency in this piece and I was really quite glad when it finished. I happen to know and like this music quite well, and if I have to say it, then I will; that was one of the worst renditions of it I have heard! Mind you, I have never seen a conductor sit down to conduct and use a broken pencil for a baton before either!
The connection this piece had with the disease is that Copland himself suffered from Alzheimer's, but this didn't stop him conducting. He continued to do this right up until 1980. He wouldn't know which orchestra he was working with or in which city he was in, but he was still able to remember and conduct his music.
The second piece was a concerto for clarinet and chamber ensemble by John Adams entitled, 'Gnarly Buttons'. Again the connection here is Alzheimer's, but this time it is not the composer but the composer's father who died from this generative disease. Adams grew up with the clarinet as it was his dad's instrument and played it in a military band, and so the whole piece is a homage to his father who is represented by the clarinet.
Elizabeth Jordan was the soloist, and this was especially meaningful for her too since her father was recently taken from us with Parkinson's.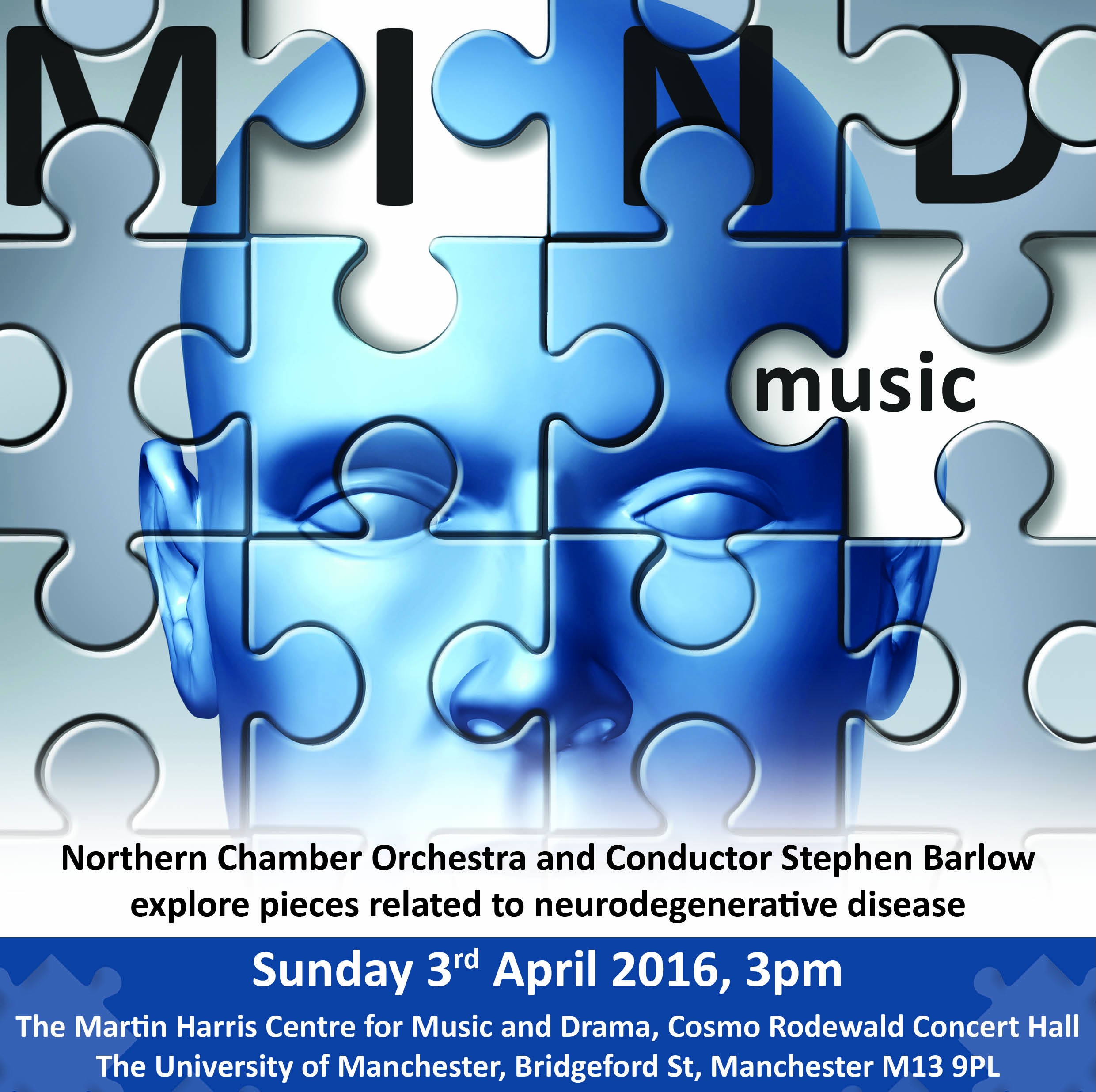 I am more than happy to report that this piece, in three movements, put the orchestra in a much better light, and the first movement was highly emotionally charged with a real sense of urgency. The second movement, a Hoe Down - subtitled 'Mad Cow' - had a very Middle America cowboy feel to it, before turning into the rather sonorous and melodious third movement, a love song, 'Put Your Loving Arms Around Me'. All three movements had rather unexpected endings - the first two in particular. The third bringing the orchestra to a loud and high climax with the clarinet screeching out on high, and then being brought back to a very brief but welcome slow and quiet melody which diminuendos into silence.
After the interval the first piece in the programme was written by today's announcer, who I believe is also a tutor at Manchester University, Kevin Malone. Composed in 1996, once again the piece is a homage to his father, who died of Alzheimer's, and this 20 minute piece for solo clarinet and reverb echo box (?) (basically a piece of technical equipment that echoes up to 20 times and diminishing in volume each time, what the clarinettist has just played, which produced, as I can attest to, some rather interesting modal and enharmonic clashes but also found much harmony in there too adding depth and lovely tonal qualities.) What I would be very interested in knowing though is whether or not that box will replicate exactly the same every time or will each performance be different.
For the solo clarinet this time, we welcomed another virtuoso, Lynsey Marsh, principal clarinettist with The Halle Orchestra. Once again, as with Jordan, her father has recently passed away with Parkinson's and so again this piece took on a special significance for her too.
It was a novelty piece, and was quite interesting, but went on too long. However Marsh was utterly brilliant in her playing.
And now for something completely different......... we turn the clock back to 1847 and the death of Felix Mendelssohn's sister, Fanny. This had a profound effect on Mendelssohn, who never truly recovered from it. That and his hectic schedule, and ill health meant that Mendelssohn went to an early grave in 1847 aged just 38. It is not known for certain, but certainly speculated that both the cause of his sister's and his own deaths were brought upon by an hereditary neurocongenetive condition.
However, the music was bright, effervescent and made a wonderful and much welcome change from the prior fayre. It was his Konzertstueck Number 1, and called for both clarinettistss, one playing a basset horn (the largest of the clarinet family), and, without conductor, played this three movemented piece superbly. The concert's highlight!
To finish the concert, and after yet another reorganisation of seating arrangement, Stephen Barlow returned to take his stool and conduct Richard Strauss' Sonatina no.1 'From An Invalid's Workshop'.
Written in 1943 in war-torn Vienna, and at the age of 79, Strauss was not a well man and very discontented with the world. He was suffering from influenza, and with the war raging all around him, and he being impotent at being able to do anything about it, left him melancholy and depressed. It was in this frame of mind that he composed this Sonatina, which is very dark and heavy going - even for Strauss. Why it is called a Sonatina I shall never know. It is quite a substantial work, and, in three movements, shows no sign of brevity. Even the end is quite Brucknerian or Mahlerian in its final cadences. It is also quite unusual in its scoring - only wind instruments. The movements are marked as allegro moderato, romance and minuet, molto allegro. However, I am afraid that we now came back to where we started from once again in this concert. Apart from a little levity and change of mood for the minuet section, the whole of this sonatina was played more or less at the same volume and the same speed 'sans cesse'. I know Strauss was depressed when he wrote it but surely that doesn't mean that we have to be depressed by listening to it. If it hadn't have been for the musicianship of the players I doubt we'd have had any changes in dynamic at all. Mr. Barlow proved to be the least animate conductor and most disconnected with the work he is conducting I think I have ever seen. Such a shame. Once again I breathed a sigh of relief when this piece finished. It was hard and heavy going.
Over the next couple of days the music from this concert is being recorded and being put on CD - on the Divine Arts label - and will be available to purchase from December.
All proceeds from this concert and the sale of the CD will go to the charity Parkinson's UK. More information about Parkinson's is available by going to www.parkinsons.org.uk who do some excellent and much needed work supporting sufferers and their families. You can also donate to this charity by visiting http://www.crowdfunder.co.uk/north-west-musicians-for-parkinsons
Reviewer: Mark Dee
Reviewed: 3rd April 2016