This evening's concert was a very mixed bag in terms of ensemble size and configuration; however, the music, with the exception of one short piece was either 20th century or contemporary, and the feel of the concert extremely up-beat.
The concert started with just four players and ended with a whole stage full, with barely enough room for all of them and their instruments. However, let's go back to the beginning......
Four Chetham's students presented us with two contrasting brass quartet pieces. The first was the first movement of Frackenpohl's Quartet, written in New Jersey in 1975. It is entitled, 'Very Fast' although when listening I certainly didn't feel the piece to be all that fast at all. In contrast, they played the fourth movement (Allegro Moderato) from French Romantic composer Simon's Quatuor. This brass quartet, interestingly, is one of only 10 extant works for this configuration from the Romantic period of music.
The musicians were George Herbert (trumpet); Sian Brogden (trumpet); Patrick Renehan (French horn); Michalas Berlouis (trombone).
Staying with the same configuration, that of a brass quartet, we are then treated to Gardner's Variations. This time though, we had a change over of musicians, and to play this were Flossie Plain (trumpet); John Vernon (trumpet); Johan Stone (French horn); Gemma Riley (trombone).
The theme is little more than a single scale, and the variations are then extemporised from this in various different musical styles. I think I am right in writing that this piece was commissioned by a former Governor of Chetham's.
There was then a slight hiatus whilst a seat rearrangement occurred in order to accommodate the next group to perform before the interval. This was Chetham's Brass Band, and under the conducting of David Chatterton, they played two really great pieces of music. The first, Buckland's Altostratus, written in 2001, is a truly lovely piece. A slow and minimalist start to the music with a simple melody line which is added to gradually as more instruments join in and develop it. A slow and gradual crescendo eventually involving the full band swelling to a wonderful evocative finale. Lyrical and harmonic; which for something written as late as this, is not at all the norm, but highly pleasing and very rewarding to listen to.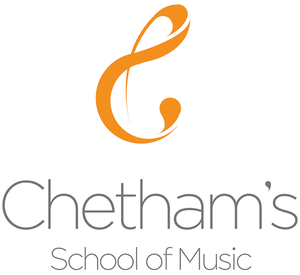 The final piece before the interval was actually a short suite of pieces. Music, which may well have gone lost and forgotten, if it hadn't have been for Christopher Palmer collecting them, and then assembling the highlights into a suite, 'Wartime Sketchbook'. These are all pieces of title or incidental music which were written for patriotic films during the Second World War by Sir William Walton. They are all undeniably and unmistakably Walton's work, even if they have been arranged for Brass Band by P. Hindmarsh in 1990. What highly evocative and stirring music it was too, and a great way to end the first half of this concert.
And so to part 2. A much smaller group greeted us now. In fact only 6 musicians, again all Chetham's pupils, but together they made up Chetham's Jazz Ensemble. Again they played two very contrasting pieces, and proved to be very competent musicians. Each instrument (except the guitar) being given chance to shine individually as well as together. The first piece was Shorter's 'Footprints'. A very modern interpretive piece; followed by a more traditional number, 'Weaver Of Dreams' by Young. I really was very impressed by the drummer in this ensemble. Smooth and sophisticated was the name of his game; never missing a beat and perfectly timed. A great future drummer - someone to certainly keep an eye out for. Master Oren McLaughlin.
The final piece and headlining the concert, was The Concerto for Flute and Wind Orchestra, written in 2004 by Mike Mower. As part of Chetham's School's first Festival and Competition, The Art Of The Flute which had been taking place over the past two days, the winners of the Concerto Competition performed the flute solo, and Mike Mower, who was also one of the judges and mentors, was in the audience to hear it. The soloist for the first and last movements was the winner of the 'Advanced' category and she was Lucy Pond, currently a member of the Junior RNCM and soon to continue studying full time there; whilst the second movement was played by the 'Intermediate' winner, a Chetham's student from Italy, Teresa Roatta.
Mower's music is full of American music influences. Jazz, Blues, Military, Latin American, and more. The concerto starts with a military march, moving over to the sounds of Hawaii, coming back to the mainland and The Bronx before returning to the march again. The second movement has a slow and unexciting start but this soon gives way to music which would not be out of place as the theme for a 1980s US Detective Movie. The final movement simply entitled. 'Swing' says it all. It was just that and finished with a huge Big Band finale, and then the last few descending solo notes of the flute - just to remind us that we were listening to a piece of classical music featuring that instrument! It was very joyous and exciting writing and extremely enjoyable to listen to. Again, I am surprised that I am liking and praising something so modern!
As for the soloists then they were superb. Technically I would say Pond was better, however, I am absolutely no expert on this, but I preferred Roatta's playing. She made the flute sound more 'whole' and sonorous. At least for me at any rate! But they were both fantastic and this made a wonderful end to not only this concert but to Chetham's' The Art Of The Flute mini-festival and competition.
Credit to all involved in this evening's concert. The bands and orchestra being comprised solely of Chetham's' students. They may not yet be technically perfect, but they all certainly make up for that in passion and commitment and they were indeed playing exceedingly well last night. I don't know their exact ages but simply from looking at them I would say anything between 10 and 20, and to be able to play such advanced and demanding scores, and play them so confidently and proficiently, was actually quite amazing!
Reviewer: Mark Dee
Reviewed: 16th April 2016