Panto season is well and truly upon us and a trip to Theatre Royal Wakefield during this festive period will see you transported to Medieval times in this wonderful family favourite Sleeping Beauty. The classic story of love triumphing over evil follows the story of Princess Aurora (Alice Strachan) who is cursed as a baby by the wicked fairy Carabosse (Julie Stark) who seeks revenge on the King (Neil Smye) who stole her golden fairy wings. Carabosse's evil threat is that by her 18th birthday Aurora will prick her finger on a spinning wheel and die, so it is Dame Nanny Nurture (Chris Hannon) who is charged with protecting the princess from this terrible fate. Of course when the inevitable happens the good fairy Filament (Claire Sundin) is unable to reverse the magic of her evil sister so softens the curse by sending the whole kingdom to sleep for 100 years with the only thing able to wake Aurora being the kiss of a good man.
From the very opening of this production it is obvious that you are in for a good night of traditional panto fun. Claire Sundin and Julie Stark establish their roles of good vs evil excellently encouraging the audience to cheer, boo and shout out, repeating as necessary to ensure we are well warmed up for the evening. Indeed, you have everything here in this production that panto lovers could ask for; all the traditional pantomime audience participation is here including a special treat in the re-written rendition of 12 days of Christmas and a bit of healthy competition in the sing-a-long in Act Two.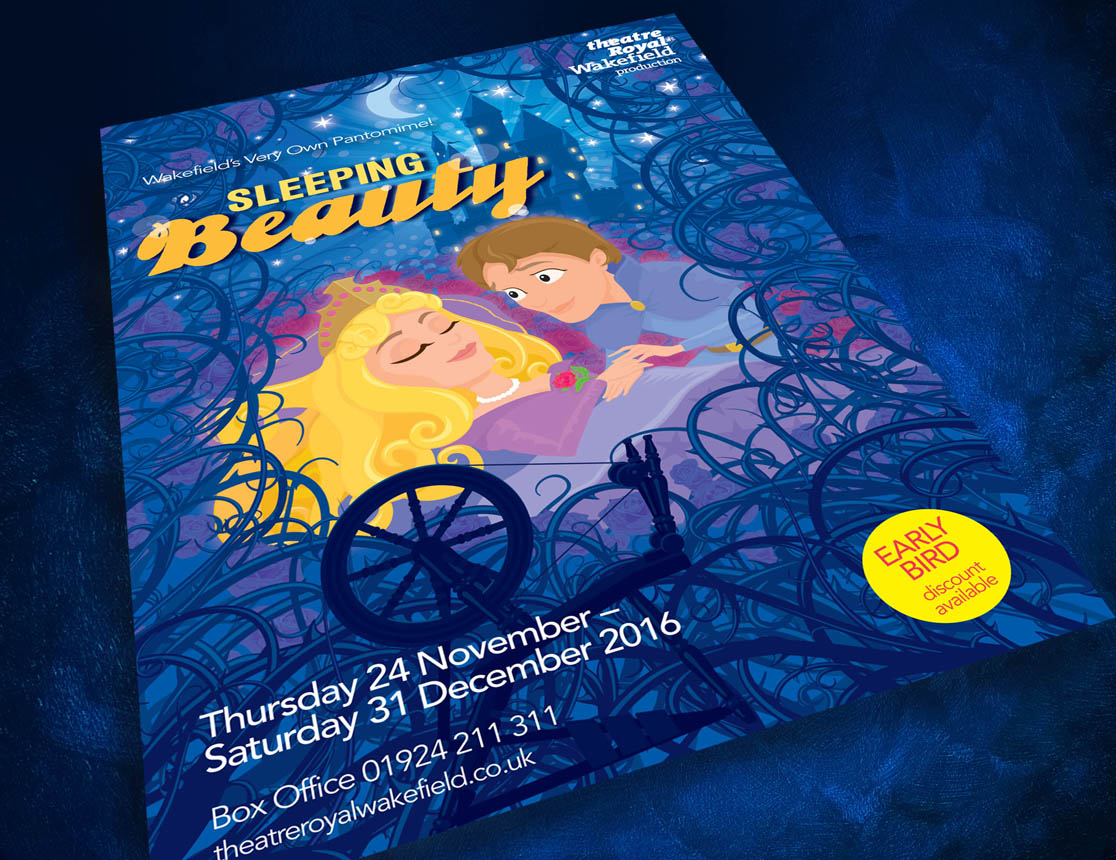 The Theatre Royal Wakefield team have assembled an excellent cast for this production who all play their roles excellently. Sundin's Fairy Filament has excellent energy and the warmth needed to win over the audience early on. This contrasted with Stark's Carabosse who was beautifully wicked and the audience needed little encouragement to boo her on every entrance. She had quite the belt in her singing voice, but her very strong Northern accent did not quite fit for me. Similarly I found the accent of Alice Strachan's Aurora a little corse for a Princess, but other than that she played the Princess role well throughout, with a good chemistry with Steffan Lloyd-Evans as the dashing and charming Prince Petroc. Lloyd-Evans and Stachan's duet was beautifully delivered with lovely harmonies and the pair certainly delivered in all their musical numbers.
You can often judge a pantomime's success on the quality of its "comic" and Dame and I am pleased to say that tonight in both cases they delivered. Thomas Cotran's medieval rubber faced jester Muddles was excellent, with the right amount of silliness and boyish charm throughout. He established a good rapport with the audience early on and he brought an excellent energy to the role. Chris Hannon, who returns to Wakefield for the seventh consecutive year, was the true star of the evening and is perfect as Dame Nanny Nurture. It is clear from his opening "Hiya!" that the audience here has grown to love him and it is obvious why. He has an excellent rapport with the audience and cast alike, delivering his asides, cheeky nods and winks, dreadful jokes and ritual audience humiliation with real aplomb. Not to mention his wonderful costumes which could steal the show in their own right.
In fact, Mark Walters' costumes and set are excellent, although I wouldn't be surprised if Carabose's dress gets shortened during the run as it seemed to have a mind of its own at times this evening. There were some nice touches throughout including the revolving tower and the giant dragon, which certainly captured the imaginations of the children sitting near me. The production had an excellent pace throughout with slick scene changes and the band provided superb accompaniment in musical numbers and perfect atmosphere through the underscoring. I would actually have liked more musical numbers, but with so much packed in this evening I am not sure if there would be anything I would sacrifice in order to make room. The choreography was interesting and well performed by the principals but in particular by the Chorus of young performers featured from the local area – Wakefield is certainly not short on young talent. My main critique for this production has to be the make-up or at times lack of it! I am certainly not a lover of the "paint an inch thick" look, but some of the characters looked a little washed out under the follow spots and I felt that Fairy Filament needed some colour (and glitter!) and the Dame definitely needed his make-up enhancing – there was a definite sense of five o'clock shadow, which is very unbecoming in a "woman"!
Despite this minor observation, this evening was a wonderful night of entertainment with plenty for everybody - including the odd naughty joke for the adults. Theatre Royal Wakefield have once again delivered an excellent family friendly production and I would thoroughly recommend anyone in the local area looking for a pantomime this Christmas head down to Drury Lane – you will not be disappointed.
Reviewer: Andrew Ashley
Reviewed: 25th November 2016
North West End Rating: ★★★★