The panto season seems to be in full swing and with so many to choose from theatres are trying to entice customers on with big names on stage. Cinderella is the story of a young girl who is desperate to go to the ball and meet Prince Charming but is forced to stay at home by her two Ugly Step Sisters. Luckily, she has a Fairy Godmother to look out for her and Cinders can go to the ball and hopefully live happily ever after.
Cinderella is presented by the Floral Pavilion Theatre and Martin Dodd for UK productions.
A good panto includes magically appearing fairies, grand costumes, colourful scenery, gags, audience participation and of course, in this case, two men dressed as women. Cinderella ticked all the boxes in this case so why was I left feeling a bit flat and empty as I left the theatre. There were a few factors involved here.
Firstly, I felt the cast seemed a little tired, perhaps as this was there second show of the day, their fourth of the weekend, but this is day two of a four week fun so I feel something will need to be done to keep up the entertainment during the run. The script, I personally found, was a little weak. There didn't seem to be much in there to capture the imagination and excite the audience.
There was no wicked step mother and no panto dame as such. Luckily we had the fantastic Ugly Sisters played by Jamie Morris and Tarot Joseph. Morris and Joseph kept the show alive in my opinion, with quick wit, fabulous costumes and wonderful comic timing.
Our Fairy Godmother was played by This Mornings Alison Hammond. The part was played nicely and was liked by the audience but seemed to lack that special personality needed to be a Fairy Godmother. Vocally, I'm afraid Hammonds seemed to be challenged and the higher notes of the songs seemed very strained and hard to hit. Possibly due to tiredness but there were some big songs to sing, especially One Night Only where she seemed to struggle.
Sadly, I found that our Cinderella, played by children's TV presenter Olivia Birchenough, also seemed to struggle when it came to the majority of her numbers. The character was played well and her transformation was done well but again I was left overall feeling rather deflated.
Buttons was played by the wonderful Tam Ryan. Ryan was fantastic from the moment he entered the stage, really entertaining the children and interacting well with the audience, lifting the atmosphere a fair bit. There seemed to be a few mixed up lines and as libs but they were covered very well and received well by the audience. Prince Charming and Dandini were played by Adam Braidley and George Onley retrospectively. They both played their character very well and had good, strong voices that were very much enjoyed by all. Braidley did have a minor wardrobe malfunction early on in the show which had the majority of the audience tittering (flies!!!)
Choreography was provided by Lee Lomas. I felt that the dancers, although very good, seemed a little under prepared and weren't quite as tight as they could have been. Some of the dance moves were a little odd for what they were wearing, especially in the ball where the girls were in full ball gowns but were jumping and leaping. It looked odd and uncomfortable. We were lucky enough to have some youngsters from the Liverpool Theatre School on stage during some numbers and they did a wonderful job and seemed to be thoroughly enjoying themselves.
Apart from the two Ugly Sisters and their fantastic costumes, the biggest reaction came when Cinderella's coach was pulled on stage by two Shetland ponies 30 seconds before the end of act one. The audience loved them and they added a bit of excitement that seemed to be missing up until then.
Music was provided by Tom Chesters, Adam Berhens and Jonny Christie who did a wonderful job the whole was through.
There were some jokes for the youngsters and some for the adults but on a whole I felt Cinderella lacked the extra spark needed to make this a sensational panto. At just over two and a half hours long, this panto needs a little injection of magic and some tightening up as it had the makings of a great panto.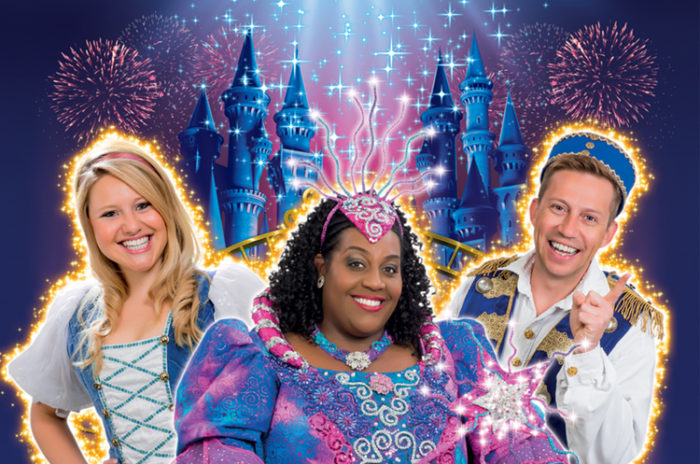 Reviewer: Damian Riverol
Reviewed: 11th December 2016
North West End Rating: ★★