Much like the audience, this pantomime took time to warm up. Unfortunately, this Scouse delight didn't reach boiling point tonight, merely a low simmer but much of the content was familiar, a little bit cheeky in places but overall it was more or less satisfying.
We were welcomed by a Brian Blessed voice-over telling us about the history of pantomime, I was slightly distracted because the sound mix wasn't right, there was some feedback. Then an ethereal voice provided us with an epilogue before we meet Radio City stars Leanne Campbell and Pete Price, as Queen Morgiana and the Magic Mirror.
Queen Morgiana is a classic panto character: at times speaking in rhyme, speaking directly to the audience and breaking into song. Leanne held the show together with a fabulous performance as the character we love to boo! However, for a panto called Snow White (Jorgie Porter from Hollyoaks) I was disappointed that she was actually the weakest character.
There were nods to the Disney Classic but Jorgie, for me, looked under-rehearsed and quite nervous. She maintained character when she fluffed her lines, this was admirable but she mimed her singing performances - and even then, she didn't know all the words! I was felt very let down by her performance and when compared to the rest of the cast she stood out but for all the wrong reasons. I hope this improves, she was obviously chosen because she has a popular following, boosting ticket sales, but I hope her casting was on her strength of acting and vocal talent too.
Then we come to the rest of the fantastic cast and two groups of characters. The first grouping started out as individuals but as the show progressed that formed an unlikely trio: Liam Mellor, as Muddles, Stephen Fletcher, as Prince Brian of Birkenhead and Colin Connor, as Herman The Henchman.
This panto didn't have a dame but these guys made up for that, their interplay and set pieces were perfectly timed and they seemed like they were genuinely having fun - including playing practical jokes. Special mention has to go to Stephen Fletcher, who's outstanding voice was showcased in the finale medley.
Finally, Snow White would not be the same without the Seven Dwarves: Scott English (Prof), Jamie Legg (Sniffley), Craig Salisbury (Grumbly), Danny Blackner (Loopy), James Lusted (Blusher), Charlotte Lyons (Cheeky) and Peter Sunter (Snoozy). This band of misfits caused quite a stir when they entered, each character was very clearly formed - obviously not using the Disney names due to copyrighting but they did sing two familiar songs from the film, one with slightly altered lyrics. Their Madness and Beatles medleys were extremely enjoyable, ably supported by the superb dancers.
Snow White at the Liverpool Empire isn't the best pantomime I've ever seen, but it definitely not the worst. It has much that is familiar and the people of Merseyside will enjoy the local references. The show has great pace, great audience participation and lots of genuine fun - the Twelve Days of Christmas routine was a particular triumph. However, I left feeling underwhelmed, due to the lack of a strong central character.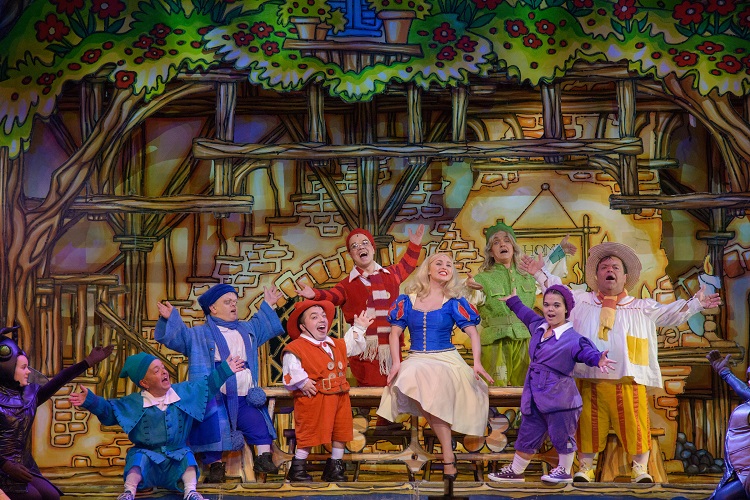 Reviewer: Alan Harbottle
Reviewed: 13th December 2016
North West End Rating: ★★★
Photo: Mark McNulty