For anyone outside of Yorkshire, the name Billy Pearce may not be that well known, but anyone from this part of the country knows that he is something of a panto legend around these parts. It doesn't necessarily matter who is billed alongside him, in fact it would be easy to not bill anyone at all, Billy would bring the crowds back time and time again, a man who admits he's pension age, playing the stage like he's in his twenties, this year as Smee, that 'famous' Peter Pan character (proof again that his character doesn't even matter).
This year he is joined by Darren Day as Captain Hook, who anyone from theatre-land will know is a seasoned performer with a voice to match. It wasn't a tough stretch in the role, he played it with ease, highlights being a 'who-what-I don't know' scene with Billy that takes some perfecting, but both played it with ease and in particular shining at the lyric changes to get the audience laughing in 'Can't Take My Eyes Off of You' performed with Emmerdale actress Charlie Hardwick. Charlie also fits the role of Magical Mermaid well, knowing the fine line women tread in panto world of being sweet enough to be liked and comedic enough to get a laugh.
Lucy Evans as Tinkerbelle doesn't quite match this, clearly performing with all her stage-school might, it was hard to feel sorry for her when she lost her wings and died, I wasn't inclined to wish fairies were real to get her to return, hopefully as the show progresses she'll learn from the masters she is sharing the stage with about less is more. Jon Lee plays the title role, a little under-used in my opinion, I would have liked to hear more from him, but when on stage he commands the role, when not flying into the set (a first night blip but he used it to his advantage). Rosie O'Hare suits the part of Wendy well, finding enough warmth for the role to make it convincing and likeable. Marina Lawrence completes the main cast as Tiger-Lily, almost note perfect, but generally confident and assured. Ensemble perform well, it is well choreographed and the return of the Sunbeam children to complete the cast as the children of Neverland all perform well.
What makes this show is its technical accomplishments. This year 3D is back, taking you under water and to a sunken ship and this was again a stunning visual effect, children screaming galore, where as Billy says, you get your money's worth. This was accompanied by a giant crocodile ending act one, reaching out across the stalls with great effect.
As much as I love Bradford Theatre, I hope they can fix the toilet issues, as they don't have enough to serve the size of the theatre as it is and of the top floor toilets, out of seven only three were working, which doesn't bode well for such a busy season.
There's plenty of merchandise to keep your pockets free of change, so maybe this can go towards helping sort it out. There are pyrotechnics and confetti galore to keep the children (and the adults) entertained, and the show was completed by a fun sing-along that even though I've seen it in previous years is highly entertaining and proof that even old classics can still be funny if performed in the right way, with a few 'that wasn't meant to happen' - 'oh yes it was' moments (I won't give a spoiler alert). A few technical hitches aside and a few missed microphone sound blips, but all can be easily rectified as the run continues.
It was a sold out show for the opening night, enough jokes were thrown in for the Yorkshire audience to make you feel at home, as no one knows a Yorkshire audience better than the great Billy Pearce. Asking the many who accompanied me last night their highlights, there was only one word. Billy! I also took some people new to the world of panto and I feel for any other panto's they may see as this is a hard act to follow. I've seen (and been in) many pantomimes in my time and this is a theatre, a technical team and a leading man that is hard to beat. I said it last year and I'll say it again. The man is a legend, he owns the stage and he owns panto. Yorkshire is proud to have you dear Billy. See you next year for Cinderella. Chuffing brilliant.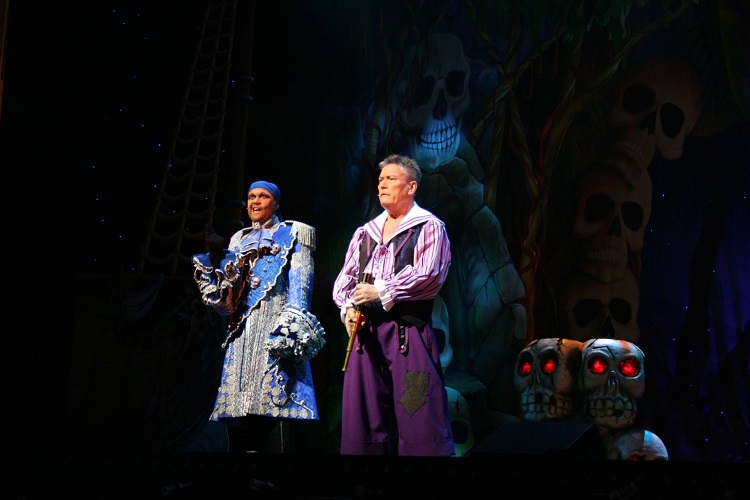 Reviewer: Angela Ruse
Reviewed: 17th December 2016
North West End Rating: ★★★★★