After a long year of watching challenging theatre of variable quality it is a relief to just wallow in the daft delights of Aladdin: The Rock 'n' Roll Panto.
Make no mistake this panto is not trying to reinvent the genre and, thank god, as I like my festive fix of silliness to be old fashioned with romantic leads, an OTT dame, a fool and as much innuendo as you can shoehorn into two hours.
What does make this panto different is the cast not only belt out 22 all-time classic tunes, but play them too, which makes moving the 10 strong cast round the small stage a particular challenge for director Matt Aston.
It's refreshing Pete Rowe's script just about manages to link the songs to the action as there is nothing more irritating than watching a panto where the action grinds to halt just so they can belt out the latest Taylor Swift hit for no reason whatsoever.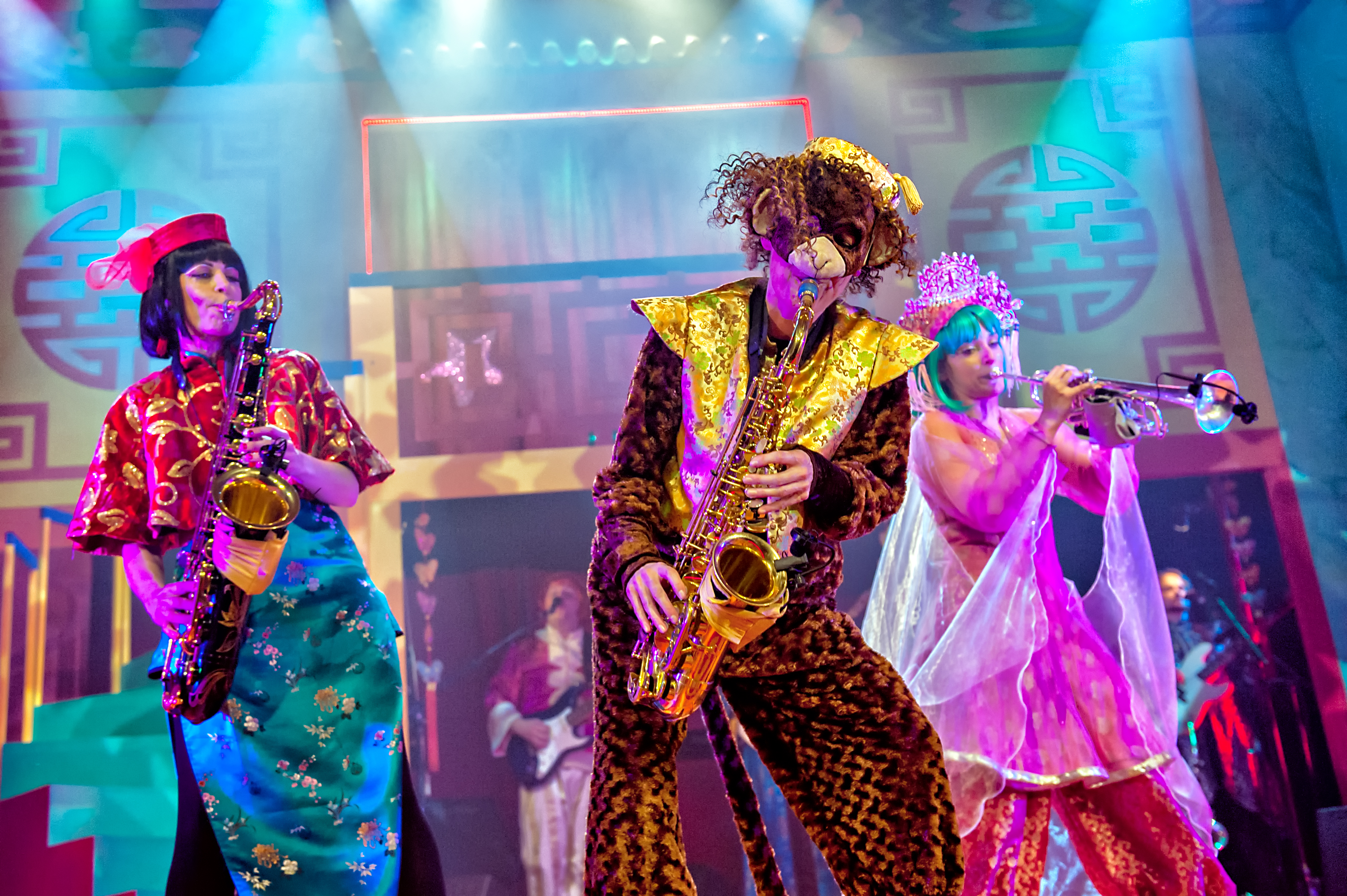 There's no need to talk about the 'plot' suffice to say Aladdin, a princess, Widow Twankey, Wishee Washee, the villainous Abanazar, a genie and a so terrible it's good Monkey all make an appearance.
Alex Wingfield and Grace Lancaster are both charming as the star crossed lovers Aladdin and Princess Lotus Flower, with strong voices, and tongues firmly in cheek.
Justin Brett is not yet in the first division of Dames gamely doing the cony gags, but whilst innuendo that goes over the kids' heads is a central part of panto the banter with Abanazer is just a tad too crude.
Luckily Don Bottomley's comedy villain Abanazar is an OTT joy full raised eyebrows and ridiculous 'evil' laughter, plus he knocks out a mean guitar solo too. Local lad Kenny Davies is back as the idiotic Wishee Washee for his seventh stint in this panto, spending most of his time getting bashed by different characters, and his pratfalls are always beautifully timed.
The hard working cast also have a secret weapon in the shape of a crowd pleasing prop that involves all the audience, young or old. No spoilers here, so you'll just have to a buy ticket.
The real genie-us (oh, no you didn't) is the designer Judith Croft who has cunningly transformed the Varieties' small stage opening up the space with an extended apron, so the cast can actually move about with falling over each other which has happened in previous years.
Yet again the Varieties was packed with different community groups, many of whom will be making their first visit to the theatre, and this always entertaining old school production is the perfect gateway into the joys of live performance.
Aladdin the Rock 'n' Roll Panto is on at City Varieties until Sunday 7 January. To book 0113 2430808 or www.cityvarieties.co.uk
Reviewer: Paul Clarke
Reviewed: 30th November 2017
North West End Rating: ★★★★