There is nothing quite like a pantomime to get you into the Christmas spirit and for many a child it is their first trip to the theatre so to put on a show that appeals to every age group is a big ask. You are in safe hands with Martin Dodd for UK Productions who this year in association with the Blackpool Grand Theatre celebrate the 21st anniversary of staging pantomime at the Grand with this year's presentation of Cinderella being the perfect choice as it was also the very first performed there all those years ago.
Cinderella is a children's fairy story that has it all, a beautiful girl, her best friend, ugly stepsisters, a fairy godmother, a doting father and a tale of lost love and the quest of a handsome prince to find his princess. From the minute the curtain raises the audience are enthralled, if slightly coughing at the great plumes of smoke whenever the loveable fairy godmother appeared! (Melanie Walters of TV's Gavin and Stacey). The Baron Hardup (David Alcock) has remarried and Cinderella, (Olivia Birchenough, children's presenter on Channel 5 Milkshake) is delighted to hear she now has two stepsisters until she meets them and they treat her as a slave.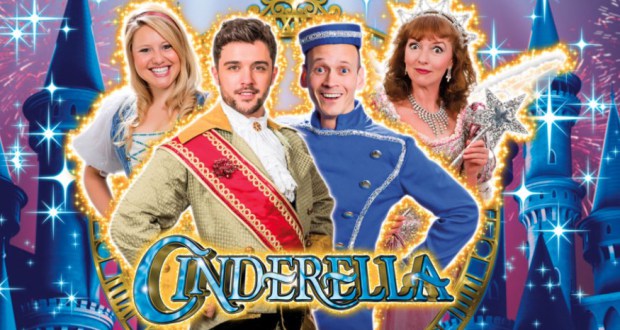 Cinderella is a enchanting on stage and is vocally talented too. Jamie Morris and Tarot Joseph are the 'endearing' sisters and have the most outrageous and spectacular wardrobe and amazing wigs. The comedy duo are absolutely perfect in their roles as pantomime dames and engage with the audience from the start. They receive coveted booing, a sure sign playing baddies they are a success, as they attempt to thwart Cinderella's chance of going to a ball thrown by the Prince. The Prince, (JJ Hamblett, a finalist with Union J band in the X Factor 2012) is a fabulous choice, handsome, able to sing and dance and of course charming throughout. His sidekick Dandini (Mark Paterson) works well with him too. Young dancers from the Barbara Jackson Theatre Arts Centre are a delight to see and appear to be enjoying themselves, well done everyone, we loved watching you and your hard work has paid off.
Star of the show Cinderella, has a best friend in Buttons, who is madly in love with her and would do anything for her. Steve Royle as Buttons is performing in his 15th consecutive pantomime at the Grand and is so at ease on stage, adlibbing and making it very difficult for other cast members to keep their faces straight at times, something that the audience love! His charisma lights up the stage and there is a strong audience interaction with him and he works incredibly hard bringing his own style of comedy with perfect timing!
There are brilliant stage effects, simple scene changes and great lighting especially as Cinders is helped by her fairy godmother to get to the ball that I won't spoil with a rather special solution to transporting her there. I can honestly say I absolutely loved every minute of this pantomime, there was something for everyone with songs reworked from the present and blasts from the past to suit the older generation, comical antics with the dames and of course wardrobe malfunctions which add to the hilarity. There isn't a weak link amongst any of the cast but for me the stand out performance goes to Steve Royle of BBC's Radio Lancashire... if ever he gives up the day job! Everyone loves Buttons!
For a truly spectacular pantomime you can't go wrong booking to see this one at: https://www.blackpoolgrand.co.uk
Reviewer: Lorna Weekes
Reviewed: 5th December 2017
North West End Rating: ★★★★★