From the countdown of the curtain raising until the final curtain call, the folk of Preston were ready for audience participation at this years' pantomime on the opening night at The Charter Theatre, and I would imagine there will be some very hoarse people around tomorrow!
Aladdin is the story of a young poor boy hopelessly falling in love with a beautiful princess who dreams of becoming rich and marrying her but her father insists she marries a prince. His mother Widow Twankey runs the local laundry along with him and his brother Wishee Washee. Evil Abanazar hears of a magic lamp that can grant riches with three wishes but can only be claimed by Aladdin so he tracks him down convincing Aladdin he is a long lost uncle and tricks him into getting the lamp. Will Aladdin hand the lamp over? Will he marry his princess? Will it all end happy ever after?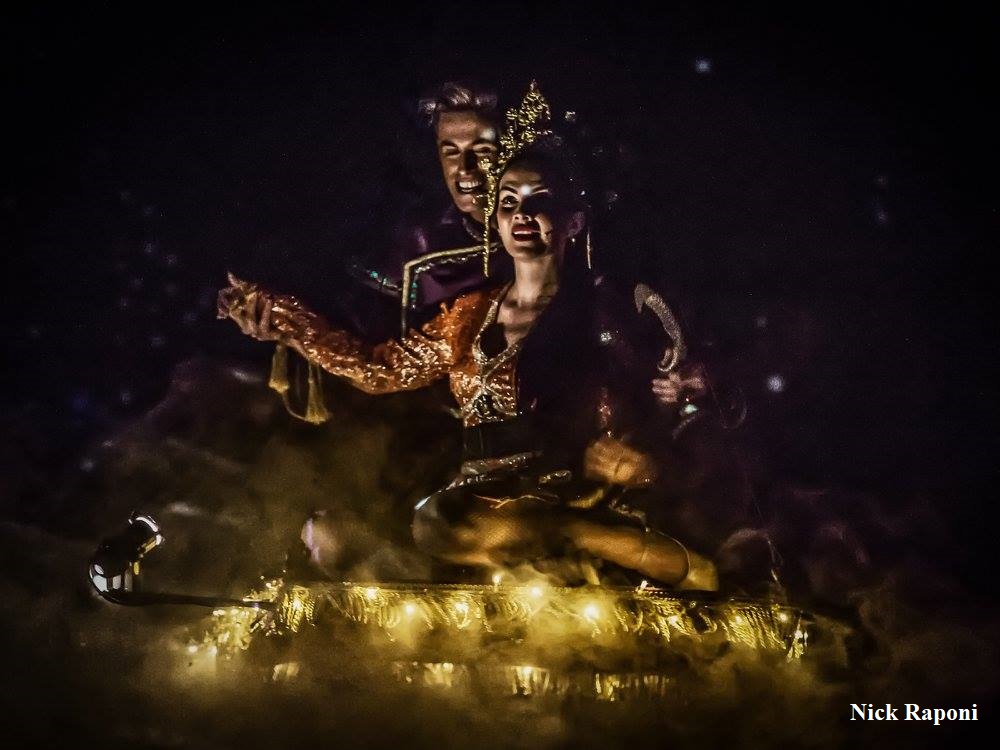 After last year's success, multi-talented comedian Phil Walker has once again written this year's panto and also directs and stars as Wishee Washee and soon has the audience in stitches with his madcap ways particularly alongside Marvyn Dickenson (CBBC's Class Dismissed) who as PC Pong is hilarious and the duo's pairing is a comedic delight with laughs a plenty. Magician Paul Zenon as Abanazar fully deserves the loud booing he receives at his every appearance as he brilliantly portrays this evil character. We are also treated to some skilful magic this evening from him which went down well with the audience. Jonathan Mayor is the fabulous Slave of the Ring and his quick wit and banter adds to the hilarity. Panto dame Widow Twankey is performed by Jeffrey Longmore and in true panto tradition wears the most ridiculous outfits and alongside her two sons expertly delivers slapstick comedy.
Aladdin (Carl Tracey member of Go,Go,Go a pop musical group) and Princess Jasmine (Stacey McClean, S Club Juniors) have great chemistry between them and as singers they are amazing to hear perform. Look out for the fabulous magic carpet scene!
There are colourful spectacular costumes and impressive stage designs with brilliant choreography from the young dancers who I presume are from local dance schools, but as there are no programmes available I am unable to credit them. (Choreography by Nicky Figgins).
There were a couple of technical hitches tonight resulting in an overly long interval, the odd line fluffed but covered with ad libbing, a few missing spotlights and props but as its opening night these can be excused....it is panto after all and don't these things always happen?
Aladdin is full of fun, non-stop action and encourages audience members to join in (not that encouragement is needed!) with predictable punchlines we have all heard before but still love and is fantastic good all round entertainment, suitable for children aged up to 100! Yes, there is nothing like a panto to bring out the inner kid and I guarantee you will be booing and screaming out 'Behind You' in-between the laughter....Oh Yes You Will!
With many matinee performances tickets and further information can be obtained at:
https://prestonguildhall.co.uk/shows/aladdin-panto/
Reviewer: Lorna Weekes
Reviewed: 7th December 2017
North West End Rating: ★★★