It's that most wonderful time of year again, with evergreens popping up on your living room, mince pies being gobbled by the handful and the traditional pantomime playing in theatres across the country.
One Panto production which never fails to disappoint is the annual festive offering at the beautiful Buxton Opera House; I myself have been coming to Buxton for their fairytale productions since I was only 3 years old and as a child; it really was a highlight of the Christmas season, my era usually featured resident dame; Sterling Rodgers.
I can safely say; the pantomime at Buxton is still one of the best, this year's offering of 'Sleeping Beauty' has all the amazing routines, all the cheeky jokes and all the Panto fun that one has come to expect from the Opera House in the peaks.
James Holmes known for his role in the hit BBC Comedy 'Miranda' returns to Buxton's Panto for a third time this year playing Nanny Nora, Holmes has a personality which is perfect for Panto, he's got excellent comedy timing, amusing facial expressions and doesn't take himself too seriously which really is important with these kind of shows, he interacts with the audience and gets big laughs from the grown-ups and the little ones, accompanied by his Daft Sidekick, 'Billy' played by Matthew Jay Ryan who is also returning from last year's offering of Snow White.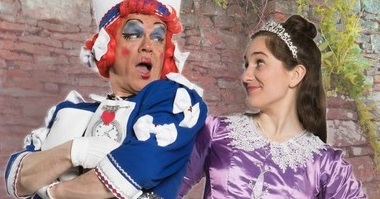 The princess who falls in a deep sleep is played by Jessica Revell (Elektra from Tracy Beaker Returns) and has impressive set of lungs on her as she belts out musical numbers such as on Fight Song.
The love interest for Princess Aurora is Prince Christopher played by Joseph Antony, he plays the role convincingly and a duet between the pair is very slick and polished.
This panto is a proper feel good experience; Buxton always gets the formula just right and the balance between enough mums and Dad jokes before it gets too much and just the right amount of Shazam to keep the little ones entranced is perfect!
The villain; Maleficent is played by Johnathan Tweedie who plays the dark role incredibly well with boos and hisses thrown at her from all angles as with the tradition of panto. Tweedie is incredibly talented and a real show man having previously performed as principal dancer in Riverdance and performed in musicals; Charlie and the Chocolate Factory and The Wedding Singer.
Sleeping Beauty is a panto I'm less familiar with and although I really enjoyed it; I can't help wanting to see my favourites such as Snow White or Aladdin but it's good to have a bit of variation now and then. Whatever the story however, the script is always sharp and witty and expect the odd ad lib here and there that adds to the humorous proceedings. I particularly loved the 80s section complete with Boy George & Rick Astley homages.
This panto is a fun filled spectacular and Christmas isn't Christmas without a visit to Buxton's Panto! https://buxtonoperahouse.org.uk/event/sleeping-beauty
Reviewer: Max Eden
Reviewed: 9th December 2017
North West End Rating: ★★★★