It's that time of year again (oh yes it is!). Christmas really wouldn't be Christmas without the annual trip to a pantomime, a tradition that's been a part of my life from a young age. This year's local instalment at Sheffield's Lyceum Theatre is "Mother Goose", a story of a lonely widow - the aptly named Mother Goose. Played by Damian Williams, a regular returning pantomime Dame to Sheffield theatres, who is currently celebrating ten years of performing in Sheffield pantos, Mother Goose dreams of becoming beautiful, rich and famous.
Mother Goose lives a simple life along with her two equally simple sons, Billy Goose (CBeebies presenter Andy Day) and Charlie Goose (Dylan Craig) but is unfortunately behind with the rent on her windmill home. When Squire (Adam Price) comes knocking to collect the debts, Mother Goose is beside herself, that is until the appearance of the magical "Fairy Goodfeather" (Lisa Davina Phillip), who presents Mother Goose with......a magical goose! Soon the goose, (named "Eggles" by a selected audience member), is laying golden eggs and Mother Goose is able to pay off her debts and fulfil her dream of opening her own beauty spa. All is going well until the evil Demon Vanity comes along, (ITVs "Benidorm" star Jake Canuso) having previously waged a bet with Fairy Goodfeather that he can bring Mother Goose over to the dark side.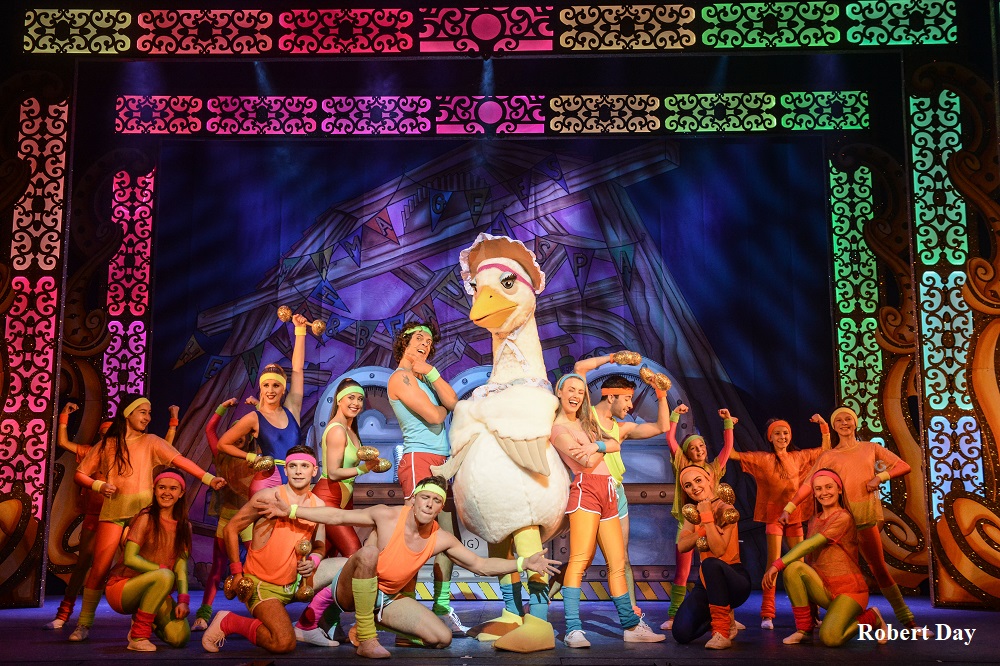 With plenty of audience participation, loveable tunes - from Junior Seniors "Everybody" to Sister Act The Musicals "Fabulous, Baby!" along with the featured favourite "Always Look On the Brightside (of Life)", plenty of humour, gags and jokes, there's something for everyone. I particularly loved how they'd rewrote a song from a well-loved movie classic which is ironically being performed next door at present!
Damian Williams oozes charm and witty banter, even after ten years he still appears fresh as a daisy, having returning and new fans in fits of laughter from start to finish. Every year the talented costumes team (Costume Designer Helga Wood) create electorate over-the-top dresses for Damian's character to wear sporting a parody of a popular household brand on the dresses, from the "Manish" (Vanish) dress in Aladdin to this years "Screme Eggs" (Cadbury's Creme eggs) dress. One of the highlights of attending the annual Sheffield Panto is seeing what whacky costume designs await me.
A real highlight in this production was the vocals of Fairy Goodfeather (Lisa Davina Phillip). Even before she sings her voice alone has you fall in love with her lovable character, but it's the end of Act One when she lends her vocals to the Sister Act song "Fabulous, Baby!" that the audience really fall under this fairy's spell. Jake Canuso proves to be a real hit with the ladies of the audience who will love him as his role as Matteo in "Benidorm" (ITV). In this role we catch glimpses of his well-known role (in more ways than one!), as the children in the audience boo and hiss at this baddie character, although most women, myself included, found this surprisingly difficult to do! I mean honestly, who can resist such a man?!
Although this production, (mainly due to the weak storyline), didn't wow me as much as previous years pantos has, it still got me into the Christmas spirit and I particularly loved the celebration of Damian's ten years of Sheffield panto at the end and look forward to the next decade of Damian doing what he does best - panto!
A big shout out to the Purple Team of local children who were tonight's ensemble, your dancing really pulled the whole show together. Bravo!
Reviewer: Charlotte Browne
Reviewed: 13th December 2017
North West End Rating: ★★★★