York Theatre Royal's Jack and the Beanstalk boasts the best giant in all the land. Big G's (Scott Wallace) steals the show, being a real life giant on stage and waddling around without bumping into people.
With a slapstick comedy scene with all the gunge and foam you could want, a machine that turns people into Darth Vader and Princess Leah and a sing song at the end - you know you are at a pantomime that's set to be a good one.
After having to sell his beloved cow to pay rent, Jack (AJ Powell) tries to elope with his teenage love Jill (Suzy Cooper) but instead grows a giant beanstalk in his front garden! As Dr McCarb (David Leonard) kidnaps Jill, Jack is faced with the challenge to rescue his love from the evil McCarb, get Patricia the cow back and not get into trouble, can he complete his quest?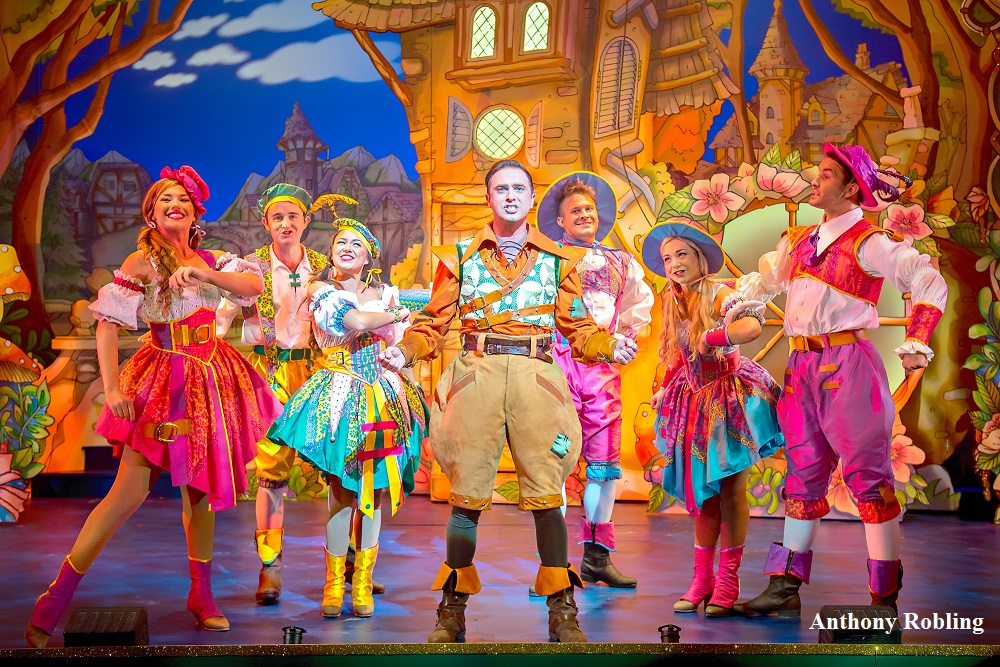 Entertaining us throughout the show with some impressive and wacky costumes (designed by Mark Walters) and great comic timing, Dame Mandy Manley (Berwick Kaler) and her silly son Stanley Manley (Martin Barrass) are the storytellers that hold the show together, even though they manage to forget their words a couple of times.
Opening Act 2, we see McCarb's lab, guarded by dancing Stormtroopers in glittery armour and little Ewoks. With synchronised robot movements, it is a great company number.
Berwick Kaler gives a show stealing performance as Dame Mandy Manley, with some very impressive costumes including a greenhouse skirt with flowers and all.
The unsung hero of the story is Useless Eustace (Luke Adamson), being McCarb's first creation and failure as a giant - being quite short and having a high pitched voice doesn't really create much fear. Being constantly blown up or swashed, he is at McCarb's beckoned call, but never seems to get it right.
Very impressive vocals from Jill's bestie Danielle Mullan, as she instructs Jack to tell Jill how he feels in "Tell Him and Tell Her".
Brilliantly engaging theatricals, lighting and sound distracts from errors in the script, but the actors covered it well, adding to the family and human aspect of pantomime. The company hypes everyone in the audience, children and adults alike, to get involved with the pantomime traditions of shouting "He's behind you!", booing the baddies and cheering on the goodies.
For the grown-ups, there's some political commentary on Brexit and tax avoidance (McCarb's lab is in the clouds to avoid this reason); the right amount of naughty for a pantomime.
The ensemble are non-stop, with costume changes galore and complex choreography (Grace Harrington).
I have to applaud the young people's teams, playing many different characters, from local people to talking vegetables to Ewoks - they were very cute and kept up with the rest of the cast without a fault.
Reviewer: Jess Stoddard
Reviewed: 15th December 2017
North West End Rating: ★★★