Once again Manor Operatic have transformed Sheffield's City Hall into a fully functioning theatre to celebrate their 30th year at the venue by presenting Sleeping Beauty. And once again it is an audio visual feast packed to the rafters with some of the worst pantomime jokes I've heard (in a good way)!
Everybody knows the story of Sleeping Beauty, cursed from birth by the evil Witch Caraboss (Emily McGeoch) and destined to die if she pricks her finger on a spinning wheel. Thankfully (in this production) Fairy Winter (Emma Flanagan) is on hand to reverse this curse along with her three "assistant" fairies, Spring (Grace Stoddart), Summer (Hannah Carter) and Autumn (Bethan Griffiths) which sees Beauty fall asleep for a 100 years and can only be woken by the kiss of a Prince.
From the moment the curtain rose it was clear that Manor were once again about to dazzle us with another high tempo, visual treat as the large cast sang the familiar Manor version of Let Me Entertain You, the first of 22 songs packed into this two hour jaunt.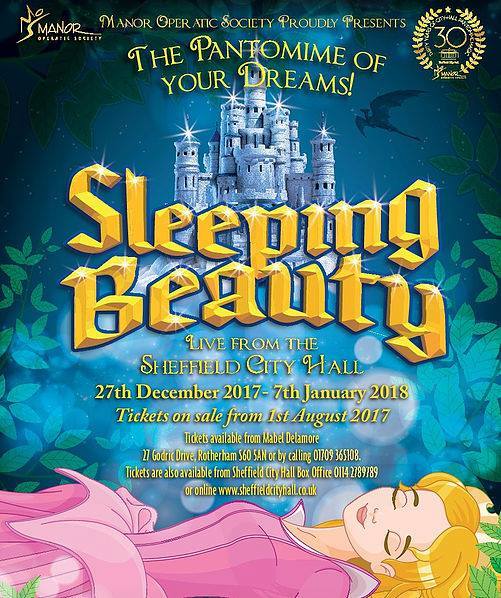 Emily Mae Hoyland looked every bit the Princess and was given the chance to display her wonderful vocal abilities with a number of songs during the evening. Her Prince this year was Liam Gordon playing Prince Alexander / Alexis and looked suave and sophisticated in both his guises.
Comedy came from Muddles (James Smith) who glided across the stage whilst delivering some very questionable jokes. I think Manor have gone back over their 30 years of jokes for this year's show, some were older than me! Pick and Flick (Chris Hanlon and Andy Finnerty) provided much merriment and confusion as the hapless henchmen to Witch Caraboss. For me however, the performer of the night was Lauren Lomas as Silly Sue, nurse maid to Princess Beauty. Samuels channelled Bubble from BBC's Absolutely Fabulous as her mannerisms and dialogue had the audience in stitches. I've long been an admirer of Lomas in Manor's productions and it was a joy to see her step up from the ensemble to front and centre this year taking on a principle role.
Every Panto needs a Dame, and if it's a Manor Panto then it has to be the one and only Robert Spink. This year as Queen Rita (s)he commanded the stage at every opportunity, totally at ease in some of the most extravagant frocks I think I've ever seen at City Hall. With quick one-liners (s)he became an audience favourite from the off. I also have to complement our Queen on the handling of the Bucket Game, something most professional performers would run a mile from! Spink was ably partnered with Paul Hill as King Crumpet, although there was no question who was in charge!
The staging his year was very traditional and was brought to life by some beautiful lighting and incredible pyrotechnics, however every year there is a surprise guest that makes its way onto the City Hall stage, and this year was no different. All I am going to say is it is a Dragon (no spoiler, it's in the programme) and its appearance at the culmination of act 1 had the jaws of kids young and old wide open. Stunning!
As I mentioned there are 22 songs in this year's production, including the famous Tiddly Winky Woo, and for a big show you need a big orchestra. Numbering 11 in total and sounding as magnificent as ever under the direction of Andy Collis, they must be one of the biggest Panto orchestras in the land.
Once again the whole production has been written, produced, directed and choreographed by the very talented Richard Bradford and Linda Kelly. Their passion for not only Pantomime, but theatre in general never fails to impress me always striving to surpass what happened the previous year.
Sleeping Beauty is another triumph for Manor Operatic. Playing on its opening day to 4,000 people over 2 performances it must make it the biggest amateur Panto in the UK, it's certainly the biggest in Sheffield, professional or amateur! Sleeping Beauty continues at Sheffield's City Hall until the 7th January 2018. Tickets can be booked via www.sheffieldcityhall.co.uk
Manor return to City Hall from the 16th – 19th May where they will be presenting one of the first ever amateur productions of Chitty Chitty Bang Bang. Speaking to producer Richard Bradford following tonight's performance he assures me Chitty WILL fly in City Hall. Personally, I can't wait. For full details and to book tickets visit www.manoroperatic.com now.
Reviewer: Paul Downham
Reviewed: 27th December 2017