And so it was back to the cosy and intimate interior of the Hyde Festival Theatre on the final day of November, for a very warm welcome from the director, chairman and committee of Hyde Little Theatre, who are based there and have been for the past 35 years, for our first Christmas pantomime review, of Cinderella.
A classic story and the most-known and much-loved of all pantomimes, this is extremely well-written by Jim Sperinck, well-performed and well adapted to include local references, current topics and brief but extremely well-suited dances.
With pyrotechnics and sequins the show has set the bar for our festive season, literally starting and finishing with a bang and more than a touch of glitz and sparkle. With Fairy Godmother Alison Bowers 'appearing' on stage first (after the National Anthem) to welcome all on the wintery night, the traditional rhyming couplets are set for the theme throughout. Supported by the little people of the Little Theatre - whose company for the show consists of 57 - we are transported to fairy tale pantoland with the unpronounceable '(Salagadoola mechicka boola) bibbidi-bobbidi-boo.'
We are then met by the young villagers who perform 'Happy Days' and 'Who Will Buy' from the musical Oliver! - the first of many welcomed musical theatre classics along with those from My Fair Lady, Footloose, Miss Saigon and Gypsy - before being entertained by the wittily delivered vintage puns of pantomime scripts gone by, with reference to Hyde Market.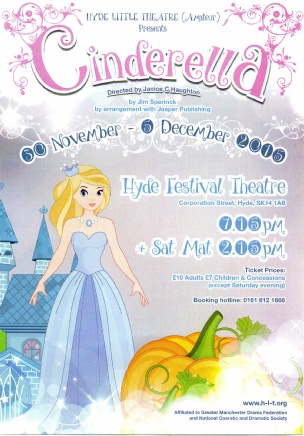 Before we actually meet the beautiful lead herself (Reanna Fletcher), we bump into carefully-cast comedy-cool Buttons (Stephen Hague) who get the audience going and warmed up to boo the ugly sisters Hollyhock and Pansy (Andy Clark and Terry Doctor) whose awfully clashing costumes could scare any panto dame let alone the audience of a packed theatre. Each time these two (try to) sing, they are blessed with their own impressive dance troupe who showcase their tap and jazz skills.
One of a few twists in this rendition is the addition of Fairy Godmother's apprentice and niece Penny Piece (Faith Woodhead) who beings a local accent and charm to the piece (see what I did there), as well as naivety and likability. We also see the presence usual characters of Baron and Baroness (Boracic Lint) in Guiseppe Cicchitillo and Beverley Brooks and the King and Queen (Des Hague and Rae Healey) whose son, Prince Charming (Ella Kay), meets young Ella when his carriage 'mysteriously' loses a wheel, ably assisted by Dandini (Freya Clark). We also have the pleasure of meeting three odd-job men (or 'odd' job men) named Short, Back and Sides (Daniel and Joel Wood and Luis Smith) who provide much humour, particularly in the recreation of a famous royal variety sketch involving wallpaper and a hammer and head. The comedy throughout this show is to be commended, as is the choreography and costumes a lot of which I am advised came from Rebekah Brown, as well as Nicola McAree. Music came from Musical director Sue Kitchen and her two other orchestra members.
A good pantomime is only so when it had the right people putting together the right components. Comedy, glitter, a love story, a baddie and bags of audience participation as well as moments where they can sit back and enjoy a fluid presentation of pure entertainment. This is what you get here, along with the other thing that is becoming more popular in the past few years and that is the inclusion of dance routines, polished and in variety - tap, ballet, jazz, interpretive, contemporary, etc. It is interesting to know that this show does not see a specific dance school. Each member of the cast is chosen through open auditions before the young dancers (and there are some very young ones) making up four teams.
There are treats throughout this very much family friendly show, suitable for all ages, including the favourites like a luminous scene, a sing-along, group announcements and even a very special surprise at the end of the first half, not least the brilliant opening to the second half AND version of a Shania Twain hit.
Overall, a very good standard-setter for the many pantomimes to come from across the North West, on both the professional and amateur circuits. The cast and crew should be extremely proud. If you want Christmas to come early, get down to this reasonably priced panto!
Reviewer: Christopher Oatway
Reviewed: 30th November 2015