It's the time of the year when we break the fourth wall and find it perfectly acceptable to talk to the audience, and why not I hear you shout?! It is Christmas after all.
And it wouldn't be Christmas in Yorkshire unless Billy Pearce was in panto, in his 17th consecutive year at Bradford. The show is Jack and the Beanstalk, staged by Qdos Entertainment, and one thing Bradford never shies away from is the most technically stunning shows you'll ever see for a pantomime, this year including a 3D section that had the audience screaming with delight and horror, slickly performed and executed, an inflatable huge beanstalk, a magnificent giant and a helicopter than flew.
It may not be the cheapest panto around, with front stalls being between £30 and £40 on some nights, but with technical quality like this, including pyrotechnics throughout and fantastic lighting and sound, you only get what you pay for as they say, and I certainly have seen professional musicals with far less content and grandiosity that charge far more. The sets by Ian Westbrook deserve their own mention, as they are simply stunning, way beyond the tatty versions you see up and down the country every year, you do sort of forget you are watching a panto.
Billy is joined this year by Lisa Riley, of Emmerdale and Strictly fame, playing the Spirit of the Bean, and she certainly keeps her enthusiasm and energy going, even if the spinning meant I saw her underwear far too many times.
Being villainous is no big stretch for John Challis of 'Only Fools and Horses' fame, who held the part well, although the typical need to rhyme in pantomime baddie style meant occasionally the dialogue was lost on me, as it flowed too quickly over the boos the audience gave out, a little bit of what the kids called banter would have been nice, as it did occasionally feel he was there merely to say his lines and go.
For something attractive to look at, you've got Jake Canuso, playing Benny Dorm (ta-da), whose role is quite nondescript, I'm not entirely sure what part he really had to be honest, or the point of his role, but he gave Billy plenty of opportunity to make fun of his accent, and did his best in very snug silver lycra.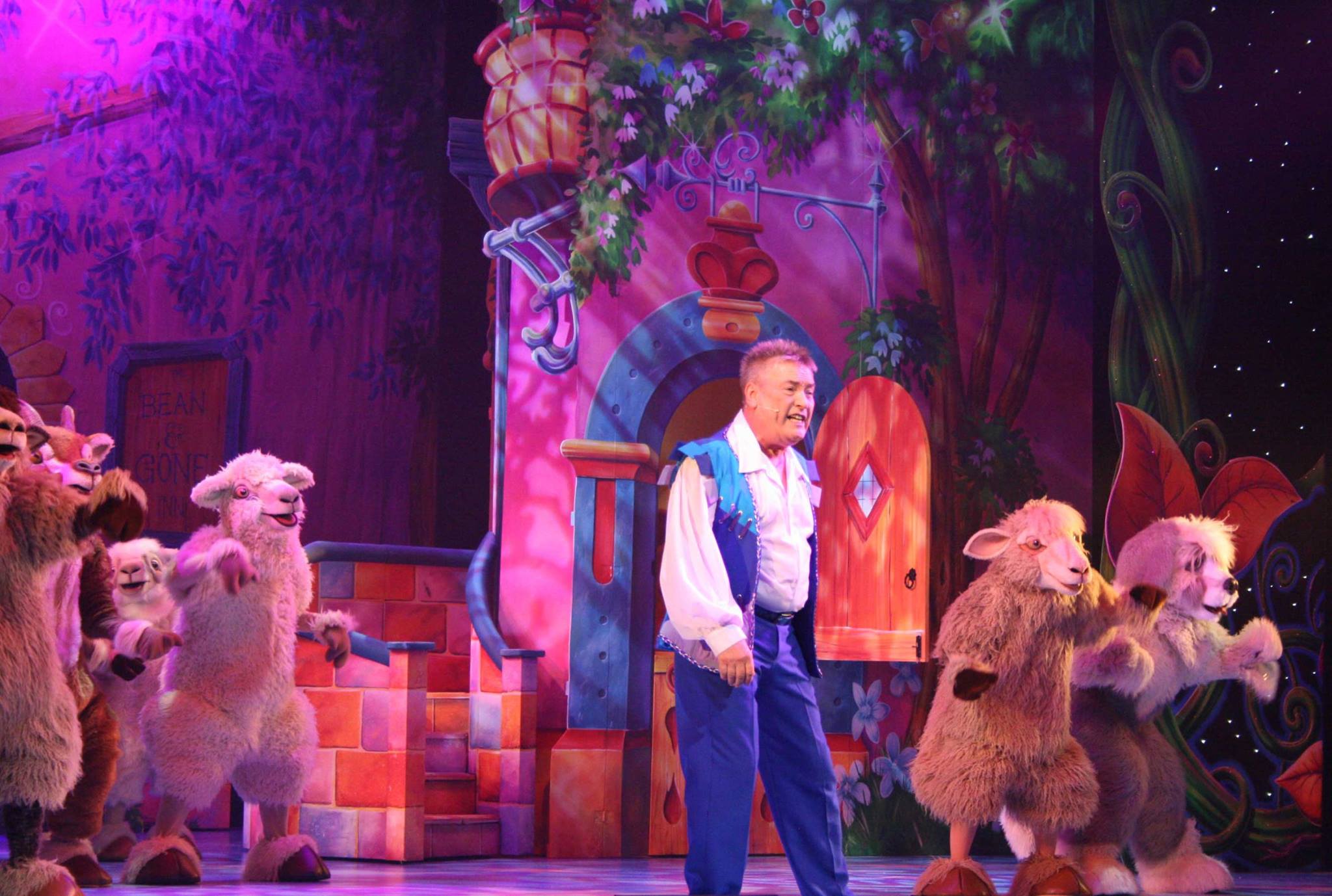 Dame Trot is played well by returning Adam Stafford who has a great partnership with Billy and their warmth and fun comes across well.
There is of course a love interest, but the part fleets by, (some pretty blonde thing as usual) and this year there was notably a big detraction from singing-with no big love ballad, no big solo songs, which was actually quite refreshing. There's a blast of Sister Act's 'Spread the Love Around' which was well played by the band led by James McCullagh, and being a musical theatre lover, I was singing away, although no one else appeared to know it, and were more inclined to clap along to Uptown Funk, which ended the show, and was a little bit slow for a finale song in my opinion.
But this show belongs to one man. Billy Pearce. The man belongs in front of an audience. Even though I have been to see this fantastic funny man many times over the years both in stand up and panto, he has something I find that sets him apart, he never once looks tired, his energy is something infectious (especially when you dare be told that he is a very young looking 64-yes 64 years young!) He could certainly show some of the TV stars I've seen over the years a thing or two, not only about the energy needed to keep a panto audience enthused, but also about how to sing-let's not forget this is one talented man beyond the comedy with a voice that would be well suited to any musical theatre role. He keeps the show flowing, bouncing off the audience with ease, setting up little giggles for the adults, and dropping a few Yorkshire jokes for those who return year after year to see him. Yes, we've heard some of them before, and will probably hear them again next year, but he does it in such a way, you're not remotely offended, it's like a comfy pair of slippers watching Billy, and I for one am proud to call him one of our own.
As a child raised on panto and as one of those little children you always saw playing a village person or a dancing sunbeam, I've always been one to defend it as the British institution no one else understands, and Bradford is the reason why.
I took a whole host of people with me this evening, many who were being dragged along, but many who said as we left ….. 'so, what's next years?' If that doesn't prove it's worth, what will?
It's Peter Pan by the way…..the boy who never grew up. Now who could they get to play that role?
Reviewer: Michelle Ruse
Reviewed: 15th December 2015