With a title such as 'Snow White and the Seven Ugly B*****ds' and an over 18 only warning you would be extremely naive not to expect a very adult Pantomime. With profanities a plenty, this show was definitely lewd, crude and monstrously rude! Written by the Principal Director of Cattle Productions Tommy Hardon (you spotting a theme here?), states his goal in life as ' touring the world, bringing affordable laughter and enjoyment to all that want it because if we can't have a laugh, when what's the point in life?'
Hardon plays the very cheeky chappie Richard Cranium (Dickey Head for short) in his quest to get into Snow White's knickers. But she won't let him have his way as he isn't a prince. Dickey enrols in Prince School in a bid to get his girl, add into the mix some larger than life, lonely dwarfs, an ugly old and desperate Evil Queen and a scantily dressed female villager (for the spectacle), oh and three bears! The result is side splitting frolics, fun, fumbles and fantasy.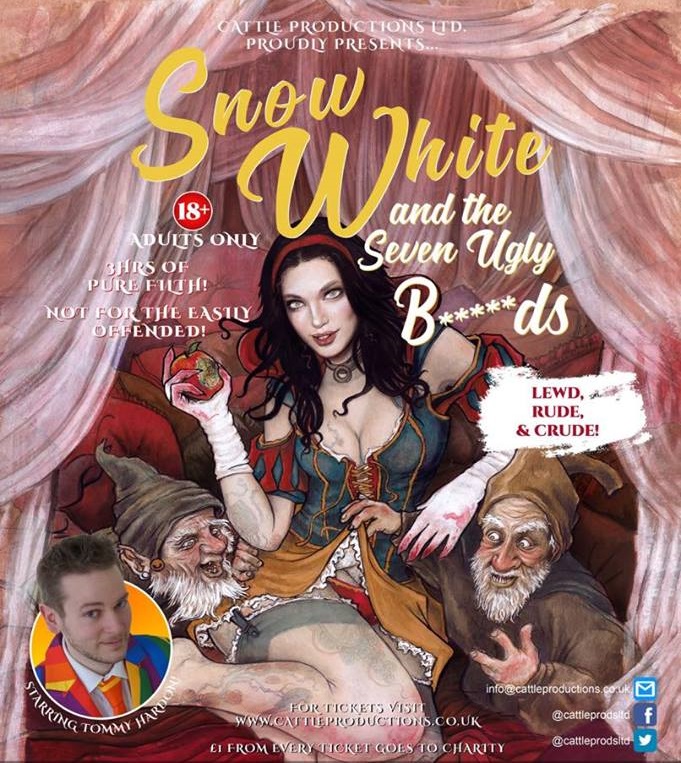 In true pantomime style the audience play a large part in the production and Hardon was a master at audience interaction - be it mainly insults! The audience loved it as the tone descended into the pits of indecency and the one liners flew. With much of the production veering from the script, it was the cast's confidently skilled wit that kept the storyline bouncing along.
Snow White played by Alex Dornan was suitably sweet in the role and oblivious to the intentions of the majority of males on the stage. Louise Hardy as the Evil Queen was 'fishily' wicked and was particularly offensive to the audience, as any pantomime villain should be. Adam Aldridge as the Huntsman have the audience in stitches with his convincingly camp portrayal. The stand out performer for me on the night had to be Duncan McGillivray, playing roles such as the Prince's Scrotum and a very aptly named dwarf. His Red Riding Hood story was the highlight and hilarious. His great use of accents and his very tongue in cheek approach worked superbly with the audience.
So where do the bears fit? Go see the show and ask the Evil Queen!
This show is for a very niche aduIt audience, and its lack of finesse is its strength, I would draw a comparison with seeing Bernard Manning and Chubby Brown in the 1980's and add in the visuals and that is what to expect from this show! So if you are not offended by anything at all, (I consider myself to be very open minded but I did cringe a couple of times), go see this show, grab a drink, grab some likeminded people and you will have a night of vulgarity and hilarity. I admit, I cried with laughter!
The show is currently touring the UK during 2018/19. http://www.cattleproductions.co.uk/index.html
Reviewer: Tracey Bell
Reviewed: 1st September 2018
North West End Rating: ★★★★