There's no denying that at Christmas time the finest form of entertainment is that of a fun-filled family Pantomime! This year's helping 'Aladdin' at the Alhambra Theatre, Bradford epitomises the very reason families return in their droves year on year!
This year however there is that extra helping of magic and celebration given that West Yorkshire based comedy legend of stage and screen Billy Pearce is celebrating his 20th consecutive Alhambra Panto. Billy, as one of 'Widow Twankey's' sons 'Wishee Washee' proved tonight why he is revered as one of the best in the business. From start to finish he is a hilariously energetic ball of fun! He just doesn't stop! And just when you think he is beginning to tire he comes back and hits you with an almighty force! I'm sure he won't thank me for this but let's hope he is there doing his thing in another 20 years!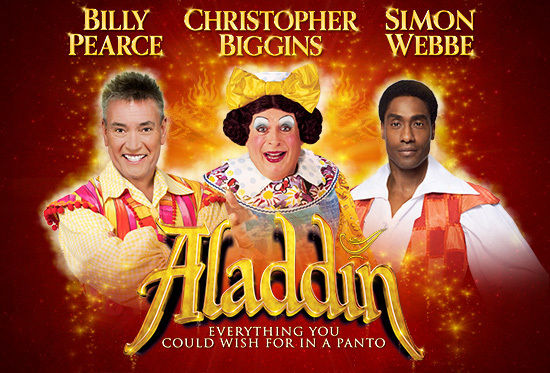 Billy is joined by an absolutely excellent cast - including pantomime and TV legend Christopher Biggins as 'Widow Twankey' - the costumes are extravagant and hilarious throughout but it's the person wearing them that shines the more than the latter two superlatives - He is in fine form - particularly when reciting poetry!!
Simon Webbe - star of Boyband Blue, is charming and lovable as 'Aladdin' and proved that he has more than a flutter of comic timing! Sarah Goggin as 'Princess Jasmine' is stunning throughout and with a fine voice too!
The best vocal performance of the night has to go to Emily Beth Harrington as 'Scheherazade' - the spirit of the ring! Her rendition of Defying Gravity for the flying carpet scene was simply effortlessly stunning! The flying scene itself was incredible- and I won't give too much away but it delivered so much more than I ever expected.
This pantomime is just a treat and has certainly got me into the festive spirit! I highly recommend that you go and see 'Aladdin' which runs until the 20th January 2019! To book tickets visit www.bradford-theatres.co.uk or call 01274 432000
Reviewer: Chris Hanlon
Reviewed: 8th December 2018
North West End Rating: ★★★★