Believe it or not, it's nearly Christmas and that means its panto season once again! Oh yes it is! This year, New Brighton's Floral Pavilion festive offering is Aladdin, and this was a wonderful festive treat.
The show features traditional panto sets designed by Ian Wilson, Jon Harris and Jason Bishop and they look fantastic. The show doesn't have any huge spectacle but the show doesn't feel like it's lacking any. This is just a good traditional family pantomime.
Andrew Ryan's script is very funny and the topical references just make it even funnier. At times, the show's structure does feel slightly clunky but that doesn't take away from the enjoyment factor of the show much. The show has a host of great musical numbers, from contemporary musical theatre songs to modern chart hits, delivered excellently by the cast and the small orchestra made up of Peter Golding, Adam Behrens and Jonny Christie.
Bill Ward, of Coronation Street and Emmerdale fame, plays the evil Abanazar in this production. He is no stranger to the stage however and this is clear in how he gets plenty boos from the audience. His singing is good and he plays the character fairly well, although he could perhaps be slightly scarier.
Andrew Gallo does a good job as the Emperor, although he is much underused in the show. TJ Lloyd is great fun as PC Pong and gets plenty of laughs throughout the show. Michael Chance plays Widow Twankey and he sings well throughout and gets a great rapport with the audience very quickly.
Michael McGinn is fantastic as the Genie of the Lamp. He commands the stage during his scenes and his performance is very enjoyable to watch. Musical theatre star Jennifer Harding plays the Slave of the Ring and she's a great addition to the cast. You couldn't tell this was her first pantomime – she seems at ease on the stage. Her vocals are very strong and she characterises the role brilliantly.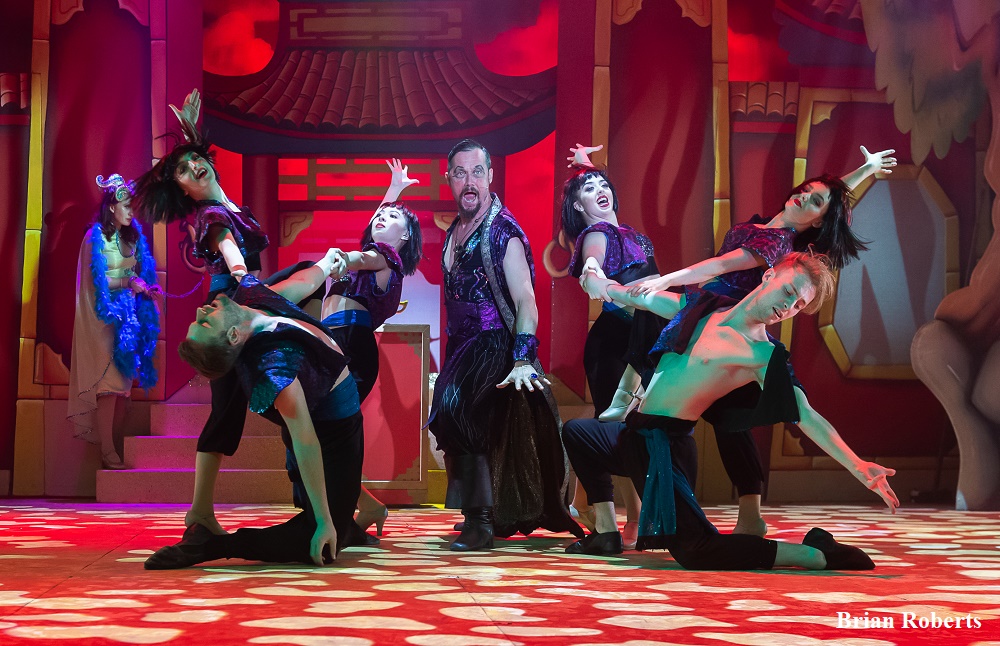 Kelsie-Rae Marshall impresses with her vocals as Princess Jasmine and her success in the role came to show when 2 of the 4 children on stage for the song sheet said she was their favourite character. Bradley Judge is great as Aladdin, with equally great vocals, and his charisma and stage presence in the role is brilliant.
Balamory's Andrew Agnew plays Wishee Washee and he stole the show for me. His stage presence is fantastic, he has a great singing voice and his rapport with the audience is perfect from the off. He manages the song sheet section of the show brilliantly!
The show is supported by a very talented ensemble and some very talented children who all deliver Lee Lomas' choreography brilliantly.
This show is a great traditional pantomime and is suitable for all the family. If you're in the New Brighton area, then make sure you get your tickets before it's too late!
Reviewer: Jacob Bush
Reviewed: 8th December 2018
North West End Rating: ★★★★