My first pantomime of the 2018/19 season and it didn't disappoint, this evening's performance of Snow White and the Seven Dwarfs truly put me in the festive spirit and whisked us all away to a fairytale land. A very talented cast featuring lots of young local Liverpool talent.
I will mention the show started a little later than planned, as it was advertised as 7pm, which made the finish time closer to 9.45pm than 9.30pm.
A lovely portrayal of Snow White herself from Mia Molloy, a cracking soulful belty singing voice, but I wish she would keep her eyes open during the song 'Try a Little Tenderness' she has such a lovely face and I wanted see her eyes too!
The dwarfs were a little disappointing for me to be honest, they were mascot style costumes. Which were mostly taller than the rest of the cast, they were also recorded voices with scouse accents and while some of the lines were funny, I was distracted by the fact they were stood far too still, not animated enough and the hands of the costumes were baggy and scruffy. I did see some hair sticking out the back of one of the costumes heads too.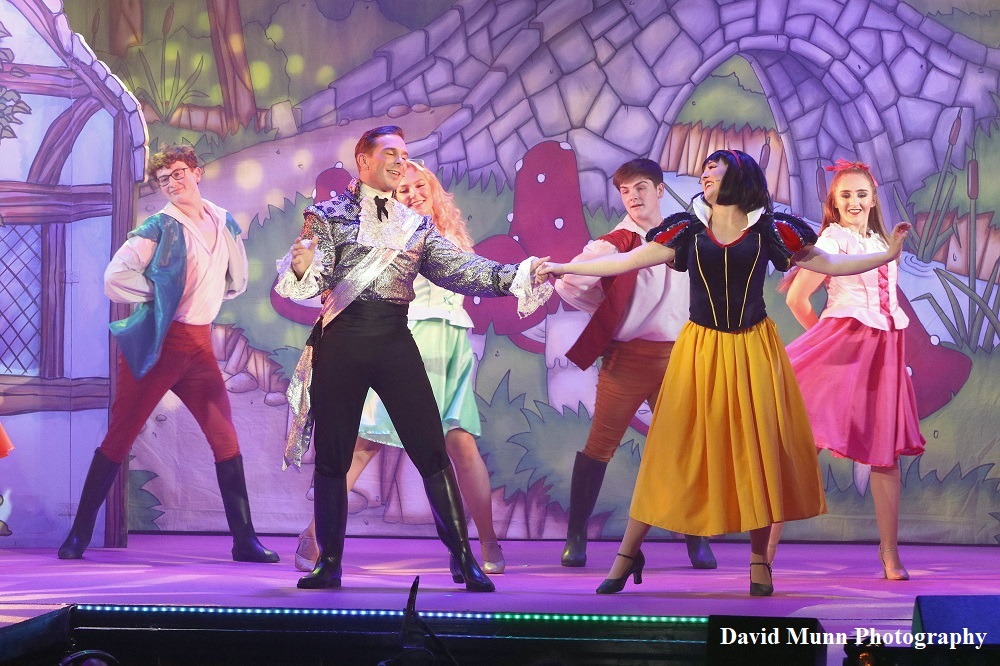 The production in general appeared to be no expense spared as far as staging..
Some nice audience participation elements, and call and response, however the water spraying was a little too much, it's funny if it's just a little bit not when you're soaking wet for the remainder of the first half.
The musical choices were great, a real eclectic mix suitable for all ages and sang very well. The cast in general were very young, and in my opinion the younger ones actually did a far better job than the celebrities.
For me Muddles was the highlight of the night, an energetic youthful performance, full of life and personality. A natural on stage and a talented triple threat, Lewis Pryor a name to watch for the future!
The technical and production team really are due some credit tonight, as I am very hard to please especially when it comes to sound, I have no criticism at all for sound lighting, scenery, choreography or music. A big well done to Lee Kelly and his team.
Musical direction by Tom Thorp, most of the music tonight was live, including keys and drums, visible from the audience.
There wasn't an announcement about which of the 4 teams of children were performing tonight but I think it was the team from LKH Youth Theatre. Some lovely young dancers and I must highlight the pint sized George Fazakerley, I couldn't keep my eyes off him!
The young men danced beautifully Jordan Bramhall and Noah Kinuig alongside 4 stunning talented ladies. Some truly spectacular choreography from HolliJo Bradley, showing off the wonderful technique, leaps, lifts and partner work.
Direction by Michael Chapman who doubled as Dame Debbie, a non-traditional Panto Dame with a modern flair somewhat 'Only Way is Essex' with an ever changing wardrobe of flamboyant costumes and close to the knuckle one liners, Michael really is a credit to the company. I particularly enjoyed the 'baby shark' song sheet. His quick wit and off the cuff humour is second to none.
A special mention also to the best presented programme I've seen this year.
The audience had great fun tonight and were all up on their feet singing along to the Christmas finale.
Performances running until January 2nd 2019, get down to the Epstein Theatre and see this fun festive production! https://www.epsteinliverpool.co.uk/events/snow-white/
Reviewer: Rebecca Casey
Reviewed: 10th December 2018
North West End Rating: ★★★★