According to Prince Charming, I am an "excitable, squeaky, pilot", and who am I to argue with a royal prince?
As masses of theatregoers took to their seats at the Hull New Theatre on Tuesday night, for the festive pantomime, Cinderella, a glance inside the programme led me to take the "Prince's Personality Test".
Excitable? Sometimes. Squeaky? Creaky more like. Pilot? Nah. But this little bit of fun got me in the mood for the shenanigans ahead.
A very loud bang and a puff of smoke got our attention at curtain up as it heralded the arrival of the narrator of this favourite fairytale, The Fairy Godmother (Hull-born West End star, Jocasta Almgill).
The beautiful fairy got us involved straight away, encouraging us to "boo" the Wicked Stepmother of the story, and give a "thumbs up" to the Prince Charming.
Anita Dobson as the Wicked Stepmother, Baroness Angelique, certainly got more than her fair share of boos on the night. Trouble is, it was difficult to boo her while laughing at every word she uttered and every move she made. I absolutely loved her. In fact, I thought I was going to die laughing when she sang Queen's Don't Stop Me Now, while "playing" real-life husband and Queen guitarist, Brian May's, guitar solo.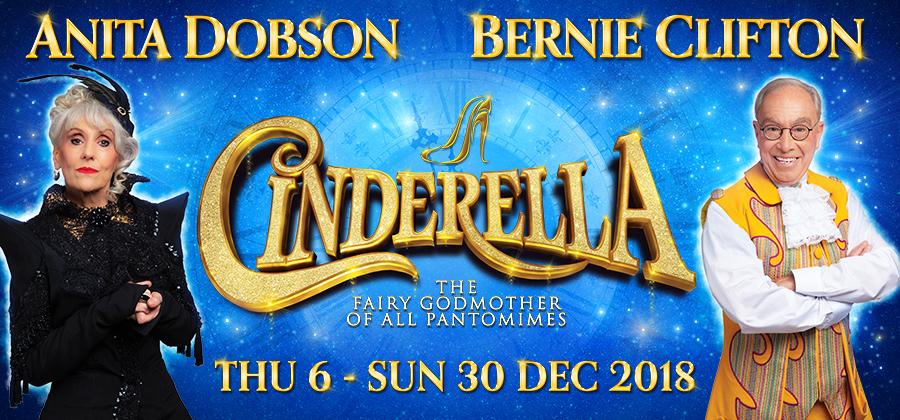 Neil McDermott as the Prince Charming certainly earned my thumbs up. He was gorgeous!
Bernie Clifton as Cinderella's father, Baron Hardup, was a scream. With and without his trademark "ostrich", more than once he got the audience up on their feet.
When he coerced us to stand up and do the floss, I refused (I didn't want to end up in traction over Christmas), but was in the minority. But I would have loved to have a punch at the sausage roll he threw into the audience for people to pass around (no sausages were harmed, it was a huge, and I mean huge, balloon sausage). Alas, I was seated in the circle. Mind you, it meant I wouldn't get drenched when the buckets of water were thrown into the crowds later on. Was it real water? Book tickets and find out.
I might as well introduce the rest of the cast here. Cinderella's friend, the love-struck Buttons (Hull's own Martyn James) had the kids shouting his name every time he walked onto the stage, which was often. The scenes where he attempted to tell Cinderella that he loved her, were hilarious and his magic tricks had us all entertained as well as baffled.
Prince Charming's manservant, Dandini (Liam Marcellino) was a damn sight better looking than Cinderella's two ugly stepsisters, Claudia (David Dale) and Tess (Tommy Wallace). Their costumes were amazingly horrific, making them look much larger-than-life, and much uglier, too. These two were a big and well-deserved hit with the audience.
Last but not least was the lovely Cinderella (Hannah Nicholas). Cute, dainty, pretty with a lovely singing voice, she was everything a "Cinders' should be.
The icing on an already delicious cake were the youngsters from the local LWHS School of Dance. They were amazing and never put a foot wrong. Especially cute were the two young "flossers" and the two mini "ostriches" running after Bernie Clifton. But they were all little stars.
Throughout, there was no doubting that the city of Hull was at the centre of everything – from songs praising it, "It's pantomime in Kingston upon Hull" and "By the Humber life would be more fun if my sisters …." to jokes making fun of Hull City football team, Prospect Centre shops, Orchard Park estate and the Hull accent, as in "there's lerds of sner on Beverley Rerd" (translation: a lot of snow has fallen on to Beverley Road).
This hugely entertaining cast, aided and abetted by a fantastic stage setting, glorious lighting and sound-effects, special-effects, magnificent costumes and live music played by three talented musicians, relayed the story of the rags to riches journey of the downtrodden Cinderella, in such a gloriously clever way, their fun and games never distracted us from the well-known and well-loved tale.
It's no secret that the drudge, Cinderella, does go to the Royal ball, does get her Prince and does live happily ever after.
But many surprises were in store as we joined her on her eventful journey. For instance, we were all handed 3D specs at the interval and wore them to watch Buttons and the Ugly Sisters as they wandered through the enchanted forest. Huge spiders and other creatures leapt out at us – by the sound of the screams all around us, the kids loved every minute. I wasn't so sure!
And just when we thought the production couldn't get any better, Cinderella's glittering coach (miraculously transformed from a pumpkin by The Fairy Godmother), was pulled on to the stage by two white Shetland ponies.
At the end, we didn't need much encouraging to get up out of our seats and cheer this amazing group who had reeled us in and spat us back out on to the cold streets of Hull, full of festive cheer. I'm still giggling.
Running until December 30th, 2018, with two performances daily (please note, there are no performances on December 17th, 21st and 25th). Tickets cost from £14.50 and are available in person from the Hull City Hall box office; by calling (01482) 300306 or visiting www.hulltheatres.co.uk
Reviewer: Jackie Foottit
Reviewed: 11th December 2018
North West End Rating: ★★★★★