The Everyman Rock 'n' Roll Panto is a huge Liverpool Christmas ritual, it is almost as much of a festive tradition as matching Christmas jumpers and a trip to Father Christmas' grotto. It uses a familiar tried and tested format, changing its title year to year and bringing back the same writers, performers and infallible formula.
Writers Sarah A. Nixon and Mark Chatterton have triumphed again for 2019 with sharp scripts, well-loved songs and plenty of laughs. It's little wonder that adults and children return year after year to experience what has become a Scouse rite of passage. It has a reputation for mesmerising kids with mad-hatter characters and fantastic dazzling costumes and for amusing the grown-ups with near-the-knuckle double-entrendres thus entertaining everyone together in a fast-paced, song-packed, sparkler of entertainment that gets funnier and sillier by the second. The pandemonium atmosphere gets everyone singing along and tapping their feet in enjoyment.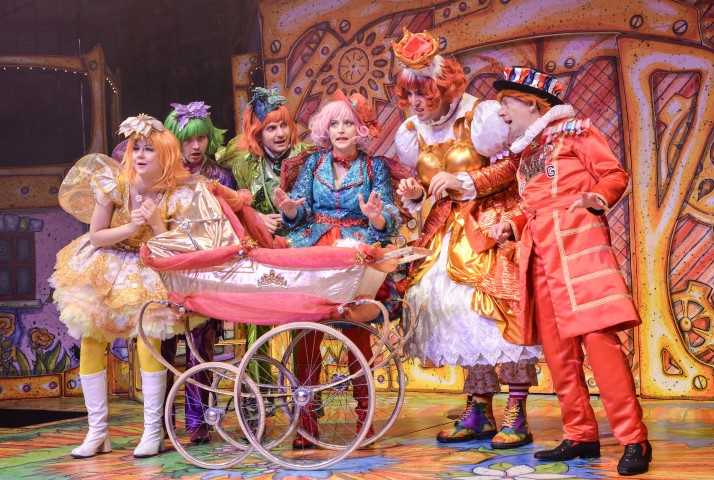 This year's production features Matthew Quinn as (Dame) Queen Gladys, Adam Keast as Sir Roger, Gracie Lai as Magnificent, Danny Burns as Doc Toc and Stephanie Hockley as Princess Rosa plus many more in an excellent talented cast of actors/musicians. It is the only panto I know which has a multi-talented cast who sing, dance, act and play live music on stage with most of the main characters juggling acting roles whilst interchanging with the other musicians in the band.
This panto, with its subtitle 'Bohemian Napsody' is a retake on the classic Sleeping Beauty story. It is just about recognisable as the original story; the traditional tale having been dissected and stuck back together and re-told in a novel and inventive way. The show starts at the end of the fairy tale with a diverse group of fairy sprites guarding Princess Rosa as she comes to the end of her 100-year slumber. The fairies realise they must turn back time to the Princess's naming ceremony to foil their enemy, the evil fairy Magnificent, who has kidnapped the handsome Prince or the Princess will continue to sleep forever. What follows is a wacky escapade of time travel, black holes, brilliant quips, several sets of identical twins, superb silliness and 70's music and disco dancing all brought together by a soundtrack of top ten hits not only sung by those on stage but also played by the actors not currently involved in the action. It is somewhat difficult in a cast so talented to pinpoint the actors who made the most impact, but for me Matthew Quinn as Queen Gladys stole the show. He was brilliantly funny, and his facial expressions, comedic timing and excellent singing ability carried the show along albeit Adam Keats's performance as Sir Roger is to be commended as his multi-faceted facial expressions and one-liners were a treat and his non-verbal communication was perfection. He juggled in-jokes, innuendo, ad libs and physical comedy so perfectly that even his fellow actors struggled to keep a straight face. He excelled in the blow-up female sumo wrestler costume, spinning around in the inflatable suit until it deflated and in his suit of armour outfit which had seized up and had everyone in pleats laughing.
Hockley's Rosa is a gutsy Barbie crossed with Zena Warrior Princess when battling against Lai's glittering mean girl fairy, Magnificent. Anna Soden channels her nanny namesake Mary Poppins as bossy Fairy Poppins (in one of Jacquie Davies' brilliant costumes), and Danny Burns, who starts off as Doc Toc, a mad, time-controlling professor and ends as a confused GP via countless costumes changes, a number of sets of identical twins, numerous accents and Pam and Dora the Explorer is outstanding in the many guises he takes on in the production.
Credits must also go to Director Mark Chatterton, Set and Costume Designer Dinah England and Lighting by Douglas Kuhrt. Musical Director Greg Last included staunch favourites such as Dream a Little Dream of Me, Golden Slumbers, We Will Rock You, When the Going Gets Tough, 500 Miles, I Will Always Love You and even the Ken Dodd classic Happiness.
With its exceptional cast of stupendous talented actors and musicians, its torrent of breathtakingly smutty gags and overflowing wardrobe of outlandish, stunning costumes this production excels and lives up to its reputation for entertainment. It is billed as 'the panto for everyone' but I'm not sure it is entirely suitable for many of the younger children who were attending as most of the jokes weren't child appropriate. There were the usual body burp and bum jokes which children love but most of the jokes were adult themed. Additionally, a lot of the same children looked tired and somewhat bored as the evening went on and became wriggly, after all the show does last for almost three hours which is somewhat too long for many toddlers and finishes just before 10pm which is way past many of their bedtimes.
The Everyman's Rock 'n' Roll Panto is jam-packed with plenty of belly laughs and traditional panto audience participation along with its live band and plenty of singing and lively dancing for all ages to join in with. During one scene the audience were sprayed with water from a water gun by Princess Rosa who makes sure to spray everyone including those sitting upstairs. I was thoroughly soaked from head to foot along with some of the rest of the audience in the Stalls which left me uncomfortably wet for the rest of the show. Not sure how everyone else felt but I thought this was a bit over the top and didn't leave me with a smile on my face and I would advise anyone planning to attend the show to take a cagoule or umbrella but nevertheless overall it was an enjoyable experience of usual panto fun and festive frolics.
The Everyman Rock 'n' Roll panto, Sleeping Beauty is at Everyman Theatre, Hope Street, Liverpool from 23rd November 2019 – 18th January 2020.
Reviewer: Anne Pritchard
Reviewed: 27th November 2019
North West End UK Rating: ★★★★