Stockport Plaza is alive with laughter from both young and old which means we must be in the midst of panto season. Oh Yes we are!
Extravaganza Production's Jack and the Beanstalk has arrived at the beautiful Stockport Plaza theatre until the new year and is packed full with traditional panto fayre and a script/ad lib which will get your child and your nan giggling in the stalls.
Phoenix Night's Ted Robbins returns by popular demand as Dame Trot and leads the rest of the cast into mischief throughout. The script is just what you'd expect from a panto with jokes a plenty about celebrities and even the upcoming election but it's Robbins comedic timing and delivery which gives this pantomime it's edge, knowing that the audience like it when the story goes awry and when one of the cast forget their lines.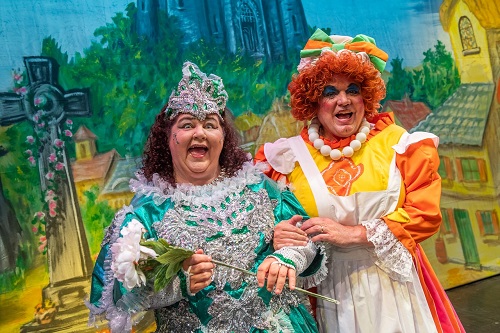 Eastenders Cheryl Ferguson stars alongside as Fairy Cauliflower who is a big hit with the audience especially during her musical number, Tyler Sargent takes on the title role of Jack with lots of energy and humour. Lisa Jane Kelsey plays his love interest; Princess Rosalinde, joined by Bradley Thompson as Simple Simon in his 5th consecutive year in the Stockport Panto and Tristan Carter as King Ethelred.
The entire cast including the dance ensemble seem to have a blast on stage and that atmosphere certainly rubs off on the audience, fun filled from start to finish.
This production is a whole lot of fun, it isn't the slickest pantomime I've ever seen but then isn't that what pantomime is all about; the things you remember are the parts that weren't rehearsed or supposed to be in the show like when Ted Robbins wig and hat fell off in the first half.
One effect I was particularly impressed with though was the 20ft high Giant Puppet which animated and moved on stage, a child next to me had a huge smile on his face as pointed to show his parent in amazement. That's what pantomime is all about; opening up the world of theatre for little ones to enjoy and get their first experience of the arts.
Verdict: Robbins leads the cast in a fun filled, silly caper which the whole family will enjoy!
Reviewer: Max Eden
Reviewed: 7th December 2019
North West End UK Rating: ★★★★