This year's Opera House pantomime stars Craig Revel Horwood as the wicked Queen (pause for predictable joke), panto stalwart and favourite, Eric Potts as Dame Nora Crumble and Ben Nickless as Muddles.
As the show is a Qdos Entertainment Group production, (the world's largest pantomime producer), I was looking forward to seeing Craig play the pantomime baddie....a role not too far removed from his Strictly Come Dancing day job.
Qdos certainly know how to put on a good panto and are renowned for their sparkling, colourful sets and wonderful fairy tale costumes, not to mention impressive technical tricks and visuals.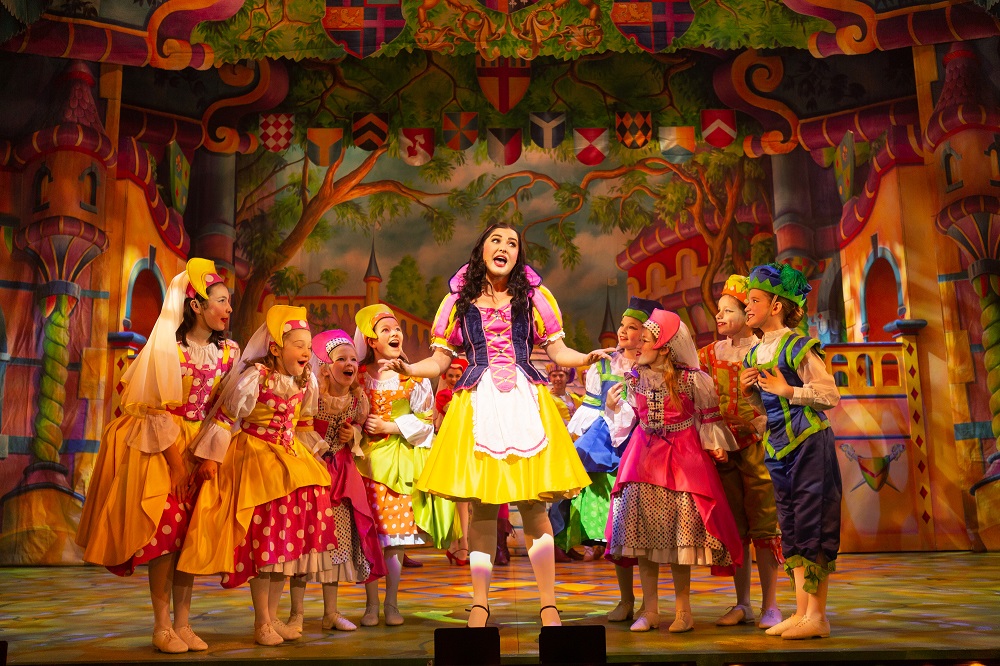 It is not open for debate that Craig Revel Horwood makes a fab-U-lous leading lady. As Queen Lucretia, he has poise and elegance and can certainly carry off the dazzling costumes, not to mention all the accompanying make-up and high heels. His posturing and stance, combined with the over the top costumes put me in mind of a cross between Norma Desmond from 'Sunset Boulevard' and Bernadette from 'Priscilla Queen of the Desert'. I did feel though that he could have been even more wicked than he was....although by the second half he was attracting quite an impressive chorus of boos and hisses from the audience who were a bit slow to get going.
I would have liked him to have more of a rapport with the audience and perhaps deviate from the script occasionally as it did feel that most of the time, he was just getting through his lines and nothing more. Craig's professionalism is uppermost at all times, even when he's corpsing and I think the audience were willing him to lose it a little more than he did. He is very composed and I'm not sure pantomime is his natural milieu. However, I was certainly surprised to hear him sing. Who knew he had such a wonderful voice? He sang quite a few songs but the version of 'My Way' with his powerful vocals and diva-esque performance was really something and quite a showstopper.
Eric Potts is my favourite pantomime Dame (after Les Dawson) and tonight it felt as if he was underused. Craig Revel Horwood was on stage a lot more than I was expecting and I think this came at the expense of Eric Potts's presence which is a great shame. That said, there were two scenes with Eric Potts which had me and my theatre companion laughing until our sides ached. The 'sushi' scene which involved Muddles as the go-between for Dame Nora Crumble and Queen Lucretia was comedy gold and high praise must go to all three actors for their delivery and timing. The other scene involved them singing the Twelve Days of Christmas with various props (always a winner) and there were a few moments which I still can't decide were genuine mishaps or very cleverly scripted....either way, they brought the house down (almost literally in one case) so job done. The loudest laughs of the night came from these moments and it wouldn't harm to have a few more of them.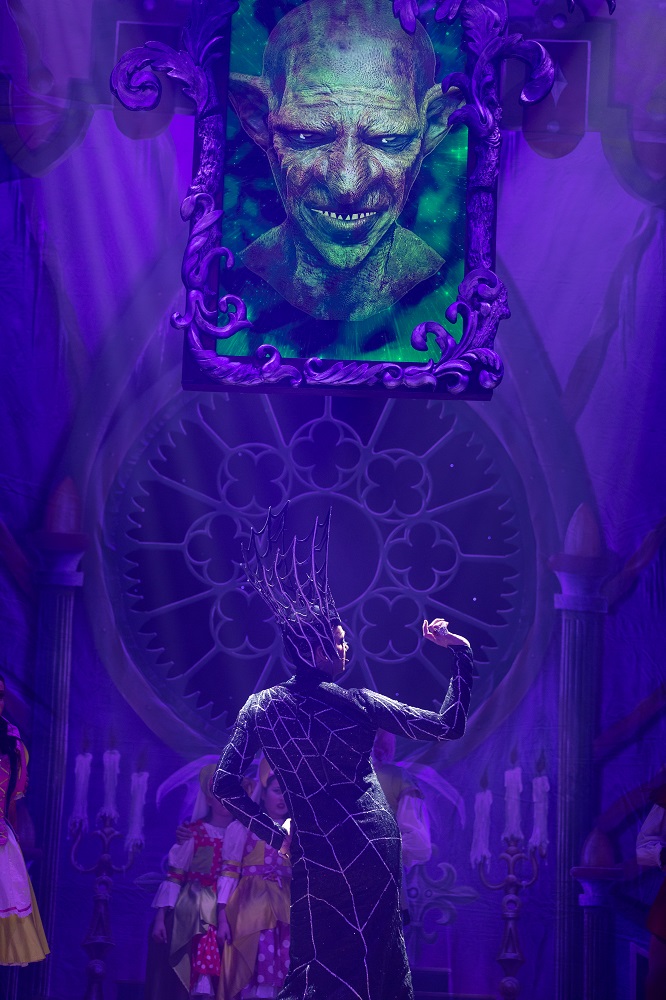 It has to be said that Ben Nickless is an excellent link between the audience and the stage. Nothing phases him and he is quick witted and naturally funny. He did the most adlibbing with clever quips and gags and he is an excellent impressionist. The 'Alexa' scene which included Eric Potts was very amusing and cleverly done.
The dwarves (or "magnificent seven" as they are referred to) wear costumes similar to Lord Farquaad in 'Shrek the Musical', ie: they play the part on their knees wearing diminutive false legs as part of the costume. It's very funny and effective, as 'Shrek' has proved. All of them spoke with a very strong, sometimes rather forced Manchester accent and it did become a bit tedious when they said "'ave it!" for the umpteenth time. Virtually everything they said was heavy with Mancunian/northern turns of phrase or sayings and it overegged the pudding.
The script itself was peppered with references to Manchester with some of the songs being tweaked to incorporate mentions of The Opera House and Manchester....it did seem to be trying just a bit too hard to keep the Manchester vibe going. I also felt the dialogue between Queen Lucretia and Prince Harry (Joshua St Clair) in their scene together was overly lewd and suggestive, as were some of their dance moves, bearing in mind the younger members of the audience who make up a very large part of it.
There is a very sinister dragon (as well as Craig!) who flies above the audience – this was extremely well done and effective, and you didn't get any glimpses of the equipment, so it did look truly magical. Unfortunately, when the same mechanism was used later on to give the effect of the old crone flying, the mechanism itself was visible which took the edge off it slightly.
Always with an eye for the dancing, I spotted two same sex couples dancing in the ensemble so this may be due to Craig's influence as he has been supportive of this idea in Strictly Come Dancing. The overall choreography was very enjoyable, particularly when the ensemble and Prince Harry danced to "I'm Still Standing".
The set design and the various effects and pyrotechnics were of a very high standard and the orchestra did an a-ma-ZING job too. All the scene changes were seamless and slick although we did get an unexpected glimpse of the stage crew at work thanks to Craig....was it an accident...not entirely sure but if it was, it should be included in every performance because of the audience reaction!
Overall this was an enjoyable evening with some hilarious high points, but the script was slightly lacking in some areas and we definitely needed more of Dame Nora Crumble. Oh yes we did! https://www.atgtickets.com/shows/snow-white/opera-house-manchester/
Reviewer: Nicky Lambert
Reviewed: 9th December 2019
North West End UK Rating: ★★★