As the country celebrated Panto Day earlier this week, I was glad to be able to join in this great British tradition this afternoon in Manchester. Goldilocks: The Panto! is the seventh annual offering from eight-freestyle and The Dancehouse, and it really was a great example of this traditional art form. It had everything you would want it to have: clever comedy, a dame, audience participation, a villain or two, a love triangle, a hero striving to succeed, great music and dance… oh, and a tyrannosaurus rex doing the caterpillar. Yes, really!
Written and directed by Sean Canning, this is a rather more expanded version of Goldilocks than you might be used to. Of course, the iconic porridge-stealing, chair-breaking, bed-crashing scene remains, and it's wonderful; but there's more to this pantomime than a simple fairy tale. Goldilocks (Helena Smith) is the trapeze artist at Bertha's Big Top Circus, which is run by her mother, Bertha Barnum (Matthew Chappell), and her father, Roger (Steven Jackson). Bertha's Big Top is competing for the best show in Manchester against the scheming Baron von Schtinkenfurter (Adam Urey).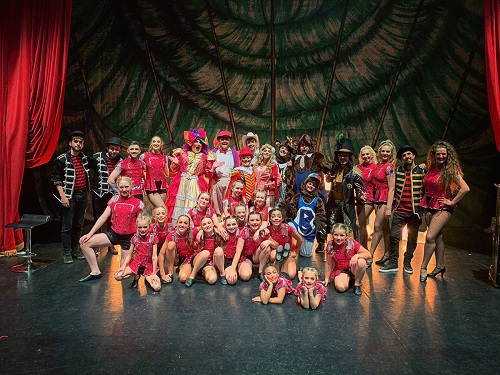 The three bears – once misunderstandings are resolved – become Bertha's next biggest song-and-dance act… but will that be enough to win the competition? And will they be able to thwart the Baron's evil plans for circus domination?
The jokes come in thick and fast, and unlike several pantomimes I've seen over the last couple of years, this one walked the line of clever and topical comedy very well, providing great entertainment for audience members of all ages and much-needed respite from a dreary winter day. The songs that the company chose to perform also catered to a wide audience, including a fantastic number choreographed to The Greatest Show. The company of dancers of all ages had clearly worked very hard on all of the numbers in the show, and the whole production was supported by a live three-piece band, who joined in the action on the stage.
The designers had taken the circus theme and run with it, producing a fantastic vision of set, costumes and lighting that complemented the story at every moment. A particular shoutout to the three bears, Kieran Lee, Kate Mitchell and Shane Hurst who must have been sweltering in their fabulous bear-suits in the very warm theatre. While it's true that some of the elements of the show weren't quite as slick as they could have been, I have no doubt that should be put down to opening night tweaks, and I'm sure everything will run smoothly from now until the end of the run.
This is definitely a show that is worth a visit, the littler members of the audience were engaged right from the start and the slightly older members had plenty to keep them entertained too. Don't miss out!
Goldilocks: The Panto! is on at The Dancehouse on Oxford Road, Manchester until New Year's Eve. Information and tickets at: https://www.thedancehouse.co.uk/events/2019/231-goldilocks
Reviewer: Jo Tillotson
Reviewed: 15th December 2019
North West End UK Rating: ★★★★