This year's pantomime at Liverpool's M&S Bank Arena's Auditorium is Snow White and the Seven Dwarfs. Shone Productions' show in Liverpool is a traditional family pantomime suitable for all ages. It has everything you expect from a pantomime and more: brilliant choreography, a whole host of familiar and new gags, colourful sets and some spectacular illusionary. Albeit this production isn't completely perfect but it's definitely not far off.
James Shone, producer for Shone Productions, writes and directs the production, alongside Adam Kelly, and it is clear that he loves his craft. He knows what audiences expect from a pantomime and he delivers. The small band under the direction of Jonathan Chalker sound brilliant and the musical numbers all sound great. Helena Ferreira's choreography is great fun and it's executed brilliantly by a very talented group of dancers. I have to say it was wonderful to see the professional, adult ensemble and the juvenile ensemble all performing the same choreography. Having children in panto is essential and they have clearly found some of the best in the area for this production – they do a wonderful job playing the 7 Dwarfs.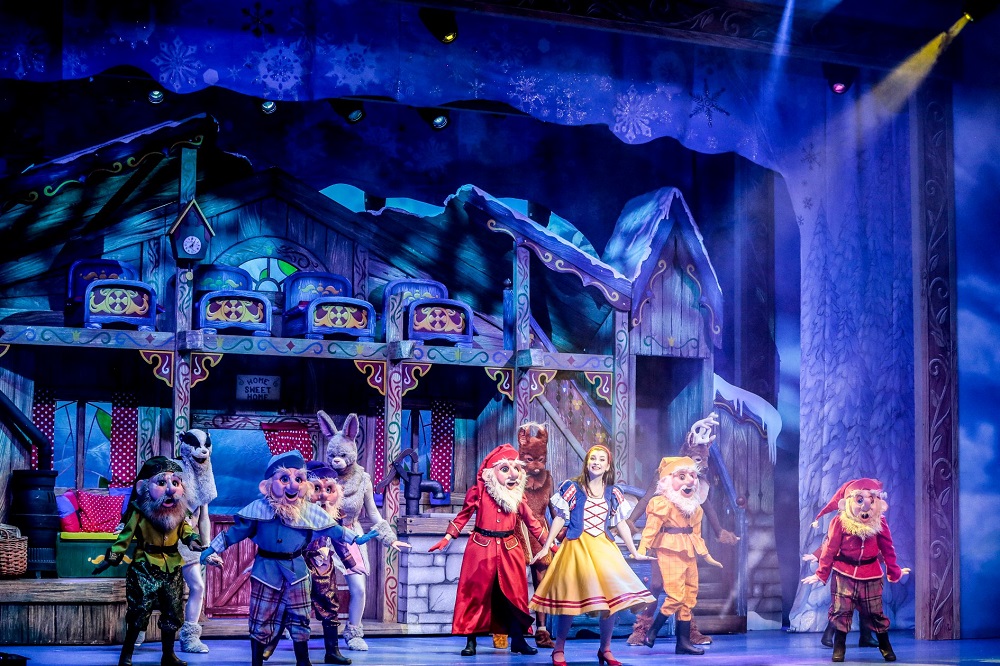 JJ Hamblett of Union J Fame plays the Prince in this production. His performance is good and his vocals are lovely. Although his stage presence isn't remarkable and his acting is a little to be desired at times, he is clearly having fun on stage and he clearly wants to be there. Local girl Ellie Turner plays Snow White and she does a good job. She's warm and likeable, although at times she is a little bit too sickly sweet and OTT in her acting.
It is the supporting cast that really make this production stand out above the rest. Bippo plays Muddles and he is perfect in this role. He is hilarious, his circus background enhances his performance brilliantly and he gets chance to show off his great singing ability. Mark Hudson is a fantastic dame, possibly even one of the country's greats. He is funny, his costumes are fantastic and he has a brilliant rapport with Bippo. Local radio DJ Leanne Campbell plays the Wicked Queen and she is a fantastic performer. She is an exceptional vocalist and a brilliant actress. She has a huge stage presence and she has the audience in the palm of her hands. There is a particular scene featuring Campbell that is very impressive and spectacular, although it does sadly mean we lose the traditional transformation scene. CBBC's Hacker T. Dog appears on screen as the Magic Mirror and this is a fun addition to the show that the children in the audience seemed to particularly enjoy.
For me, it was Maddie Hope Coelho as Fairy Fortune who stole the show. Snow White is not a pantomime that usually has a fairy but Coelho is completely convincing and makes you think she is completely necessary to the show and the plot. Her vocals are spectacular – her musical numbers are a highlight of the show. Her wealth of pantomime experience comes through clearly as she obviously completely understands the genre. She gets responses out of an audience who were often quite quiet and she injects a huge amount of energy to the production.
Snow White is a great pantomime with some excellent performances. It gives you everything you want from a family pantomime. With a very short run, be sure to check it out if you are in Liverpool - it's only on until Christmas Eve! https://www.mandsbankarena.com/
Reviewer: Jacob Bush
Reviewed: 16th December 2019
North West End UK Rating: ★★★★