For a lot of people, Christmas doesn't start until they've seen their local panto. For me, I tend to avoid them, but I was so glad I took the trip to see Aladdin. Whilst still cheesy and everything you'd expect from a panto, it was thoroughly enjoyable and even enough to make the Ebenezer Scrooge's amongst us, laugh! With a mix of new and old songs, there's something in this panto for everyone, with some jokes designed for the adults in the audience!
The cast were all talented and seemed to enjoy playing the roles they were cast in. For me, the stand out performances were from Tom Hope (Aladdin), Ryan Towart (Widow Twankey) and Michael Alan Bailey (Wishee Washee). It was clear as to why Bailey was billed as 'back by popular demand.' He was funny, with great comedic timing, yet not harsh with his jokes, he was likeable and managed to get the audience on side, straight away!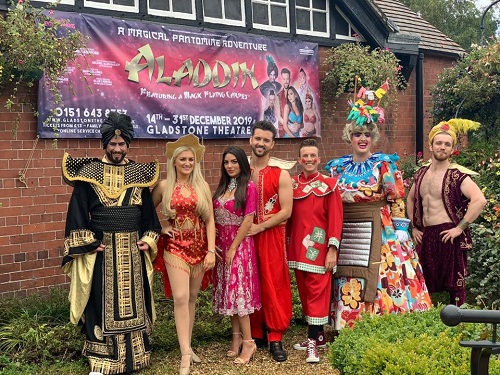 The kids loved the camaraderie and rapport they had with him on his entrances. Hope, as Aladdin, was the loveable "street rat", his vocal range was extremely enviable and everyone was wishing for him to beat the baddie and win the girl! Towart, was the ultimate panto dame, every scene was only improved upon with him in it. The scenes that included the three of them, were entertaining and definitely got the biggest laughs, especially after one of the PC's had lost his moustache in the previous scene and Bailey put on one and pretended he was Freddie Mercury! The rest of the cast were enjoyable to watch, and Darren John Langford had the children booing his Abanazar from the beginning. Even at the end, they still booed him! The dancers were all superb, children and adults alike. You found yourself watching them when they were on stage, and they were all perfectly in time with each other.
The special effects of the production were fantastic. The magic carpet scene was extremely clever and left everyone wondering how they had managed it. And the appearance of the genie and the slave of the ring, with smoke effects, made the evening for some of the children, and many gasped when they saw the fireworks at the end of the bows! The sound production was great, although at one moment, the wrong song was played back, but the characters made fun of the situation, and it was something only the adults noticed.
For most of the children, as their introduction to the theatre, it was a great performance for them to watch. At times it felt a little too long, and the children did get a little restless, but it didn't allow the actors to break their characters! Playing until the 31st December https://gladstonetheatre.org.uk/events/aladdin-a-magical-pantomime-adventure/
Reviewer: Jenn McKean
Reviewed: 16th December 2019
North West End UK Rating: ★★★★