When the first thing you see up on the stage at any show is a guitarist with a fish on her head – well, you just know you are about to witness something weird and wonderful.
And we certainly did when The Little Mermaid came to the atmospheric little theatre inside Jubilee Central, on Saturday afternoon.
The fishy story about Ariel (Alice Beaumont), the mermaid of the title, had me crying with laughter from the very start, when her "mam" Patti Breadcake (Marc Graham), erupted onto the stage in her Queen of the Sea mermaid-type costume – complete with huge shark between her legs (you had to be there).
I'd already done my bit for the dreaded audience participation, thanks to an energetic and very persuasive Flounder (Nigel Taylor), who entertained us, urging us to "make some noise".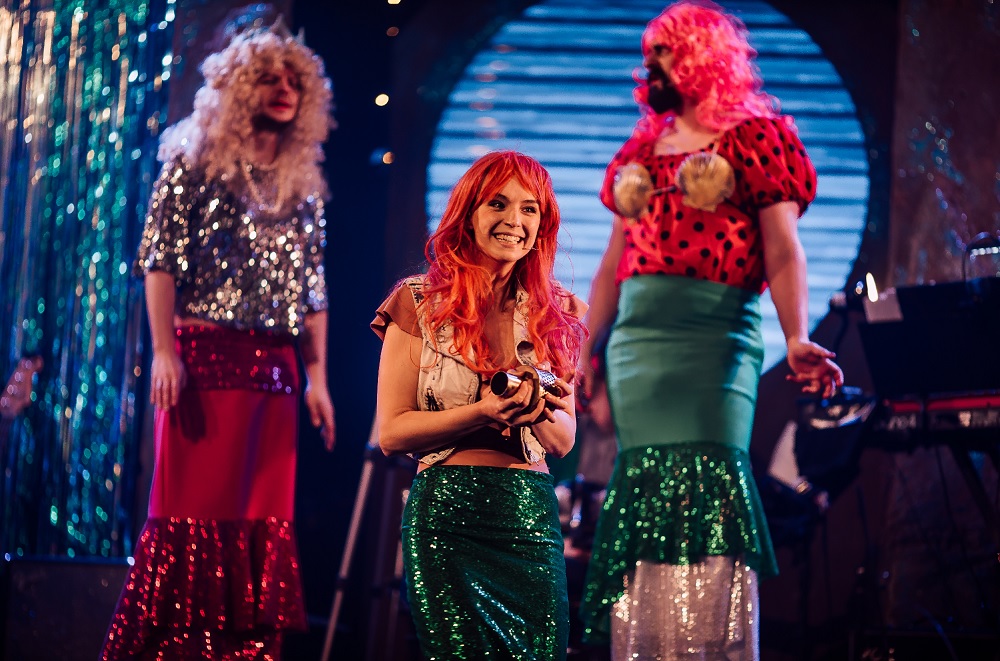 The underwater action centres around a disgruntled Ariel, who longs to swim to the surface, grow a pair of "danglers" (that's legs to you and me), and become a "hooman".
She loves to collect debris in the River Humber– a wheel hub, an old boot, a mirror and a framed photo of Peter Levy are among her faves.
However, her mother constantly warns her against swimming to the surface, as does Herman the Hermit Crab (Jack Chamberlain).
This is panto, so there's always a baddy to boo and hiss. Step forward wicked witch Ursula (Emma Thornett), who is determined to take Patti's crown and rule the seas, evilly, herself.
On one of her forbidden swims to the surface, Ariel comes across Steve Prince (Josie Morley), doing his job of clearing litter from the Humber in his little rowing boat, HMS Boaty McBoatface. Their eyes meet across a litter-picking net and they are both smitten.
Determined to live in the "hooman" world with her "Prince", Ariel is easily tricked by the wicked Ursula into relinquishing her life underwater, in exchange for a pair of "danglers".
Before our very eyes, Ariel's sparkly green fishtail changes into a pair of boring, black jean-clad legs.
Ursula then blackmails Patti into handing over her crown, promising her she will help her get her daughter back.
Of course, we knew Ursula was lying, and booed our disapproval.
It's Christmas, fishiness is in the air at Jubilee Central and, in true panto tradition, good eventually overcomes evil and they all live Red Snapper-ly ever after (sorry, I couldn't resist).
I don't really know how to describe this production. Let's say it's unique. The makeshift scenery had the air of a school play, with costumes to match. But the singing voices were professional and tuneful and, despite microphones going off at times, all speaking voices were loud and clear.
The accompanying music, played live on stage throughout, mainly by James Frewer (the Musical Mollusc), added to the spectacle.
Very funny one-liners came thick and fast, mainly from Patti's mouth, and Hull got more than its fair share of disparaging (but amusing) comments (I'm talking about you, Ursula).
Politics briefly reared its ugly head with put-downs for Brexiteers, Boris Johnson, Michael Gove and Nigel Farage, which fell a bit flat, the General Election having been and gone.
We also got, what I took to be anti-Brexit hints in the script – "we're better together and not isolated" etc etc.
But hey ho, politics aside, this talented bunch kept a decent-sized audience thoroughly entertained for over two hours – you can't ask for more than that.
Running until Sunday, December 29th, 2019 (excluding Christmas Day and Boxing Day). Times – 2pm and 6pm on Monday, December 23rd; Saturday, December 28th and Sunday, December 29th; 10am on Tuesday, December 24th; 6pm on Friday, December 27th. Tickets from £10. Call (01482) 323638 or email This email address is being protected from spambots. You need JavaScript enabled to view it. For more information, visit www.middlechildtheatre.co.uk
Reviewer: Jackie Foottit
Reviewed: 21st December 2019
North West End UK Rating: ★★★