Birmingham Hippodrome has been known for its lavish and spectacular pantomimes, this year is no exception. It could even be the most colourful yet.
Snow White and the Seven Dwarfs has been on the panto circuit for many years, it was last at the Hippodrome 7 years ago when Matt Slack first appeared, he hasn't missed a show since. There is precious little plot but that doesn't stop the mid-week audience from having a great time.
The sets (designed by Ian Westbrook) are a riot of colour and sparkle, only out done by the sumptuous costumes that fill the stage as the dancers twirl and leap. Everything is beautifully co-ordinated and lit to perfection by Ben Cracknell.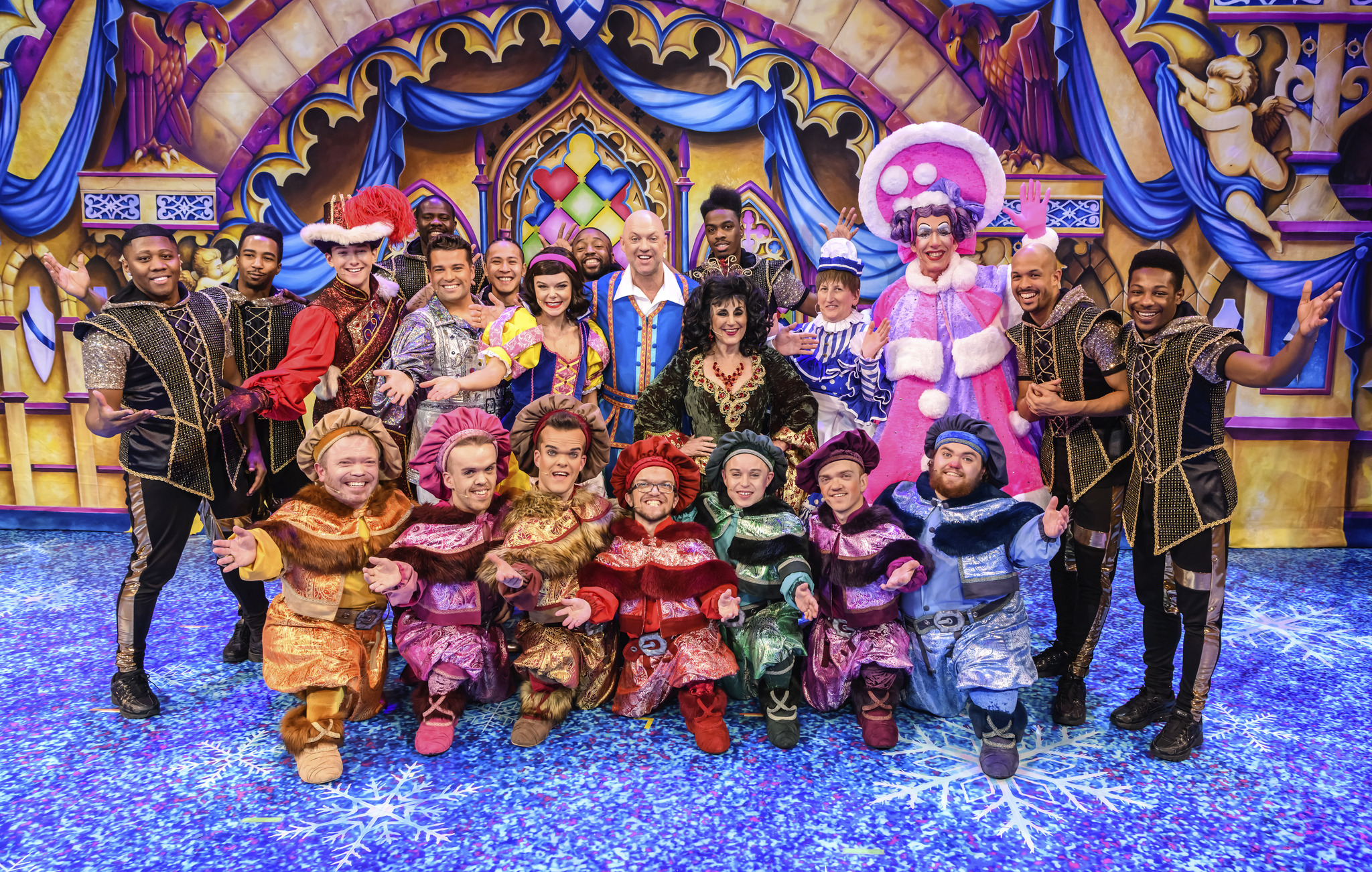 There are lots of musical numbers which give the excuse for elaborate costumes and dance routines. From a winter wonderland medley, to dancing polar bears and a glitzy birthday party, it is clear no expense has been spared. Every dancer, be it adult or child, is polished with their enthusiasm and energy bursting from the stage.
Faye Brookes is a charming Snow White with a beautiful voice shown in a tear jerking song in act 2 with Joe McElderry and Craig Garner. Spirit of the mirror McElderry stands up to the evil queen and belts out some lively songs to keep the energy up. Lesley Joseph's Dragonella is deliciously evil and sinister without being terrifying. She holds her own in the interactions between her and Matt Slack. Slack is obviously the audience's favourite judging by the cheer when he first appears. All of the best comedy moments are his, from the impressions of other comedians to the now customary juke box style story telling. Jac Yarrow as Prince Harry makes a great pantomime debut. No one can out costume Andrew Ryan who makes a welcome return with his well-timed comedy, while Doreen Tipton brings a local feel to the laughs as the Lady in Waiting, helping to make the show relevant to the Midlands audience. The Seven Dwarfs are a joy but lack stage time. The dance troupe Flawless live up to their name with some intricate dance routines as the Queens Guards.
No Hippodrome pantomime is complete without special effects, this year we are treated to a magic mirror, a flying sleigh and, of course, a dragon. Dotted throughout the show are many local references, especially a few nods to the 120th Anniversary of the Birmingham Hippodrome. Although the sets and costumes may have come from last year's London Palladium pantomime, this show has a truly regional vibe.
This production is the perfect antidote to the January blues, It's guaranteed to brighten the darkest night in a blazing riot of colour, spectacle and laughter. A treat for the whole family.
Reviewer: Annette Nuttall
Reviewed: 8th January 2020
North West End UK Rating: ★★★★