A pantomime at Easter I hear you cry.... oh no, there isn't - Oh yes there is! Anton Benson productions are back, and this time with a bigger and better product.
Written by Anton Benson himself, this is actually an extremely well-written show and tells the story simply and effectively with moments of madness and moments of sadness. Traditions are kept - such as audience responses, character types, routines etc, and it is most definitely age appropriate with a couple of things thrown in for the adults too, but nothing too saucy or offensive. The songs were all appropriate too and except for the Christmas ones, well chosen; and thankfully, the laborious routines which can often go on for ever were kept to a reasonable length here!
Despite not being advertised as such, the Manchester productions of this panto are try-outs and preview performances, and as such are missing vital parts of the set, and a couple of things just simply didn't quite work technically, including a flat which hadn't been weighted down and so went moving across the stage with the poor Dame on it - who coped with this mishap in true Dame fashion and ad-libbed her way brilliantly off stage.
However, once the show gets bedded in and it starts its run in Whitley Bay with everything going according to plan, then this will be a really entertaining and lovely pantomime. My only real criticism with the whole show is that it is not, despite the advertising, and Easter show. The only concession to the season was an Easter Egg, otherwise, there was nothing new in here.... we have seen it all before, many times, at Christmas. We even had The Twelve Days Of Christmas song! (oh NO!) I think that if we are to accept that pantomime doesn't necessarily need to be seasonal, then we need to think a little outside the box and find dialogue and songs which are appropriate to the time of year. Don't bring the kids up on stage and ask them what they got for Christmas, ask them how many Easter eggs they found hidden in their gardens or something similar.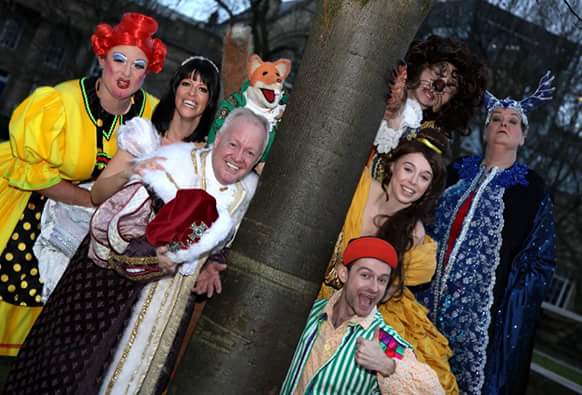 Why couldn't one of the Dame's costumes have been a huge egg? The fairy could have been a Bunny Rabbit.! Pretty much anything to get away from the tired old 'traditional' Christmas fayre! That way you will find that parents are more willing to go to TWO pantos every year and not just one! Anyway.....
Headlining the cast, and enjoying every minute of it, was the extremely personable and engaging Keith Chegwin. He seemed to be liking it so much that he was laughing all the way through and couldn't even get his lines out for the hilarity. I got the feeling that a lot of it were 'in-jokes', but I also sensed that he was genuinely having a ball, and his infectious joy touched the whole audience, who went along with it and laughed with him. Had he have been any other actor, then we would surely have been laughing at him. Co-starring in this production were Anne Hegerty of TV's The Chase fame, and Basil Brush. A much improved performance from the last time I saw Miss Hegerty on stage. She has certainly upped her game, but still I think that she really oughtn't to be the baddie. Yes, I KNOW her character in The Chase is somewhat austere and domineering and she deliberately sets herself up as a know-it-all Ice Maiden, but in reality, she's just too nice and would make a much better Sugar-Plum Fairy or simpleton Evil-one's Helper type role. And of course Basil Brush, was very Basil Brush - except his voice has changed since the last time I heard him speak, which was in my childhood and so of course, his handler is new. (At least to me).
Ably aiding and abetting them in their journey through Ooh La La (that's the name of the village!) were Belle, played by a young lady with a great stage presence and a beautiful singing voice, Eva Mckenna; her father Claude, [ who could have been Jean-Claude from The Damme or something perhaps?? ] played by the amiable Michael Winsor; Dame Dolly, was a brusque and rather manly Dame, but played with definite vigour and extremely tongue-in-cheek, by Sam Rabone; The Dame's hapless sidekick, hopelessly in love with Belle, was Wally, played by an inimitable and extremely likeable Ryan Greaves. - Just slow the dialogue down a little and let the audience in a little more and it will be just lovely! Learn to work your young audience and know that you need to have them always on your side. The slapstick and the running around is only a part of your job. However, again, once you get bedded in with this role it will hopefully slow itself down a little, and you will be able to talk to the audience more. I really loved the 'I Wanna Be Like You Song' though - and I think almost all the audience did too!
Ben Sherlock was a rather weak and unconvincing Prince / Beast, and his beast mask was laughable rather than tragic; and Lizzie Frances was both the director and Fairy Tale. Why she needed a London accent for her role goodness knows and she too, like Greaves, needs to take a breath every now and again and acknowledge the audience of youngsters and get them on her side.
Musically it was very proficient under the direction of Sam Coates on the keyboards and helped along with drums by Dan Kirkham. The only problem was the sound wasn't full or deep enough. It really needed a bass or a third instrument to widen the sound spectrum, and depth and quality of tone.
In this production the cast were helped by a group of young girl dancers from Dimensions Dance. The choreography was nothing special, mostly simple movement but it was all very well executed and the dancers were always together and in time - and smiling! I quite liked the Thriller dance.
In conclusion then, this is a fell-good show which packs a fun punch - although the energy levels had fallen a lot in Act 2 - and with a little reworking to bring the themes away from Christmas (and a proper LX change for the evil Enchantress) this is a very good and entertaining show for children of all ages. My personal favourite moment though was King Cheggers' Magic Bandana (banana) routine! Lovely.
Reviewer: Mark Dee
Reviewed: 26th March 2016
(Preview Performance)