The issue of immigration is quite a hot topic in the UK at the moment. Many people view immigrants as benefit grabbers and job stealers. However, not many of think about the situation they are trying to escape in their home country. Rights of Passage presented by Artemis Theatre tells the story of three LGBT people; how they were treated for being gay in their home countries, and what they had to go through to claim asylum in the UK. It is important to note that these are all true stories.
Upon entering the theatre, it is quite clear that this is a fringe production. However, the backdrop is quite nice, the set designer (Sophia Lovell Smith) has transformed some office dividers into pieces of wood and barbed wire, which is to represent a border. Apart from this, the production uses a lot of imaginary objects, which can work, however on this occasion it cheapened the look of the show. For example, when Hamed (Reece Mahdi) was asked to take off his clothes, he could have at least taken off his jacket to show he was taking them off, instead he mimed taking off this clothes.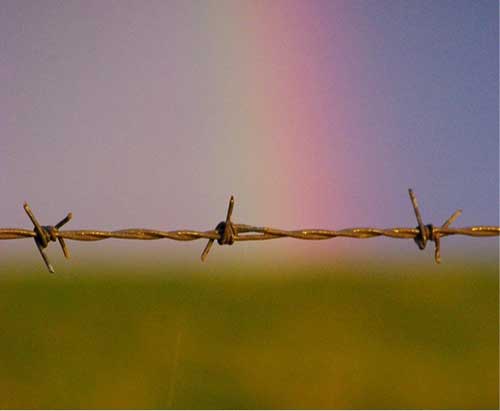 The lighting throughout the majority of the production was good. However, there were a couple of occasions it failed to meet its intended target. At times the person who was speaking was in the spotlight, however the character's reaction was more important to the audience, so they should have been in the spotlight.
A couple of moments in the production could have been a bit slicker. For example, moving the props between scenes. There could have been some music played over this to divert the audience's attention from it. One of the main problems I had with this piece is that I didn't understand the character of Izzy (Jeffrey Ho). There is one scene devoted to him trying on his sister's clothes and wearing lipstick. However, in a later scene he says he never wanted to dress up as a girl. This was a massive contradiction.
In all there are four actors in this production; Antonia Kemi Coker, Clare Summerskill (who also wrote and directed the piece), alongside Ho and Mahdi. I think the production could have done with the introduction of a fifth actor, as it did get confusing at times who was playing who, and there were times it was quite clear to the audience that the actor was rushing off stage to get changed into their next character.
Although this review has been quite critical of Rights of Passage, it is in fact a good production. I was just a little frustrated that there were a few things that could have been ironed out to make it excellent. The stories are great and a real eye opener, however the theatrical execution wasn't all there.
Reviewer: Francis McKevitt
Reviewed: 4th June 2016
North West End Rating: ★★★