The Krazy Kat Theatre Company is currently touring the UK presenting The Very Magic Flute a splendid creation that is loosely based on Mozart's Opera. The classic story of the magic flute was brought to life by Jim Fish, Clare English and Kinny Gardener through puppets, props, music and of course magic.
Papageno the bird catcher, for the wicked Queen of the night, sets out on the quest alongside Tamino to rescue the Queen of the night's daughter Pamina. Armed with a magic flute and bells, the duo find the Princess at her father's (Sarastro King of the Sun) palace. After battles with monsters and sea serpents, as well as passing the three tests set by the King, Tamino is finally allowed to marry Pamina. Finishing with the good conquering evil finale.
The Krazy Kat Theatre Company and multi award -winning Artistic Director Kinny Gardner, created a whole new take on Mozart's classic, with beautiful puppets, magical transformations, and fully integrated Sign Language. The show was aimed at 3-7 year olds and was a superb mixture of visual delights, magic tricks, puppetry all held together with lots of silliness and beautiful music.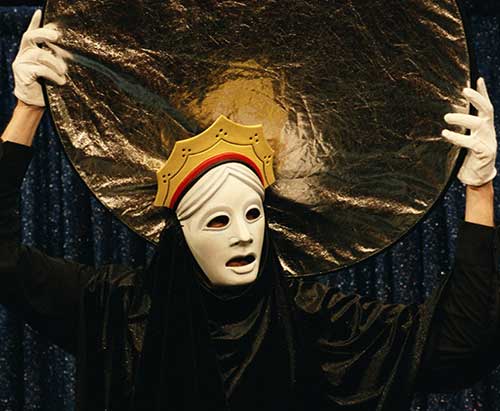 It's a tall order for a Mozart opera to be converted into a story that would captivate such a young audience, but judging by my 3 year old companion's reaction these three excellent performers did exactly that.
Using magic and fun there were plenty of giggles along the way and, as always interacting with such young audience members, moments of pantomime 'he's behind you' squeals were echoed around the studio. Even the very scary Queen of the night puppet got some laughs with the slap stick humour of bashing her with a flute.
Showcasing Krazy Kat's mastery of visual storytelling, and bristling with creativity and humour, this is an ingenious and imaginative theatre show ideal for 3-7 years and their families. The show lasts 50 minutes and is suitable for both deaf and hearing audiences. To find out more about this company or production visit www.Krazykattheatre.co.uk
Reviewer: Victoria Wilmot
Reviewed: 5th June 2016
North West End Rating: ★★★