Shakespeare at the Tobacco Factory have gone from strength to strength since first forming as a commercial company in 1999 with an investment of over £30,000 and a plan to bring to the stage two Shakespeare plays every spring for five years. Although the first performances were poorly attended reviews were good and so began the success of the company, who in 2004 became a registered charity and are totally dependent upon attaining high audience attendance as they do not receive any core funding from local or national government. Fortunately, as was the case tonight, they manage to achieve over 90% audience figures at their performances.
I have never seen a Shakespeare play having been totally put off from the forced reading of Shakespeare's works in my adolescent years at school and never quite understanding them, so have to admit that I wasn't wholly looking forward to reviewing All's Well That Ends Well this evening.
Using a central stage with an audience to all four sides and little in the way of props the whole focus is upon the performers which works extremely well with them utilising all areas of it and even with backs to the audience at times, could still be heard clearly.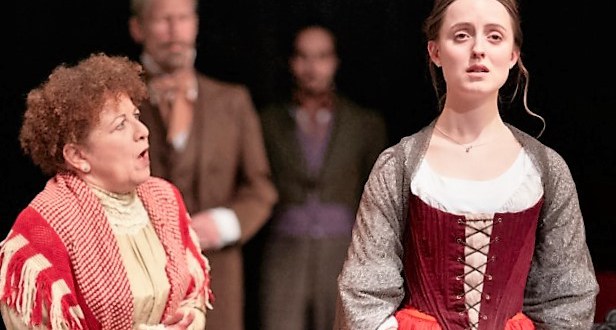 Following the recent death of his father the Count Rossillion, the play starts with plans being made for Bertram, (Craig Fuller) now a ward of the King, to travel to Paris and join the King's Court. Bidding farewell to his mother the Countess (Julia Hills) and Helena (Eleanor Yates) he sets of with Kings aide Lafew (Ian Barrit) and his friend Parolles (Paul Currier). Hills gives a wonderful and at times funny performance as the countess and is a perfectly cast. Yates character shows a cool and calm person who soon shows her strength as a woman and again is superbly portrayed.
Helena is the daughter of a famous doctor, Gerald de Narbon but has been brought up in the home of the Countess after being orphaned as a child. Helena is in love with Bertram, a fact that no one is aware of and follows him to France upon the pretence of helping the ailing King (Christoper Bianchi) and is able to cure him of his illness using one of her father's cures. As reward he offers her the chance to choose a husband from amongst his wards and she chooses Bertram, much to his dismay, who arrogantly feels she is below him in status and regards her as a sister. His mother is delighted at Helena's choice and supports her fully and with heavy heart he marries her but refuses to consummate the marriage. In desperation he flees to war to escape vowing never to return to her, declaring she will not be recognised by him as his wife until carrying a child and wearing his heirloom ring. He then continues to live the ribald life of a soldier even joining in the taunting of Parolles which brings some real comedy moments to the play with Currier's expert interpretation of Parolles and the antics of his comrades. The other humorous moments brought to the play come from Lavatch (Marc Geoffrey) who gives a hilarious camp performance throughout. His character has for this play been reimagined by Associate Director Dominic Power and works very well. The period of the play has also been altered from Shakespeare's early 1600's to the mid-nineteenth century.
If Bertram thought he had left behind a woman who was going to give up and accept his words he could not have been more wrong! Helena disguises herself as a pilgrim and tracks him down and forms a friendship with the widow Capilet (Nicky Goldie) and her daughter Diana (Isabella Marshall). Again the women are strong and acted convincingly by Goldie and Marshall.
Bertram has fallen for Diana and plans to seduce her. The women form a plan to fool Bertram into thinking he is bedding Diana but in fact is tricked and unknowingly beds his wife who exchanges a ring with him (a ring she had been given upon her marriage to him by the King).
Helena fakes her death and Bertram returns home where Lafew and his mother make plans for him to marry again. Bertram hands over his ring which is recognised as the one the King had given to Helena, Diana arrives claiming to have been seduced by Bertram but is not believed and is ordered to prison until Helena turns up and confirms the 'bedtrick'. Diana is offered a husband of her choice as apology. Bertram is actually delighted to see Helena and 'All's Well That Ends Well'.
The bond between the four women in the play is a force to behold and the men didn't really stand a chance. Each character was portrayed convincingly and sincere. Fuller as Bertram was the perfect superior handsome young Count and gave a brilliant performance tonight showing an immature and vulnerable side along a brash, arrogant, uncaring one. There is not one person in the play who does not deserve the applause given at the end as each gave full justice to their part. Excellent performances throughout.
Thanks to this play, Directed by Andrew Hilton (who after the show gave a questions and answers chat along with the cast members), I feel I may now have been converted to actually being able to say I enjoyed the work of Shakespeare and would urge anyone to get along to a performance.
Reviewer: Lorna Weekes
Reviewed: 9th June 2016
North West End Rating: ★★★★