4 actors, 130 roles, 100 minutes!
Adapted from the novel by John Buchan and subsequent film by Alfred Hitchcock's The 39 Steps has arrived at the Lowry this week bringing this classic thriller to the Salford stage with copious amounts of laughs and some absolutely stunning performances all played on a simple but impressive set.
This is truly theatre at its very best. Richard Ede plays the leading role of Richard Hannay faultlessly as he journeys from his home in London to Scotland via the London Palladium in search of answers after a woman he is sheltering following an incident at the theatre leads to her murder. His suave upper-class persona gets him out of many a scrape along the way as he is pursued by the Police, or are they? Ede is the only actor on stage to play a single role and is on stage for the duration of this production.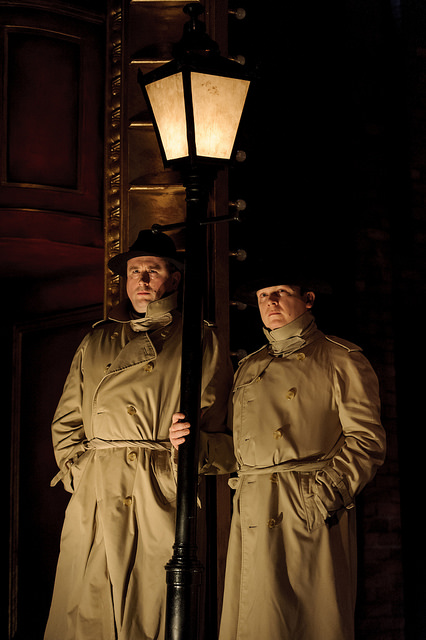 Olivia Greene plays three roles, Pamela, Annabella and Margaret. All three are very different yet somehow the same and her on screen chemistry with Ede is a wonderful thing to watch.
The stars of this production without question are Man 1 and Man 2 played by Rob Witcomb and Andrew Hodges. These two theatrical athletes play the remaining 126 roles in the play without missing a beat or costume change. From Policemen to hotel proprietors they leave you breathless at the speed of their changes not only in costume but also in voice.
To be able to do this show justice you need more than 4 exceptionally talented actors. You need superb lighting design from Ian Scott, an understated yet perfectly balanced sound design from Mic Pool and wonderful period costumes from Mary Charlton. I also have to applaud the stage crew on this production. The perfectly timed 'delays' all add to the magic being created on the stage.
From start to finish you sit in awe of the performances being given on stage. It is very easy to see why this show spent so long in the West End and also spent some time on Broadway. Patrick Barlow's adaptation of this classic is nothing short of magical with the 4 actors being the magicians.
If you haven't seen this play before I urge you to do so. I see a lot of theatre as a reviewer, but I don't think I have seen such a wonderfully well-crafted piece in a very long time.
The 39 Steps continues at the Lowry until Saturday before concluding this 10th anniversary tour in Newcastle next week.
Reviewer: Paul Downham
Reviewed: 21st June 2016
North West End Rating: ★★★★★