The Birmingham Stage Company present "Gangsta Granny Live On Stage!" Neal Foster adapted and directed this best-selling book by David Walliams for the stage with the help of a fantastic cast.
We meet Ben, energetically played by Ashley Cousins, who dreams of being a plumber. He reads plumbing magazines which he purchases from his shopkeeper friend Raj, perfectly played by Umar Malik. His parents, brilliantly played by Louise Bailey and Benedict Martin, are fanatical about ballroom dancing and don't understand their non-dancing son. Every Friday, so that his parents can go to classes, Ben is sent to stay with his Granny, graciously played by Gilly Tompkins. Ben finds time with his Granny extremely boring but one day he makes a surprising discovery, his Gran is a jewel thief!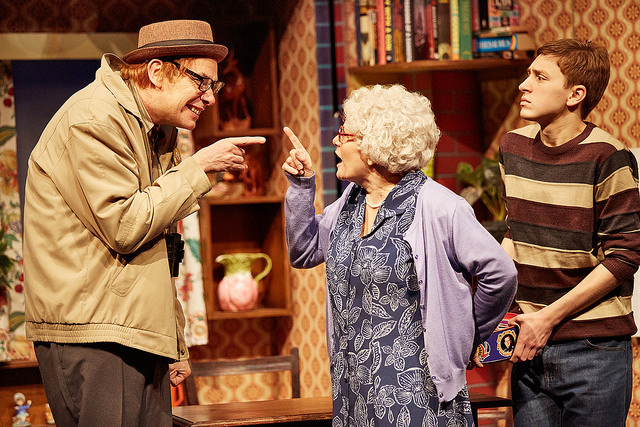 Having read the book and seen the television adaptation I was excited to see the stage version and, having no children of my own, I borrowed the 8-year-old son of some close friends. We both loved it. He enjoyed the mobility scooter gag, "It goes very fast" as well as the windy consequences of eating too many cabbages!
I enjoyed the clever set, designed by Jacqueline Trousdale, the excellent lighting, designed by Jason Taylor; along with the perfectly timed sound effects and beautiful musical score, thanks to the sound designer Nick Sager and composer Jak Poore.
Onto this backdrop the superb cast brought to life the characters penned by Mr Walliams. His characters are very much in the tradition of the much loved Roald Dahl, but with a 21st Century sensibility. Many of the cast played multiple roles and were responsible for manipulating the set for the various scenes - they really made a song and dance of that! Apart from the marvelous performances by Ashley and Gilly, I want to highlight: Benedict Martin's embodiment of Mr Parker, the nosey neighbor; Umar Malik's flamboyant Flavio, a character much anticipated in the first act who did not disappoint in the second; and the sublime Louise Bailey as the Queen, who was surprisingly agile for a monarch in her ninetieth year. That being said, their performances were only able to shine because of the equally stellar supporting ensemble: Alison Fitzjohn, Liz Garland, Richard James and Aaaron Thiara. Each member of the cast brought their very best and the synergy between them conveyed such warmth, energy and genuine fun that I was completed captivated, as was the 8-year-old sitting beside me.
There were moments of laughter, surprise and pathos in this performance that were deftly handled, creating a patchwork of moments that touched the hearts of both young and old alike. For me, this was a perfectly timed and precisely pitched performance; no instance was wasted, even the set changes were an event. I loved every minute of it!
A witty, windy and wonderful show for all the family to enjoy! My 8-year-old companion enjoyed it so much he wanted me to buy the book, "So I can remember the story," he said - a show that inspires reading, that can't be bad.
Gangsta Granny continues, Live on Stage, at The Lowry until the 4th of September, go and see it and take the whole family with you!
Reviewer: Alan Harbottle
Reviewed: 31st August 2016
North West End Rating: ★★★★★