So just where do you start when writing a review after experiencing one of the most bizarre and surreal acts you have ever seen performed? Ideally my review should start with the show name and end with my name, with no content, as it really rendered me speechless! For the first time I did not make notes, even that was too difficult to do as my brain tried to unravel what my eyes were seeing. Pinching myself to make sure I wasn't dreaming I spent just over an hour watching and trying to make sense of what was taking place in front of me and came to the conclusion there is just no point in trying to analyse this weird and wonderful, creative choreographed chaos!
From the start, actually it was before the start that the craziness began, for as we entered the auditorium we were met with the sight of Ben Smith wearing a full length fur coat, deerstalker hat and full antlers, nylon tights, make-up with eye shadow and lipstick and to top that he was perched on the top of a pole, 'singing' (take that loosely!) and strumming some sort of instrument. Sorry I should have paid more attention to the instrument,(it could have been a guitar, lute or mandolin,) but I was distracted by two other characters who were cavorting around the audience, leaping onto laps, scrambling over the backs of seats and dangling from the balconies like mad monkeys! So now I hope you are beginning to get the picture and realise that this is no ordinary act about to take place.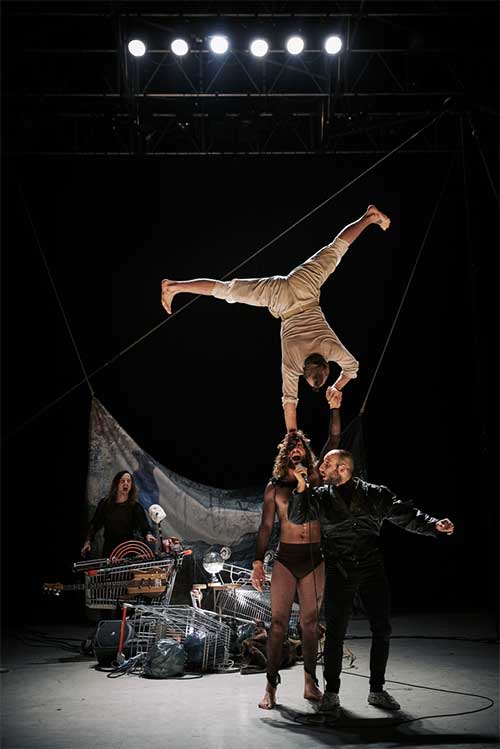 The Svalbard Company consists of Ben Smith, Santiago Ruiz Albalate, Tom Brand and J Simon Wiborn who together have produced All Genius All Idiot. Describing themselves as The Four Human Animals, they met several years ago at The University of Dance and Circus in Stockholm.
As the show starts Albalate launches himself at the pole and demonstrates amazing artistry as he effortlessly and skilfully moves around the pole and then crazily on all fours he is ridden around the stage by our 'deer antler' man who obviously doesn't feel extreme enough and dons six inch heels with three inch platforms to complete his look!
There follows aerial rope with Brand, balancing acts with Wiborn and then the four collectively demonstrate other impressive circus acrobatic skills, but to be honest, such is the wacky and outrageousness of some of the content you can easily overlook just how incredible they are at performing these. There is so much going on as we witnessed circus, glitter, glamour and stripping, plus comedy, love, hate and strength all wrapped up with live and unusual music effects and presented in the most extraordinary manner to have hit the stage. What is evident is the bonding of these four men and the trust they place in each other as they hurl themselves around the floor and even launch off each other's bodies. Leaving the theatre I overheard comments ranging from 'Wow,' 'What was that?' 'Brilliant,' 'Crazy,' 'Strange' and 'Fantastic'. Initially my thoughts centred on 'this is not my cup of tea' and I was out of my comfort zone, but now, the more I have thought about it, the more I want to go and watch it again! It definitely gets to you, you have been warned!
Reviewer: Lorna Weekes
Reviewed: 20th September 2016
North West End Rating: ★★★