This production gave out some very confusing messages, and I left feeling underwhelmed by the whole experience. Allow me to start at the beginning. Nelson Mandela, hero of the black South African people, freedom fighter and legend. We all have heard of him right? And you would have thought that if any company could do his life history justice it would be a company from his own country, in this case Cape Town Opera Company. One of the problems here was that the parts of Mandela's life which the company chose to highlight were not the ones which have gone down in history, not the ones we all remember… save a couple of iconic images of him speaking at rallies and the speech he gave upon his release from prison. To obfuscate this further, then over the course of the opera we were given three different Mandela's (one for each act) and two different Winnies. It all got a bit confusing and unnecessary. I really didn't understand the need for this at all.
Musically it was a little chalk and cheese too. Three acts, two different composers, and two completely different musical styles, making for an A-B-A musical sandwich which didn't really gel. Peter Louis Van Dijk's musical style for acts 1 and 3 was modernist but certainly in the tradition of classical Grand Opera, and with, in act one at least, a huge dollop of traditional South African music and rhythms too; whereas Mike Campbell brought very much a West End Musical feel to his music for act 2 which was infused with the jazz and pop music of America in the 50s and 60s.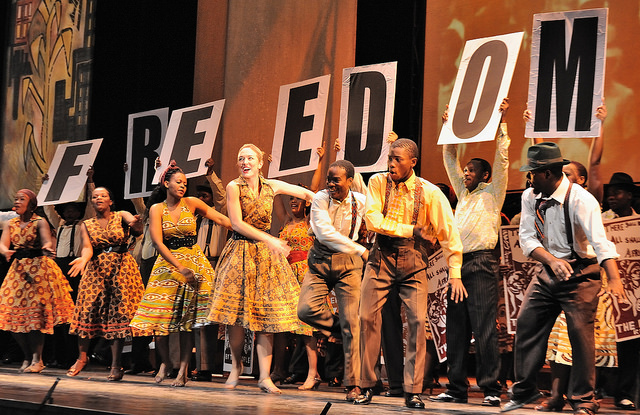 Now to come back to my opening remark. Throughout the opera this evening, one never got the feeling that Mandela was a leader of men, an icon, someone whom the people would look up to and join in his crusade. He was portrayed rather as an underdog who ran away from his duties and responsibilities at college and absconded from an arranged marriage in his home village like a thief in the night and then became a womanising adulterer before being a very meek and mild 'model' prisoner. The opera also seemed very much to glorify Western society and culture, and once Nelson had moved away from his village in the Transkei, it seemed that everyone was more than happy to embrace the clothing, lifestyles, food, culture, music, dance, and even language of their oppressors. Perhaps that really was the way it was, I am not old enough or knowledgeable on the subject enough to truly know; but certainly none of this conformed to the perhaps romanticised version of Mandela and his life I previously held. He didn't even put up any sort of resistance when arrested; just simply accepted it; yet in a previous scene we see him running away from a rally when the police arrive to avoid capture.
The set, a high-walled grey prison with barbed wire and metal walkways formed the framework of all the action, and this proved to be a rather good metaphor for the lives all of the indigenous South African people were leading at the time... no matter where you were in South Africa, you were still a prisoner (slave / second class citizen).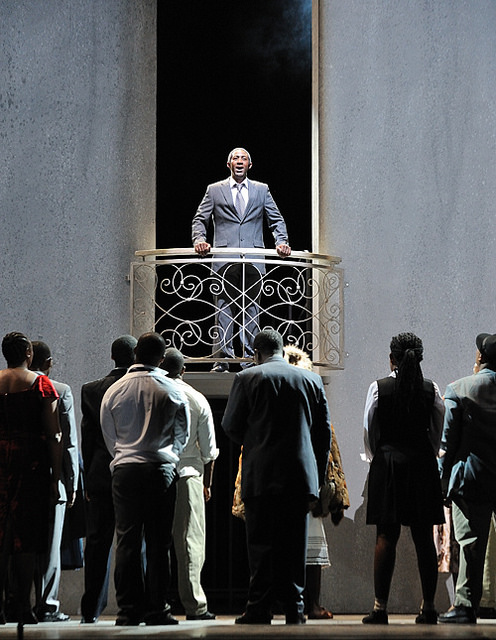 Costumes were good and I really enjoyed the traditional dress and small prop items. All of which undoubtedly would have been authentic and they made a very stark and plaintive plea when shown against the greyness of the prison walls. There was good and effective use of lighting too.
What really made the evening though was the acting and singing, which were quite simply superb. This particular opera differed from Grand Opera in that there was quite a lot of dialogue and soliloquy narrative too, and the cast rose to the challenge of acting, and dancing ( from tradition tribal South African to zoot-suited jiving! ) with great ease and finesse. The main cast were magnificent - it was just such a pity that there had to be so many of them all playing the same part! The three Nelsons were Aubrey Lodewyk (playing the oldest of the incarnations), Peace R. Nzirawa (who played Nelson in Sophiatown during the jazz era ) and Thato Machano (playing Nelson as a youth in the Transkei). There was also a fourth Nelson credited in the programme, however I don't think he appeared on stage this evening, Mandla Mindebele. Siphamandla Yakupa and Philisa Sibeko both played Mandela's wife, Winnie, whilst his girlfriend in Sophiatown, Dolly was played by Zolina Ngejane and Candida Mosoma. [I don't know which of the two I saw tonight, so needed to credit both]. Whiteman, the prison guard who befriends Mandela was played tonight excellently by Derick Ellis (and also perhaps Pierre Du Toit). All helped by a 20-odd strong ensemble and the Cape Town Philharmonic Orchestra under the direction of Tim Murray and Alexander Fokkens.
It was a very slick and excellently directed piece of theatre, (Michael Williams) but considering the subject matter and the protagonist, I felt it somewhat insubstantial and without gravitas.
Reviewer: Mark Dee
Reviewed: 23rd September 2016
North West End Rating: ★★★★