This may be impossible to believe but up until tonight I had never read or seen a production of Pride and Prejudice. This is probably largely due to the fact that I didn't go to school in the UK. So I was probably one of the few audience members with no previous conception of the story, or what was going to happen.
Obviously, this is an adaptation of the famous Jane Austen novel. On this occasion the text has been adapted by Simon Reade, and the performance has been produced by Regent's Park Theatre.
This performance was at the Lowry Theatre in Salford. Having been to the theatre many times, it never ceases to amaze me to how the venue can adapt itself to host any type of production. The upper-class vibe was immediately set upon entering the theatre.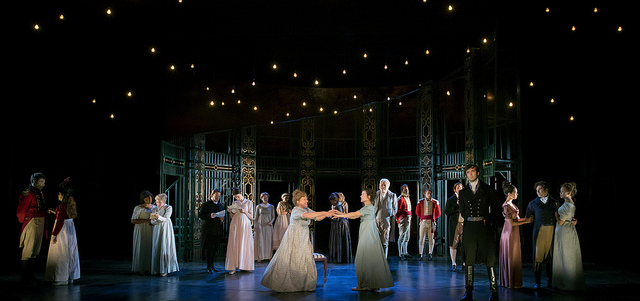 A rotating stage in used for this production of 'Pride and Prejudice'. One half of the set was in a semi-circle shape with a balcony. The other half contained four arches to give the sense that the action was taking place in a room.
The set was used extremely well and transitions between scenes were swift. This helped keep the pace of the production. Lavish sets can sometimes be seen as gimmicky, however the set here only added to the action and never once distracted from what was happening.
Initially I was quite taken aback by the size of the cast in this production, so it did take me a while to figure out who everyone was. However, I was not always clear on what the relationships were between the characters.
Tafline Steen plays the lead role of Elizabeth Bennet. She is a strong, independent woman and this comes clearly in her performance. Steen has also perfected the subtly of the British upper-class to a T.
Mr Darcy is played by Benjamin Dilloway. He does a great job in portraying an arrogant, yet socially-awkward young man. I couldn't help but think that he had more than a hint of Benedict Cumberbatch to him.
However, the star performer was Felicity Montagu in her role of Mrs Bennet. She managed the steal every scene she was in, not just through dialogue but emotions and body language. Her comic timing was spot on, without being over the top.
Essentially 'Pride and Prejudice' is a classic rom-com without the soppiness. The plot is different as it explores Elizabeth's journey to discover herself before getting married. As there are so many characters, there is at least one that everyone can relate to.
Overall, the majority of this performance was exceptional. Although beautifully written, there were times when I did struggle to keep up with the story, but this is perhaps due to me not knowing the story.
Reviewer: Francis McKevitt
Reviewed: 11th October 2016
North West End Rating: ★★★★