Grayson Perry CBE is a man…
An award winning Bafta and Turner Prize winning artist (2003), who's most recognisable works are in classically shaped ceramics, decorated in bright colours and adorned with figures and text. His works across other media include textiles and photography.
He is also instantly recognisable as a transvestite - his alter-ego Claire; a cross between Katie Boyle and Camilla Parker Bowles. With overtures of 'Little Bo Peep', the 'crack cocaine of femininity', he takes to the stage to talk about masculinity and what it means to be male; already a thought provoker…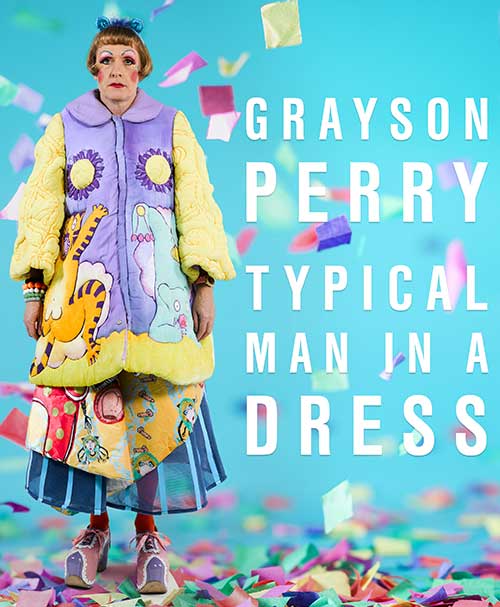 In a recent London Evening Standard interview Perry said "I sometimes watch the evening news on television and think that all of the the world's problems can be boiled down to one thing: the behaviour of people with a Y chromosome". It's this that sets the narrative for the show, where he discusses the boundaries and intricacies of the male role.
He enlightens the audience on who he believes is doing the most damage to civilisation; through societies' programed behaviour and their expectations of men and boys; white, middle-class, heterosexual men, usually middle-aged, who continue to colonise the high-status, high-earning, high-power roles. Think Donald Trump...
Perry had an unhappy working class upbringing his divorced parents and his violent stepfather. He eventually went to live with his father, who subsequently threw him out when he found and read his son's diary, detailing his hidden transvestism. He readily admits to having no strong male role models as a child.
He talks about the aspects of manliness and how men often keep their feelings and thoughts hidden, regularly to the detriment of their mental health. 76 per cent of probable suicides in 2014 were male (based on data published by the Office for National Statistics) and men are responsible for 85% of all indictable crimes in England and Wales.
Perry admits that he can be "very traditionally masculine, territorial and competitive" and perhaps, as it takes one to know one, this allows him to easily talk about toxic masculinity, fragile masculinity and doomed masculinity.
He suggests a new manifesto; a new kind of masculinity, where men have the right to be vulnerable, uncertain, wrong, intuitive, have the right not to know, to be flexible and not to be ashamed.
Grayson Perry would be the perfect dinner guest; funny, warm, engaging and insightful. He is someone who is comfortable in his own skin and it was an absolute pleasure to share his company.
This short tour accompanies the release of his new book; 'The Descent of Man'.
Reviewer: Mike Neary
Reviewed: 07th November 2016
North West End Rating: ★★★★