Today at the Lowry the French theatre company Compagnie Animation brought to the stage the superb children's production: Silver Moon.
Creating an international, visual, language of theatre, the French based company Compagnie Animotion have been making physical theatre for Deaf and hearing audiences since 2005, and encourage social change and inclusivity through their work.
Compagnie Animotion, pride themselves on being very passionate about recycling and up-cycling, make-do and mend and being as ecological as possible. Using paper mache puppet heads and a stage made from cardboard and simple materials you can see how a wonderful set can be created ecologically by this extremely creative theatre company.
At a time where a there is much pressure on families and parents to spend vast amounts of money on presents and Christmas celebrations, the company wanted to present a world of simplicity and imagination, where the value of spending time with each other, with family and of simple gestures full of love are highlighted.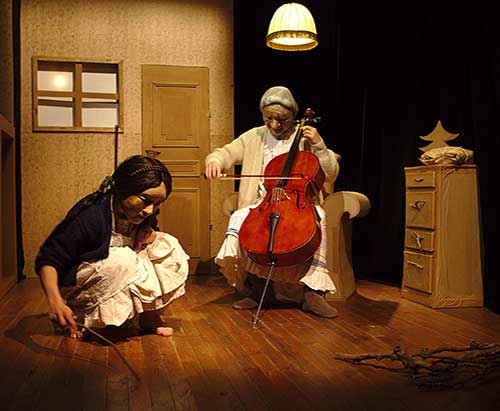 This production of Silver Moon is accessible to all, Deaf, hearing and audiences whose first language isn't English as the piece uses puppetry, music and movement to convey the whole story with no spoken word throughout.
The story starts in winter. Where we see a humble room, simply furnished, pastel colours baring only an old chair, a bookcase and cello lying on its side.
Olge enters, an old man dressed modestly who unpacks his small basket; a little Christmas tree, and an orange. Sitting in his chair he chooses a little present for his granddaughter Helda and wraps it. A small homemade rag doll made from simple materials. Helda his granddaughter soon arrives with arms full of branches for the fire. She greets her grandfather and together they dress their tiny tree, hang up one of Heldas stockings ready for Christmas. Helda, begs for a story from her grandfather from her beloved pop-up book.
The book is opened, and the pair of them part in an adventure of a little girl dreaming of books that will carry her far up to the moon….Olge's cello music accompanied by shadow puppetry. Helda is enchanted by these stories. Tired, she puts her head down by the fire, and Olge rests his cello, leaving Helda her christmas packet as she sleeps.
The staging then takes us to a much more vibrantly decorated home where Jurgen lives. He is a rich, spoilt boy with a lot of presents and no imagination. He in contrast to Helda has an array of colourful wrapped gifts. Bored and disinterested he amuses himself by counting his presents, arranges them in size, and then he finally starts to open them. He is quickly bored and disinterested by the offerings of his parents and looks spoilt and sulky.
Helda wakes up and opens her little present. Delighted by the paper, and by the cloth doll she has been given, she creates her own little world delighted with her homemade dolly. Placing her pop-up on the shelf, she is confused when it falls through to the other side…to another world, to the world of Jurgen.
Curious, Helda passes into the world of Jurgen, and into his world of books, presents and luxury. The children bump into each other and it is from here their friendship starts.
The production uses shadow puppetry, music, movement and marionette creation to tell this beautiful story of the power of a child's imagination. Making us all realise that it is the basics of life that brings joy to children. Not the over indulgence of expensive gifts but the time we give them and the love they receive that is what really makes a child blossom.
As the rich, can appear to have everything but feel like they have nothing, and those who appear to have nothing can feel like they have everything.
Well done to these three amazing performers and the wonderful creative team that made this wonderful piece of theatre. A production that can be enjoyed by all regardless of age, language, or hearing ability.
The show is aimed at children aged 4 years old and above, however todays audience held some much younger children, who did appear to enjoy it in equal measures as the older children. However, I have to say, my 4-year-old companion wasn't overly impressed by this production and did get fidgety and bored in parts. As although the message of this show was that 'it's back to basics' that can bring joy, at times this was a little too barren in parts for my 4-year-old as fleetingly it lacked audio stimulation as the music was sometimes sombre and not that upbeat. All in all, though this was a lovely piece of children's theatre and well worth seeing. Meeting the cast following the performance and allowing the children to see and touch the paper mache heads was a lovely opportunity for the audience to see up close the fantastic detail of these props, and was the highlight of the day for my little companion. Well done Compagnie Animotion, I will look forward to your next visit to the Lowry, and if anyone wishes to see this amazing cast they are touring until mid-December, for further information visit www.compagnie-animotion.org
Reviewer: Victoria Wilmot
Reviewed: 20th November 2016
North West End Rating: ★★★