Jamie Raven was the runner up on the 2015 series of ITV's Britain's Got Talent, however with most runners up on these types of show, he seems to be profiting more from this than that of the ultimate winner. Having played a season in the West End headlining "The Illusionists" the world at the moment seems to be his oyster.
Raven is a magician and illusionist with a likeable persona which immediately comes across to the audience as he stepped onto the Lowry stage. Opening with a 3 minute video montage of his career highlights and lows since the 2015 TV competition it is clear a lot has happened in the 18 months leading up to this afternoons performance.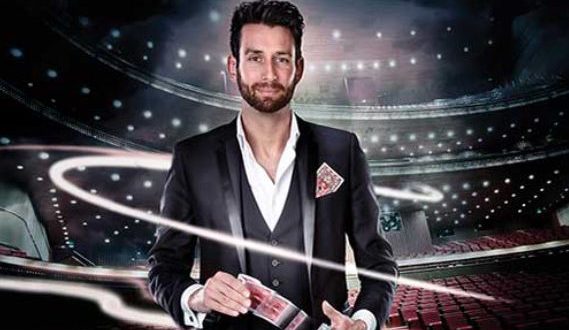 This wasn't a magic show full of huge breath taking illusions but more of a family friendly performance mixing close up magic with a lot of audience participation. I was desperately unlucky not to be chosen to take part in a trick during the first act, instead a gentleman sat in front of me was chosen. This however gave me the best possible view whilst Raven made a signed playing card appear and disappear in front of my eyes, even ending up in his shoe! It was a stunning demonstration of sleight of hand that my eyes could not detect.
Whilst some of the tricks performed this afternoon were not by any means new (to me at least), what they did have was a unique twist to make then Raven's own. A smashed mobile phone trick with the help of Siri, a trick with numbers that would have left Rachel Riley from Countdown perplexed and an updated version of the guillotine trick which left one audience member looking far from confident as he was invited onto the stage all stood out.
Much was reported in the media about one of Raven's tricks he performed on Britain's Got Talent regarding the fact he was caught out whilst performing the trick. Raven chose to address this head on this afternoon as he recreated the trick once more, this time substituting a lemon for and orange. As the illusion was relayed via a large video screen above the stage I can confirm there was no cheating going on here, just a perfectly executed piece of theatre.
Magic is a tough genre to review as you don't want to give too much away as to the content of such shows, but Raven's final trick was probably the one that catapulted him into the public eye where he is set to remain for a long time to come. This was the trick where the audience randomly selected a playing card which was then correctly predicted via the use of a flick book effect created with images penned onto the reverse sides of a pack of cards. Astounding!
This was a packed 2 hour show from a magician who is going to be a household name for many years. The intimate setting of the Quays Theatre at The Lowry was the perfect venue for this show and it was a joy to see Raven post show in the foyer interacting with his audience and meeting his young fans for autographs and pictures.
The current tour continues into 2017 and I cannot recommend it highly enough. A stunning show designed for magic fans of all ages. Full details can be found at http://www.jamieraven.co.uk
Reviewer: Paul Downham
Reviewed: 20th November 2016
North West End Rating: ★★★★