Celebrating their second Young Carers Day, Salford Young Carers joined with The Lowry to produce two pieces. The first, 'Behind Closed Doors' was devised and performed by young carers from Salford Young Carers and young people from Gorse Hill Studios in Trafford, alongside creative practitioners from Stone Group. 'Behind Closed Doors' was a prelude to 'Who Cares?' which was performed by professional actors and created by LUNG theatre company. These two pieces were made possible by the Lowry Christmas Appeal 2015.
In 'Behind Closed Doors' we followed the story of James played by Josh* and how his life is changed forever when his mother has an accident at work and he becomes her carer. His friend Daisy played by Aimie* tries to reach out to him but when the other students find out he is a young carer, his trust is broken. The piece used three large boxes as the set and phones were used throughout for many things, including texts sent between James and Daisy, imaginatively shown on clouds above the young people's heads.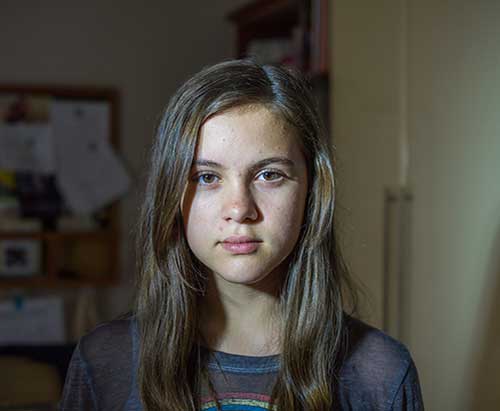 The modernity and energy in this performance was evidently due to the ownership the young people had been given over this piece. Great ensemble work was woven together with the more notable roles of James and Daisy and there was no divide between the young carers and young performers. One scene stood out in particular as James faced the comical yet completely real challenge of household tasks. This was set up brilliantly in a mock boxing competition with James in a dressing gown type boxing robe and each round was a separate chore. The scene was accompanied by Brandon* and his incredible beatboxing skills, a definite highlight of the night. Current popular music was used throughout the piece and this, combined with Brandon's beatboxing and also Levi's* excellent rapping skills, took the audience into the young people's world entirely. The moving narrative, performed by real carers and people of this age bracket was very raw and extremely moving and was completely deserving of their standing ovation.
The second piece of the evening was the main event, 'Who Cares?' created by LUNG adapting over seventy five hours of interviews. The piece shows us the lives of three young carers played by actors George Caple, Erin Doherty and Hannah Bristow. The carers whose lives the play was based on were very much involved in creating this piece of theatre, from the interviews given, to auditioning the actors to choosing the music used in the final performance. It was very apparent that the words and stories in this performance were factual, as we were drawn in by the unadulterated real life situations these young carers found themselves in. The set was minimal but extremely effective; a box like structure, encompassing the characters world, made from scaffolding like poles which the three actors climbed, sat on and hung off. The box was spun round by the performers on stage and swiftly became school, home, buses, a doctors waiting room and much more by simply writing a word on the blackboard telling us which lesson they were in, or simply holding onto a pole in the centre all together, creating the feeling of intimacy you can only get on public transport. Each actor spoke in turn using direct address to the audience to tell us their story and every so often they would say a line together to pass on the baton of speaking. As well as being the three young carers the actors also stepped out of their world and roles to the front of stage as microphones descended from the ceiling. As they came forward they were engulfed by a backlit spotlight, casting their faces into darkness and anonymity, becoming other characters from the worlds of the young carers. George Caple in particular excelled in this section; his voice was so altered I wondered during the first piece of dialogue if there was a voice recording playing.
The three actors portraying these characters were dynamic, hilarious at times and completely believable as the three young carers. The performers tonight - both professional and young people - were phenomenal. I hope this play goes on to educate more audiences as well as entertain them. These young people have been given a voice by brilliant companies and it is wonderful to hear these untold stories vocalised, as they say in 'Who Cares?' "Our voice is loud and it will be heard".
Reviewer: Charlotte Green
Reviewed: 22nd November 2016
North West End Rating: ★★★★★
*Full names cannot be given due to confidentiality agreements