There will be few unfamiliar with the 1968 musical adventure film Chitty Chitty Bang Bang which features a dilapidated old racing car, left to rot in an old garage and a much loved plaything for Jemima and Jeremy Potts, children of widowed Caractacus Potts. (Jason Manford). Tonight the stage version at the Lyric Theatre at the Lowry, Salford is delighting an almost capacity audience of all ages, although possibly being a school night the majority are adults, or maybe it's just the big kid in us all reliving a childhood favourite!
Set in 1919, Chitty Chitty Bang Bang is to be sold to a junkman, much to the chagrin of the Potts children who implore Mr Coggins (Ewan Cummins) the garage proprietor not to, but unless they can buy the car themselves for 30 shillings Chittys' days are numbered. Their eccentric father simply does not have the funds to help and embarks on a series of inventions to try and raise the money. Along the way the family meet up with Truly Scrumptious (Charlotte Wakefield) who befriends the family and is concerned over the childrens' truancy from school.
Presenting his latest invention of a candy flute, Toot Sweets, Potts discovers Truly is the daughter of Lord Scrumptious the sweet manufacturer. At this point there was an announcement asking the audience to remain in their seats and the safety curtain came down. After ten minutes and the audience becoming fidgety the curtain was raised and the show continued. There were no explanations or apologies made, even at the end of the show and I do feel they should have been. However the show must go on and indeed it did with numerous songs and beautifully choreographed dance routines performed by the whole ensemble with an energetic rendition of 'Me Ol' Bamboo'.
Eventually securing the car, Potts restores Chitty, which just happens to have some other magical powers thrown in and news of its amazing abilities reach the country of Vulgaria. The Baron and Baroness Bomburst of Vulgaria (Phill Jupitus and Claire Sweeney) are desperate to discover the secrets of the old racing car and send two spies Boris and Goran over to England to seize Chitty. The bungling twosome (Sam Harrison and Scott Paige) along with evil childcatcher (Jos Vantyler) bring a panto feel to the show which goes down well with the children in the audience. Andy Hockley is both loveable and comedic in his portrayal of Grandpa Potts.
Jason Manford probably known more for being a stand up comedian than actor, gives a credible and fun loving performance as Caractacus and shows he can hit a note or two when singing too! Charlotte Wakefield is perfectly cast as his love interest and has a beautiful singing voice and delights with her 'Doll On a Music Box'. Claire Sweeney dances, sings and shows a talent for slapstick comedy whilst Phill Jupitus appears comfortable in his roles. Sweeney and Jupitus also perform as Miss Phillips and Lord Scrumptious. The Potts children are performed by three teams rotating nightly and this evening the youngster's performances were enchanting and delightful.
There are some amazing stage lighting effects (Tim Mitchell) who with designer Simon Higlett create an atmosphere that Chitty does indeed fly and with brilliant video visuals (Simon Wainwright) this stage version of Chitty Chitty Bang Bang does extremely well capturing the many different adventures and locations of the infamous car. The changes from scene to scene, of which there are several, are executed smoothly and quickly.
The audience join in on many of the familiar songs, in particular and unsurprisingly 'Chitty Chitty Bang Bang' has everyone clapping and singing along and is repeated several times throughout the evening.
Ian Flemings Chitty Chitty Bang Bang is as popular today as it was in the 1960's and tonight this stage adaptation by Jeremy Sams is no exception. The star performer without question being our favourite old banger who takes to the sky and transports you on a magical journey back to your childhood......and all without SatNav!!
The show continues until January 15th 2017 at the Lowry and for tickets and more information: http://www.thelowry.com/events/theatre-shows/musicals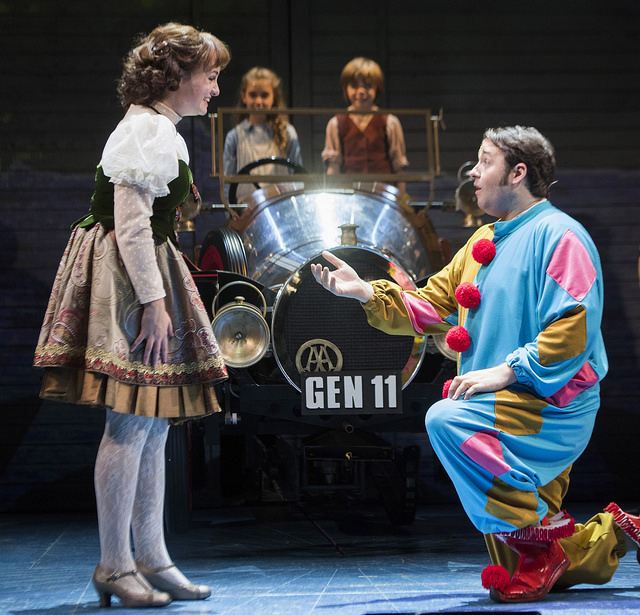 Reviewer: Lorna Weekes
Reviewed: 7th December 2016
North West End Rating: ★★★★