Toes were a-tapping and laughs a-plenty at the Lowry Chorale as Montana-based Comedian Rich Hall delighted crowds with music, undeniable wit, and his very special audience interaction.
The Quays Theatre at Salford Lowry was well attended and the show consisted of a stand-up first half and Hall's Hoedown Band in the second. Hall is a regular on panel shows such as Have I Got News For You, Never Mind the Buzzcocks and QI and but these shows do not really allow his deadpan and absurdist irony to shine through; tonight certainly did.
As Brits we are "optimistic-miserable-ists" but this was soon displaced with Hall's slick and witty material. A true professional, Hall was constantly improvising with the crowd and this interaction was priceless. His onstage charisma warmed a dark Monday night and the buzz was electric, despite a frosty reception stating the Lowry was in Manchester! There were a few moments when his surrealist patter was not to my taste and there was a little bit of a slump in the delivery pace but he would always regain the audience.
The second half was a riot of check shirts as Halls' five piece Hoedown band made their way onstage. For music in comedy to be effective, the music has to be just as important as the gags and the band did not disappoint. It obvious they had worked together on many occasions; brilliant vocal harmonies, well-rehearsed but not stifled. The chronically unemployable urchins knew their role but yet were still able to enjoy the moment.
The technical elements were flawless, effective lighting cues added a wonderful dimension to the show and a great balanced sound mix throughout allowing Hall's immaculate wordplay to sing out.
The scripted songs in Halls set were funny and engaging but the real highlight was his audience interaction. Plucking information from those in the front row he crafted improvised songs around their lives. True love in "Durkenfeld", the drugged-up van driver, and I hope Satan enjoyed his art lessons.
A brilliant night of engaging material by Hall in a manner that many will not be accustomed to seeing him. Technology, musical spontaneity and virtuoso performance created an event not to be missed.
Although tomorrow's show will be completely different with Halls improvisations, whip out your chaps, polish your spurs, and visit Hall's Hoedown for a hullabaloo of riotous laughs.
Rich Hall: Lead Vocals/Guitar
Rob Childs: Lead Guitar/Backing Vocals
Ellie Mason: Guitar/Ukulele/Backing Vocals
Emmie Mason: Violin/Backing Vocals
James Morgan: Bass
Mark Ewan: Drums
Off The Kerb Productions: http://offthekerb.co.uk/rich-hall/ / @OffTheKerb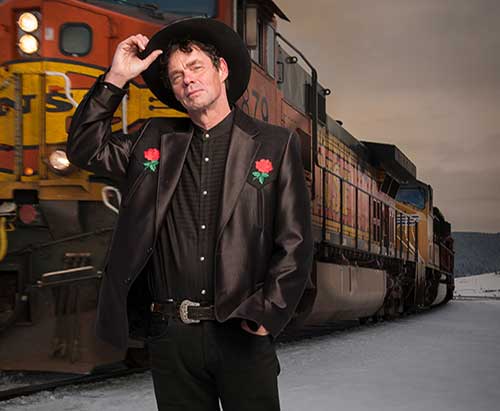 Reviewer: Dave Collins
Reviewed: 12th December 2016
North West End Rating: ★★★★