Massive Owl present "a distortion of the film Stand by Me", part of the new WTF Wednesdays at The Lowry. These regular nights offer a space for performances that don't easily fit categorisation, a platform which Castle Rock definitely suit. It is very difficult to define what this hour performance entailed, but having said that, there were parts that were to be enjoyed.
Tonight's performance, for me, was difficult to follow due to the very thin story arc. The use of projection and live sound layering, via an audio looper, were interesting and atmospheric. The soundscape that was created both relaxing and oppressive at times. I particularly liked the Brechtian narrative devices, it did create a sense of alienation and for me that was a positive and a negative.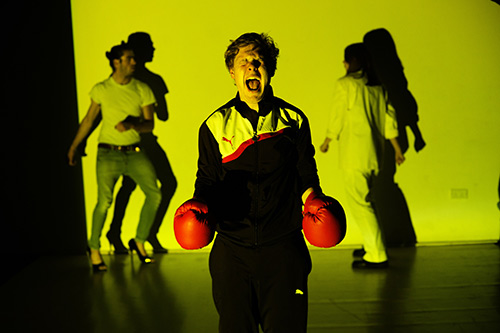 I knew that the premise of the show was inspired by 'Stand by Me', a film which I loved, and that has a very special place in my memory. I was intrigued by the show and had high hopes for it, however I think that my expectations marred tonight's experience. There were moments of immersion found within the more hypnotic and entrancing segments of the show, I became lost in my thoughts and actually disconnected for the events on stage!
Massive Owl are a Bristol based company who "make cinematic work that sits between theatre and live art." They are storytellers and Castle Rock is an attempt to take three of the voiceless characters in Stephen King's novella 'The Body', the inspiration for the 80s film, and create an original story. The characters are Ray, a train and a deer; played by Sam Powell, Jenny Duffy and Danny Prosser respectively.
I look forward to seeing more of Massive Owl's work and to return on a WTF Wednesday for more challenging and innovative theatre, dance and art.
Reviewer: Alan Harbottle
Reviewed: 25th January 2017
North West End Rating: ★★★