Graham Fellows was in his late twenties when he first presented "Sheffield's versatile singer-songwriter" John Shuttleworth in 1986. Now, thirty years later, he is himself older than the character he portrays. Rather like Al Murray's Pub landlord or Steve Coogan's Alan Partridge, John Shuttleworth has taken on a life of his own, and his crushingly banal existence has been the subject of radio and TV series, as well as numerous successful live shows, of which this is the latest.
It's a one-man show with a difference, since Fellows, as on the radio, is responsible for all the voices. This is managed quite brilliantly through recorded cues, which "John" responds to live. Mostly, though, it's solo John. The scenario for this show is that John is considering his mortality, following a bout of sciatica, and a few other medical problems associated with late middle age. But the main reason his thoughts have turned to the grave is 2016's long list of celebrity deaths: his logic is that, as a star, his days are numbered, so a retreat into retirement can prolong his life. In the meantime, he can entertain us with songs old and new, often with a tinge of doom about them.
The stage is bare except for a stand for the inevitable Yamaha keyboard, on which a badly hand-drawn sign announces this as "John Shuttleworth's Last Will and Tasty Mint." The mint obsession is a leitmotif throughout the show, ending with a song about his first Polo. Right from the off, this is classic Shuttleworth, with a judicious mix of new songs and old favourites, which a sellout crowd at the Quays theatre joined in with enthusiastically.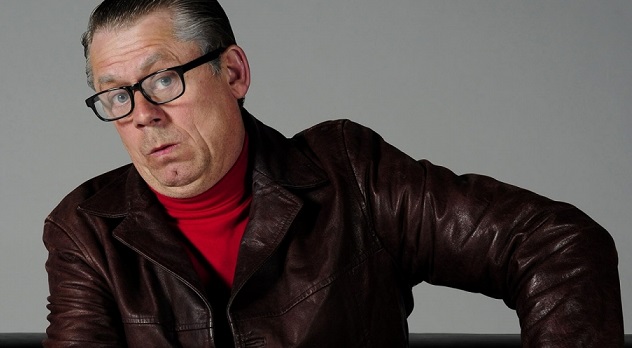 What is striking about the way Fellows works is that John Shuttleworth's presentation seems so chaotic but is clearly brilliantly choreographed, each false start and bum note placed for maximum comic effect. The patter that links the songs is engagingly diverse, often focusing on the most mundane aspects of modern, or at least modern-ish life. The character's origins in the eighties are highlighted in the cultural references, which rarely stray from that or the previous decade. This made me wonder how many at the younger end of the audience would recognise the names of (almost) long-forgotten acts: Racey? Bananrama? They certainly would have trouble with the subject of the first song, sixties crooner Vince Hill.
Compared to previous live shows, the participation of the other characters is limited here. Just two "phone calls", where we hear from sole agent Ken Worthington and then John's wife Mary, with a brief conversation with Joan Chitty, who is still mourning the loss of her per parrot, Les, ten years after the event. So even there, death looms large. Most of the songs touched on mortality somehow, most memorably and comically in an old number about funerals, "Mingling with Mourners," which features my favourite Shuttleworthian rhyme of the evening, quiche / deceased.
At the end of the shortish second set, we were treated to a medley of Shuttleworth classics, including "Two Margarines," "Can't Go Back to Savoury", and of course, his ill-fated song for Europe, "Pigeons in Flight" to complete the evening with a rousing finale. The tour continues for the next two months, and includes shows at Manchester's Dancehouse at the end of March.
Reviewer: Rob Spence
Reviewed: 25th January, 2017
North West End Rating: ★★★★