The first question I asked myself after leaving the Lowry tonight was "why have I not seen The Curious Incident of the Dog in the Night-Time" before now? I have been fortunate enough to witness some very special evenings in theatres across the country over the years, but tonight this show catapulted itself into my top 3 shows of all time. It was mesmerising, clinically executed and a technical triumph!
The story is a tragedy about a family and how they cope looking after their son who has Asperger Syndrome, and the ultimate price their relationship suffers. A tragedy it may be, however there are few points throughout the performance where you feel down. Simon Stephens' adaptation of Mark Haddon's novel is an absolute work of art. If you took away the tech behind this show and just had the cast perform it on a black box stage it would still be incredible.
Central to the story is 15 year old Asperger sufferer Christopher played by Scott Reid, who turns detective in his quest to find the killer of Mrs Shears' dog. Upon finding out who the killer really is, his life takes the most dramatic of turns as he faces his syndrome head on, embarking on a journey of discovery. Taking on this role is no easy task, in fact I would go as far as to say it is one of the hardest I have seen played out on a stage. The sheer amount of dialogue, movement and choreography involved is mind blowing, but Reid makes it look effortless.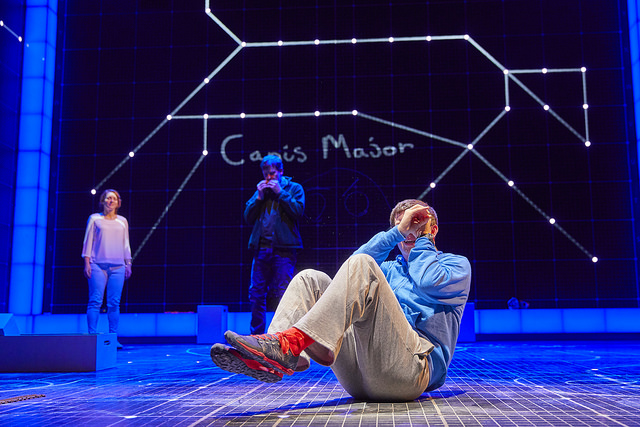 It is not only Reid who shines in this production. His Mother (Emma Beattie) and Father (David Michaels) portray their suffering exceptionally well as they struggle to cope with their son's affliction. But it is his teacher Siobhan, who truly understands Christopher thoughtfully and beautifully played by Lucianne McEvoy. The rest of the 10 strong cast perform multiple roles throughout, all perfectly choreographed by movement directors Scott Graham and Steven Hoggett.
From Marianne Elliott's direction to Bunny Christie's stunning design and Paul Constable's innovative lighting design complemented by Finn Russ's video projections this is a show that once seen can never be forgotten. 7 Olivier Awards and 5 Tony's should give you an idea of just how completely immersive and memorable this performance is.
When all is over, stick around in the auditorium whilst others race to pay for their car parking first, you may just learn something extra!
The Curious Incident of the Dog in the Night-Time runs at the Lowry until the 4th February, do not miss the chance to catch the most stunning piece of theatre I believe in the UK at present.
Reviewer: Paul Downham
Reviewed: 25th January 2017
North West End Rating: ★★★★★
Photo by BrinkhoffM+Âgenburg