Tales of Offenbach is not a familiar title to most opera- or theatre-lovers. Offenbach's Tales of Hoffmann may have a secure place in the hearts of many, but the two pieces that make up this jolly romp of a show have remained deep in obscurity for over a century. Croquefer, from 1857, and L'Ile de Tulipatan from 1868 are here triumphantly revived in Jeff Clarke's racy English translation by the inventive and resourceful members of Opera della Luna. First performed in this version last year, the show is now revived for a short tour.
These one-act operettas share two major characteristics: an abundance of good tunes, and absolutely barmy plots. In the first half of the show, we enter the world of grumpy old knight Croquefer, who has unwisely abducted the daughter of his old enemy Rattlebones. The one-legged, one-armed, tongueless father comes to reclaim his daughter, and only Croquefer's heroic nephew Headstrong can save the day. Or so it seems. Actually, it's almost pointless to describe the plot, as it is so thin as to be transparent. The show's appeal lies in the lively performances of the five singers, and the great opportunities for comic business that the songs provide. Carl Sanderson is bombastic and craven by turns as Croquefer, and his relationship with his faithful servant Fireball, a trouser role for Caroline Kennedy, has more than a hint of Blackadder and Baldrick about it. Paul Featherstone as Rattlebones extracts maximum comic value from a part in which he can only grunt, and Lynsey Docherty is beguiling and sexy by turns as Peasblossom. The climactic final battle ends in a display of (literally) toilet humour that had the disappointingly small audience at the Quays roaring with delight.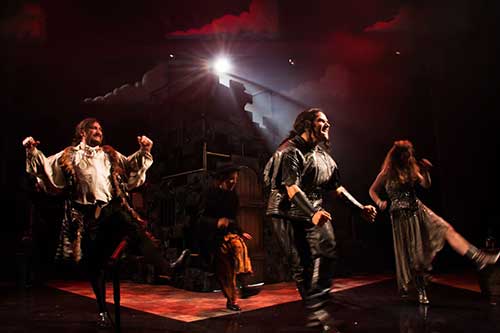 L'Ile de Tulipitan is, as the final number declares, a tale of "gender bending among the upper class." Paul Featherstone as King Cacatois is able to sing in this one, and also to do some genuinely funny stage business with an unwitting audience member. Carl Sanderson's Field Marshall Rhomboid is a hoot in his yellow smoking jacket and cap - Elroy Ashmore and Isobel Pellow's designs are strikingly inventive – and Robin Bailey as his daughter Hermosa is hilarious, with a nod to Emily Howard in Little Britain. The plot is a kind of Twelfth Night rewritten by Lewis Carroll, and moves at breakneck speed, with some memorable ensemble pieces, especially the final barcarolle, led by the king in his red velvet knickerbockers. The nine-piece pit band were versatile and lively, very much kept on their toes by conductor Michael Waldron, often lending a music-hall air to the proceedings.
Small-scale productions like this often have to make sacrifices, but here, the choice is perfect, since Offenbach designed these pieces for four speaking parts, following the absurd limitations of the authorities on his Théâtre des Bouffes-Parisiens. That restriction enables a lovely in-joke at the end of Croquefer, which it would be churlish to reveal. The English libretto, by Jeff Clarke, who also directs, is bawdy, modern and entirely in keeping with the spirit of the original. Anachronisms abound, and there's also room for some topical gags – "fake news" and "article 50" were mentioned – in a text that is both spoken and sung with great zest by the ensemble. This production is zany, happy, tuneful and vibrant. In a word: fun.
After 2 more shows at the Lowry, the production moves to Keswick, Hexham and Huddersfield to complete this short northern tour.
Reviewer: Rob Spence
Reviewed: 1st February 2017
North West End Rating: ★★★★★