About one third of his way through his latest tour: comedy writer, journalist, radio DJ, and now also raconteur took to the Lowry's Quays Theatre stage with his own inimitable fast-taking lively non-stop banter.
He is an extremely animated and passionate speaker, and also one that can digress from a digression but always will get back to the original story eventually. This habit of his however, means that every show will be different, and some audiences will get certain anecdotes whilst others will laugh at something else entirely.
The show's title - a shameless pun of his own autobiographical TV comedy Cradle To Grave - gives us an insight into at least the aim of the evening. He was to start at his birth, and with the aid of personal family photographs displayed on a screen behind, take us through his early years, to his touring with bands, his writing, and his radio work with plenty of humorous, but nevertheless truthful story along the way. He would then take some questions from the audience and we could all go home feeling that we have 'had our money's worth' and having enjoyed the evening in his company.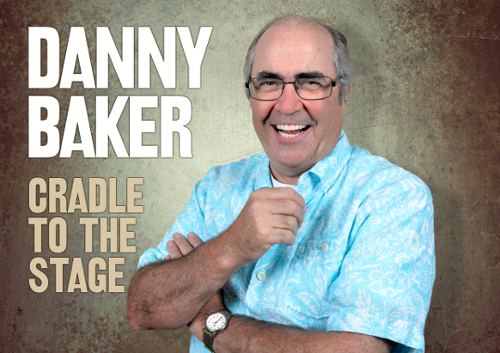 That was the plan. Mr. Baker managed to by the end of the first half of tonight's show reach the age of 10, or thereabouts, and he could still have continued long after the 11:00pm curfew put on him by the theatre.
The second half started with some of his anecdotes about the rich and famous he has had the pleasure and privilege to hobnob with; and then it was question time.
For a man whose career has been, in his own words, 'uneven', then he appeared to be still at 60, very much on top of his game, his mind and whit as sharp as ever. Even though it was abundantly clear that his family were 'loveable crooks', he makes no bones about this, his East London accent fares him well, as he jokes lovingly about his early life. I really wanted to get to know more though about his early career and so maybe there needs to be a follow-up tour, Cradle To Grave Part 2, where he starts in each venue exactly where he left off each time!!
It was an honour and a pleasure to watch this, dare I call him genius, as he spoke almost continually for 2 and half hours. I have an admission to make here. I have never seen Cradle To Grave. I intend to start doing so now.
Reviewer: Mark Dee
Reviewed: 17th February 2017
North West End Rating: ★★★★