Beautiful Monster is a biography of the writer Mary Shelly told on her death bed and focusing on the story of Mary, her husband Percy Shelly and their relationships with the other romantic writers of the time, notably Byron, Keats and Polidori. This is a period of literature I have always been fascinated with, creative genius, debauchery, excesses and exiles, so I was very much looking forward to seeing how writer and director Karlton Parris and his theatre company Skint Productions interpreted this hedonistic area.
This was the first night and there were some fairly substantial technical errors the cast had to deal with. There was random thunder claps which punctuated dialogue meaning the actors could not be heard, lighting was very hit and miss; at one point I thought one of the bulbs had gone because for a long scene half of the cast were in darkness and several times during the second act, the error sound on a computer being used in the technical room interrupted the performance.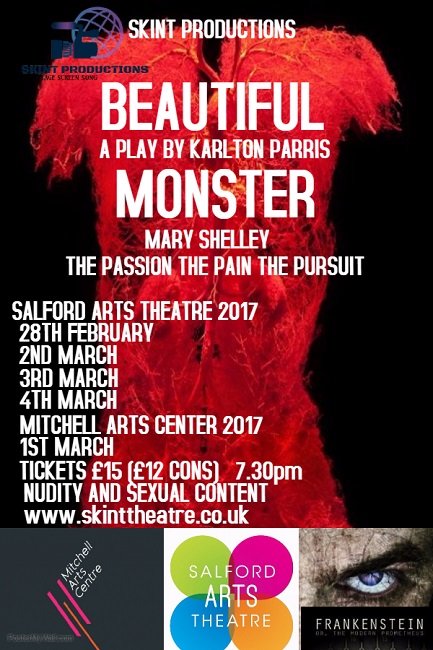 The technical errors were not the only issues however. There were numerous times actors spoke over each other and even more when lines were delivered with their backs to the audience. On a big stage production you can get away with this however, with no microphones and some of the technical difficulties it meant that a lot of the dialogue was missed. It was also much too long. At 2.30hr it would have been a stronger piece if it was 30 or 45 minutes less. There were some truly beautiful parts but these were diluted by sections that didn't progress the story and actually caused some confusion.
This is a production that the motto "less is more" would benefit. The most powerful elements were the rare moments of stillness when you could focus on the central story rather than the times when there was peripheral movement or actions that served only as a distraction. More of these moments came in the second act, most notably between Percy Shelly (Edward Darling) and Lord Byron (Corin Silva) and the dying Mary Shelly (Wendy Laurence James) and her nursemaid Bertha Bates (Stevie Skinner). During these scenes, everything seemed to click and the true potential of the play shone through.
Beautiful Monsters does have real potential. There were some wonderful performances. Skinners Bertha Bates was a true highlight, a brash murderess and yet infinitely likeable, while James's Mary Shelly was at time haunting as she recalled her demons. Silva's portrayal of the charismatic monster Byron perfectly contrasted Darlings voyeuristic and infatuated Percy Shelly. Many of the cast were also playing multiple roles, not an easy task at all and shows just how talented some of the actors are.
Potential? Absolutely, but it felt unfinished. With a strong script edit and some staging tweeks as well as ironing out the technical glitches, this could be something really impressive and it deserves to be. The story is there and with a slot playing in New York later in the year it would be a real shame for this tale and these actors not to reach full potential.
Reviewer: Helen Kerr
Reviewed: 28th February 2017
North West End Rating: ★★★