Justin Fletcher is the 46 year old CBeebies presenter who has won the hearts of most children in the UK with his superb, and seemingly effortless, ability to entertain young and old. Laughter and fun follow him and today was no exception as he wowed the full to capacity audience at the Lowry theatre on Mother's Day.
Justin's Spring 2017 national tour is said to be covering the length and breadth of England, Wales and Scotland, and is a sell out at almost every venue and today it was easy to see why.
Justin was supported by six amazing performers; Leah, Daniel Westwood, Becky Burford, Jobe, Jenny Philips and the very heavily pregnant Cat Sandion who's last performance before her maternity leave was today.
Justin's party is a brand new show that is bursting with energy and is packed full of fantastic songs, dances and hilarious games guaranteed to make it THE party of the year. With lots of exciting surprises along the way as Justin and his team prepare for a party to celebrate the arrival of his adorable new puppy Engelbert.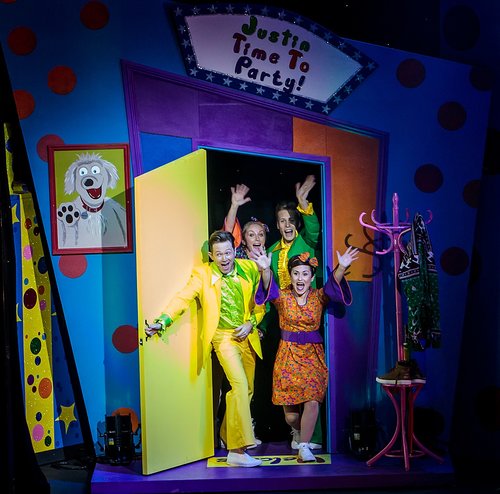 Silliness, hilarity, party cannons and of course lots of gloopy mess had this young audience squealing with delight, as well as dancing in the aisles as Justin and crew dazzled through todays show.
With familiar songs such as 'if you're happy and you know it', 'heads shoulders knees and toes', games of musical statues and the biggest hokey cokey audience participation I've ever seen, all of which kept the show engaging and fun.
Beautifully staged, fantastic lighting and superb costumes helped bring to life the magic of children's theatre, as visually, the whole show was spectacular.
A surprise appearance from Mr Tumble almost blew the roof off the Lyric Theatre auditorium as his tiny fans nearly combusted with delight. My four year old companion at this point could barely breathe as she whooped with joy. Seeing the joy of the children in the audience and the magical laughter, (that is so contagious when heard from a little one), has to have been the highlight of most of the attending mums day today as they shared their mother's day celebrations at Justin's party.
Today's show running times were Act 1 - 50 mins; Interval - 20 mins; Act 2 - 30 mins, which was just the right timings to hold the young audience's attention, and allow time to purchase some of the fabulous official merchandise that was for sale in the foyer.
Definitely one not miss if you have little ones as this is a guaranteed fun performance. In the words of my 4 year old daughter (and future theatre critic I'm sure) "wow that was a blast" and when I asked her to rate the show on a scale of 0 to 10 she replied 100!
For further information on dates of the tour go to www.imaginetheatre.co.uk/justins-party-2017
Reviewer: Victoria Wilmot
Reviewed: 26th March 2017
North West End Rating: ★★★★
Photos by Helen Ashbourne